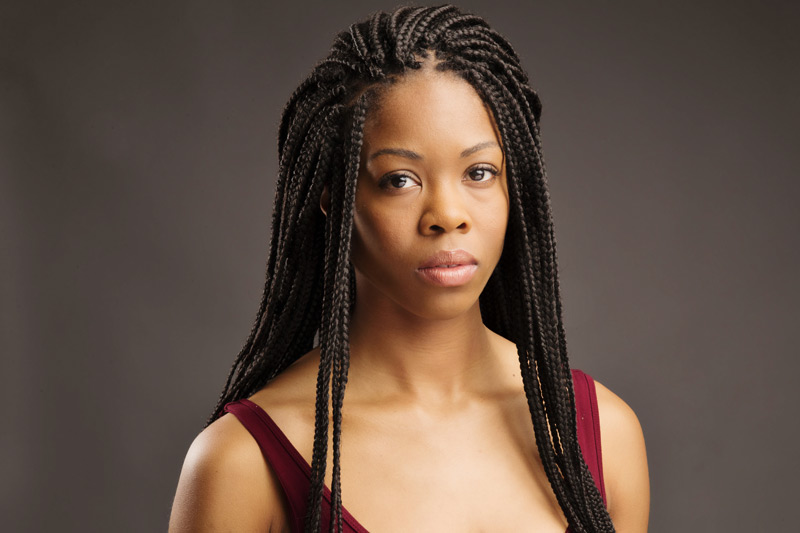 Charrell Mack MFA Acting '21 discusses her journey from athlete to actor, growing in the program, what it's like in a cohort and more in this 10 Questions series with current students.
---
SDA: Where are you from?
Mack: I am originally from Connecticut, but I now reside in Pennsylvania and have been [there] for the past 16 years.
What program are you studying in? Why did you choose this program?
I am in the School of Dramatic Arts third-year graduate [MFA in Acting program]. As cliché as it may sound, I feel that this program was designed for me. There was this vibe and energy that I got from callback weekend from the teachers and the environment that connected with me. I knew this program was going to challenge me and give me the tools and knowledge that I needed as an artist.
What made you decide to pursue a graduate degree?
I went to Lehigh University for my undergrad as a student athlete. I took a Hip Hop Theatre class taught by Kashi Johnson and that was my first taste of the theatre world. But being a track and field athlete is where my passion lied until I ruptured my achilles tendon and my track career pretty much ended then. After the surgery to repair the rupture and going to physical therapy, I knew returning back to the track wasn't going to happen. So I wanted to find something that I could give myself to like I did track and then I found The Actor's Center in Philadelphia and enrolled in their adult scene study class taught by Larry Jensen and from that moment on I have been on this journey of becoming an actor.
What positive experience have you had at SDA that you don't think you would have gotten elsewhere?
The simple idea that you are enough. The relationships [that] I have found with my cohort and the faculty has been so rewarding in so many ways. The experience of collaboration is one of those positive experiences that I will always cherish. Sometimes you think you have all the answers and want to do things your way but if you just say "yes and" to others and try new ideas and new techniques the world just gets brighter and the experience itself becomes unforgettable.
When you graduate, what is the most important piece of advice you will take with you?
To listen. To accept the circumstances. "To come out swinging with your heart." That was said by actor Chris Messina who was an amazing guest speaker at a salon we had. There are other pieces of advice that I've heard during the other two years, but that quote has really been on my heart and my mind.
What is it like working with a cohort?
Frustrating, complex, emotional and difficult, but at the same time it's wildly fun, creative, exciting, comforting and full of unexpected moments that I still to this day cherish and talk about with my cohort, who I consider my family.
What show has been the biggest learning experience at SDA?
Othello, directed by Kate Burton. She's a beast and a master as an actor, director and teacher. I've never done a Shakespeare production so this was uncharted territory for me and it was so frightening. Not to mention I played Desdemona, who Kate Burton had also played. So I knew I was in great hands but I was also so nervous to step into that world. Othello was the perfect production for me to face my fears in. It is so rich with language, emotion and life, it was great to have that chance to explore that because I may never get that opportunity again, but if I do, I now have the tools to take it head on and with confidence.
How does being in Los Angeles affect your training? What opportunities has this city presented for you?
Currently, due to the pandemic, I am back home in Pennsylvania, but prior to that when I was living in L.A., I was been able to work with other artists outside of USC SDA, which was so amazing. I have made great connections with other creatives and been able to collaborate with them and support their own work, too. The training has allowed me to enter into a room with confidence, even if I'm scared or unsure, I know how to channel those emotions into the work.
What did you recently work on at SDA? What were you most excited about it?
We [worked] on Pipeline by Dominique Morisseau and Larry Powell [was] our director. Prior to Pipeline, we worked on The Motherf**ker with the Hat by Stephen Adly Guirgis and Andrei Belgrader [was] our director for that. Then, after Pipeline, we [created] an original short film with Ahmed Best. So we have [had] our plates full and I [have been] excited about all 3 projects, to be honest.
How have you grown as an artist during this program?
Absolutely. I would not be able to tell you all the ways that I have grown as an artist during this program because it requires more than the one to three sentences [that] I am allowed. I am still learning and still growing and experiencing new things throughout this process as an artist and as a human being. USC SDA will forever be a part of who I am, who I am becoming and who I'll ultimately be in the world, whatever that is. Growing in this program for me is the best part.