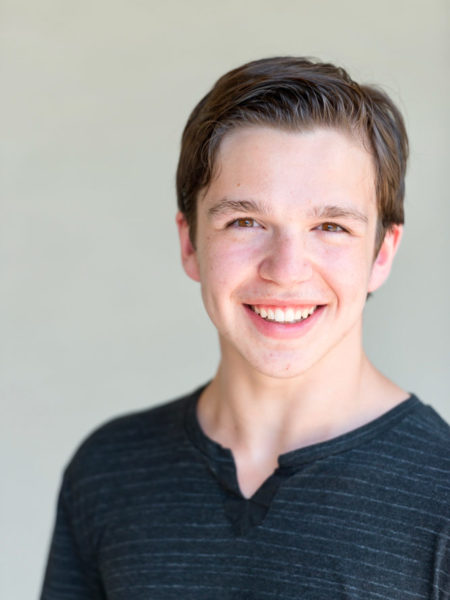 C.J. Craig BA '23 discusses being an acting emphasis, his projects in the School of Cinematic Arts, his favorite memory at USC and more in this 10 Questions series with current students.
---
SDA: Where are you from?
Craig: I'm from Raleigh, N.C.
What program are you studying? Why did you choose this program?
I am pursuing a BA in Theatre with an emphasis in acting at USC, as well as a minor in Cinematic Arts. I love the BA emphasis program because it gives me the sense of artistic structure necessary for my personal craft, but it also encourages me to invest in the other opportunities that a career like acting has to offer — like film and television production. I'm able to take bigger risks in multiple programs, having the freedom and choice to study interdisciplinary fields that I wouldn't have explored if I weren't encouraged to. Also, SCA is considered one of the top film schools in the country, I'd have to be crazy not to take advantage of that.
What else are you involved in outside of SDA? How does it fit into your university experience? Is there anything you hope to get involved in late in your time at SDA?
I'm involved in Theatre Students Association as the marketing and social media chair, which fits in with my previous internship experience that I've already gotten from SDA and the Career Center here at the School.
What is your favorite thing about the faculty at SDA? Has any one professor had a profound impact on you?
The training is so personal at SDA. I love that every faculty member is there for you, hoping that you'll succeed. None of the professors have ever invalidated my art and instead they've always pushed me to build off from the point of where I stand in my craft. What I'm most grateful for is the way they provide me with the methods and working techniques to help myself develop into the best artist I can be. Every professor has made the best impact on me in one way or another, but Mary Joan Negro has opened my eyes to being vulnerable and creating personal theatre. She's as brilliant as everyone says, and we've been working on personal readings and scenes this semester, which has encouraged me to tell more stories that expose every part of me and the type of person I genuinely am. Acting for her has been one of the scariest, but also one of the influential parts of my training so far.
While you've been a student here, have you had the chance to collaborate with other programs? What did you take away from that experience?
All of my opportunities so far to collaborate with other students and programs have been with the School of Cinematic Arts. The SCA CN/TV projects that take place every semester are so much fun and they've already given me so much experience acting for the camera, while providing me so many connections with Cinematic Arts students and the professors. The collaboration between SDA and SCA is overwhelming in the best way possible.
Have you acted in any SDA productions? If so, which one(s) had the biggest impact on you?
This semester, I've decided to take a break from acting SDA productions. The fatigue from zoom theatre is real, and I've taken this time to relax and spend time with my friends rather than be in rehearsal. However, I've loved going to see the many SDA and student-run productions this semester has had to offer. I can't wait to get back to getting involved in more shows when we finally get back together on campus.
How does being in Los Angeles affect your training? What opportunities does this city present for you?
I feel so motivated as an artist living in Los Angeles and receiving my acting training at the School of Dramatic Arts. I especially feel motivated when I explore the vastness of the theatre scene here in L.A. [It] was Rodney To, in my first acting class, who encouraged me to go out and visit the regional theatre companies in the area. Doing so, I had the experience to see so many amazing productions outside of SDA at theatres like the Pasadena Playhouse, Echo Theatre Company, The LATC and The Mark Taper Forum, to name a few. I also had the opportunity to connect with working actors and managers at some of these companies.
What is your favorite SDA memory?
It feels like every day I'm making more and more of my new favorite memories. One of my favorites though is pretty recent. I performed in a short film directed and produced by one of my closest friends who's been working this semester for Fringe Benefits, a social justice theatre company. Shooting and creating content with my friends has shown me that we all want to work in school, it's just a matter of finding the motivation to get everyone together and create the work.
What knowledge will you take with you when you graduate from SDA?
There are so many different types of acting performances and productions. I came from a musical theatre-heavy drama program in high school, but my experiences in SDA have opened me up to many other different forms of dramatic art. From stage performance to film/television, and from classical production to completely experimental, the knowledge I'll take with me when I graduate from SDA is knowing what type of work inspires me, but also remembering to be open to every opportunity to use my voice and express my individual artistry.
What is the greatest thing you've learned about yourself as an SDA student?
Now, this is going to sound really cliché, but it's the same thing I hope to tell all the incoming students [who are] about to step into SDA. I'll always remember that I am enough. It seems like I learn this every year, but it is truly one of the best things I learn from my professors and from my peers. It's also one of the best feelings to know that when I step on the stage or into the performance space and I can just let go of what people might think of my art. It's so freeing to know that I can produce better work that way all around and remember why it is that I love to act and create art.