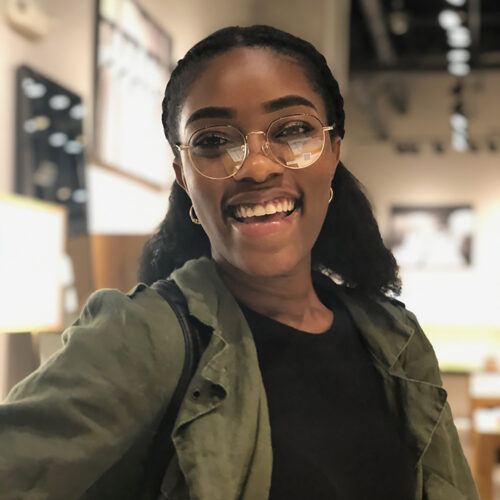 The BFA '24 acting major discusses the best advice she's received at USC, a project that's impacted her artistry, her favorite memory and more in our 10 Questions series with current students.
---
Why did you choose this program?
Brathwaite: I came from a conservatory-based high school where my focus was acting and I enjoyed the support system that came with the program as well as the hands on classes provided, so heading into college I wanted to maintain that same experience I had.
What are you working on this year that excites you the most?
This semester, I am currently working on a project called Rockstar — which is where you pick any musical artist and their performance, and then you work to embody everything done in that performance. At the end, we put on the same performance.
What else are you involved in outside of SDA and what role does that play in your training?
I am a part of the equity, diversity and inclusion (EDI) student liaison program in which students can connect to face issues related to diversity and overcome. This allows me to apply what is taught through that program and bring it to the classrooms in terms of scene work.
What is your favorite thing about the faculty at SDA?
The SDA faculty takes the time to get to know you personally and works with you one on one whenever they can. They want to see you succeed.
As we are celebrating the School's 75-year anniversary, could you share your favorite SDA memory?
Definitely during Welcome Week and finally meeting all my cohort members in person as well as the slide show put together of everyone's favorite moment from summer.
What have you learned about yourself while you've been a student?
I have developed a stronger sense of time management and note-taking skills since starting and that has helped me immensely.
Could you tell us about a project that you've worked on as a student that has had an impact on your artistry?
I am currently working on A Hatful of Rain in my movement class. The purpose of this play that was given to us was to help us with the difference between primary and secondary movement while performing text. This has allowed for me as an actor to connect on a different level with given text in a way I have not before.
How does being in Los Angeles affect your training and the opportunities you've had?
Being able to study in the heart of Los Angeles is a very beneficial opportunity seeing that most work that I am seeking is based in L.A. It only furthers the skillsets that I have learned and gives me the ability to apply these skillsets to job offers in L.A.
What is the best advice you've received at USC?
"If you fall asleep, it means you need it!"
What is something you wish you knew when you first started at SDA?
Prepare for the long nights of rehearsals you are about to head in to, but just know at the end of the day, it is all worth it.