Move over, SNL. When audiences see those cyan blue three-quarters length sleeved baseball shirts with matching hats and multicolored suspenders, they know they're in for a good time.
Founded in 2014, The Suspenders are USC's oldest sketch comedy troupe. Known for their distinctive uniforms and show-stopping opening and closing theme songs, their shows generally sell out shortly after tickets go on sale.
There's a reason for their success.
"I don't think we have a limit to our comedy," says Destinee McCaster (BFA Cinematic Arts, Film and Television Production '23), co-director of The Suspenders. "We like to explore every single facet possible. We do a lot of pun humor, we have dark humor in our show, we do absurdist humor."
The Suspenders perform semesterly shows, generally at the Massman Theatre or at the USC Brain and Creativity Institute's Cammilleri Hall.
"It's fun to be able to switch between the two and not be stuck to one all the time," McCaster said. "It breaks up the monotony of a performance every semester, and it allows different audiences to come and see us. Especially if you're not aware of SDA or ISPs as an entity."
While their live shows are popular, The Suspenders also saw a major expansion of their reach during the pandemic. That's when, restricted like the rest of the performing world by the pandemic lockdowns and the inability of crowds to gather in theatres, the group took to social media to find an outlet for their humor. This proved to be tremendously popular, giving them an expanded audience of viewers and an entirely new venue for their brand of sketch comedy.
"During Covid, when we weren't able to perform live, it really pushed us to go online via TikTok, YouTube, and Facebook," said co-director Adele Marchenko (BS, Business of Cinematic Arts '23). "That's where we had our digital comedy boom."
Working with video clips also allows The Suspenders to incorporate other students—writers, directors, and others—into the creative process.
"We try to establish not only a collaborative live theatre environment but also a collaborative film environment for our members so they can learn how to direct a film, how to DP or write or be on a set," said Maya Gardner (BA Theatre '24), Assistant Director of The Suspenders. Gardner will step into the role of director in 2024. "We try to make an environment where we can have comedy in various forms and people can learn how to be a part of it and take that into their own careers and lives."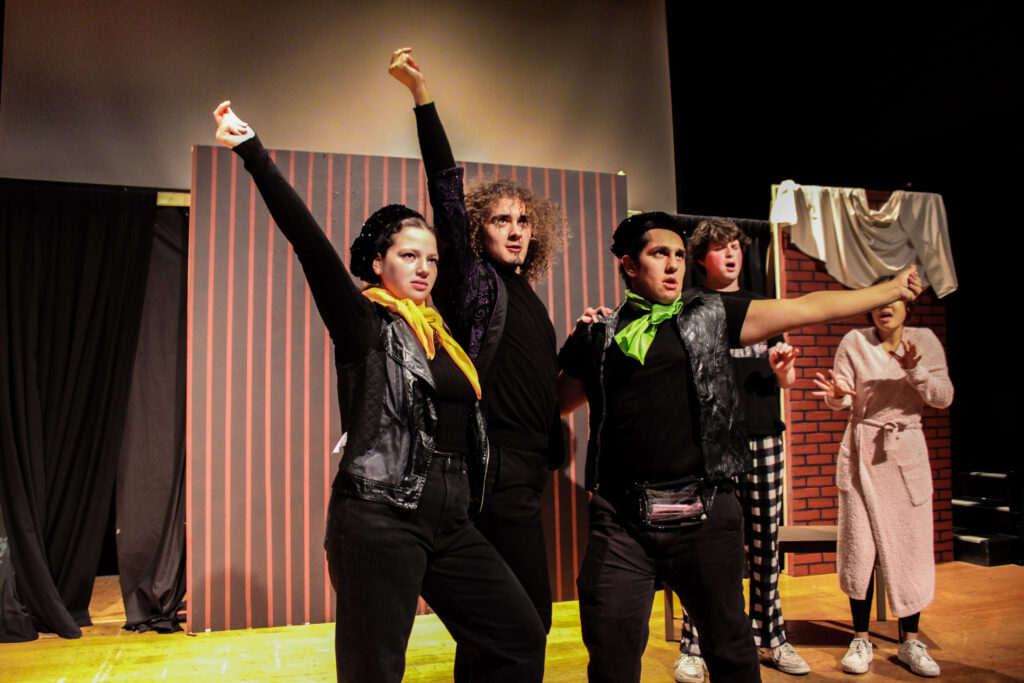 Spreading their comedy to social media had another positive effect: the group's reach across campus grew, and they began attracting more and more comedians from different schools at USC to join the group. So, in addition to students studying art and performance, The Suspenders has done a tremendous job of incorporating students from majors as disparate as business, engineering, and computer science.
"When people ask us, 'Do I need to be an actor?' We always say: 'No.' We want that, we love having people like that. If you think you're funny, come and show us your comedy," said Marchenko.
"Comedy is such a beautiful kind of middle ground between performers and people that don't perform," said Gardner. "Being funny is not something that's limited to someone who's going to school to learn how to perform or be a strong actor."
Bring your funny
In addition to their live shows and digital content, The Suspenders is active in uniting the USC comedy community through other events. Their most recent undertaking was the "Fundance Film Festival," a collaboration with USC Comedy that featured short, comedic cinematic works by USC students. The festival took place in late February at the Ray Stark Theatre, and was successful in bringing together comedians and artists from across the entire campus.
"[Fundance] allowed a lot of the comedy groups on campus, and people who are within that fringe around USC, to see each other's work, and to see who they might want to work with in the future," McCaster said.
"We got to see other sketch troupes' work," Gardner added. "We got to see solo artists' work. Some people who I would never have otherwise seen."
This year's troupe has accomplished much in their time at USC, but it's done it with a very large group who are graduating this year. The Suspenders will be active in looking for new comedic voices to continue the troupe's legacy in the 2023-2024 academic year.
"We want to have the most diverse comedy possible," Gardner said. "We really welcome anyone and everyone to audition."
McCaster agreed.
"Sketch comedy is such a niche," she said. "In many ways, I think that makes it one of those things that no one understands going into college, but everyone should try."
Marchenko put it even more succinctly.
"Just bring your funny. Don't overthink it."