In Virgil's epic The Aeneid, a Trojan prince travels land and sea and overcomes searching trials to accomplish something great. The Aeneid Theatre Company, an independent student group that has been producing independent works of theatre on and off campus since 2014, takes a page from Virgil's tale, encouraging Trojans to overcome all obstacles in pursuit of great theatre.
The Aeneid Theatre Company (ATC) produces three productions per year, making it one of the most prolific student theatre groups on campus. Each year they take pitches from students to produce one classic (pre-1950), one contemporary (post-1950), and one experimental production.
"We really try to cater to what the students want and how we can benefit others," said ATC Artistic Director Peren Yesilyurt (BA Theatre, '23). "Whether that's teaching them stage management, or whether it's producing a specific kind of show or a specific playwright. We're dedicated to the students' endeavors."
Putting on productions independently as students allows SDA's multihyphenated students the opportunity to explore the creative and entrepreneurial skills needed to bring their productions to reality, but sometimes producing art presents challenges. The Aeneid Theatre Company prides itself on its members working together to overcome these challenges, and finding the beauty in the struggle to create art.
ATC President Angela Braun (BA Cinema and Media Studies, '23) thinks that taking on difficult challenges is an important part of learning to be a working artist.
"As much as it's a struggle, there's so much beauty in that. It forces us to find a way to make it work, and we always do," Braun said. Working independently means that "students are on their own to figure it out, and we always come through and make it happen. That's a big part of why I love theatre."
Finding beauty in the struggle
One example of ATC taking on an ambitious project in recent years was their performance of Ghost Quartet, an experimental song cycle that they produced in a warehouse at Soundbite Studios, a music recording studio in downtown Los Angeles. Braun points out that every step of producing large, ambitious productions like this independently is a chance for students to learn new skills about making theatre.
"This is a professional environment where our producers are working with thousands of dollars, renting the space, negotiating the rental price, doing all these skills that are so important for us to learn," she said. "There is a beauty in this struggle with being independent."
The Aeneid Theatre Company produced their contemporary show Trap in the Fall semester to sold out audiences. Trap was a challenging piece because it skirted the line between comedy and thriller, touching on a number of social issues.
"People came out saying, 'It's kind of funny but I'm also scared,'" recalled Yesilyurt, laughing. "You could really tell watching the show that everyone was working well together."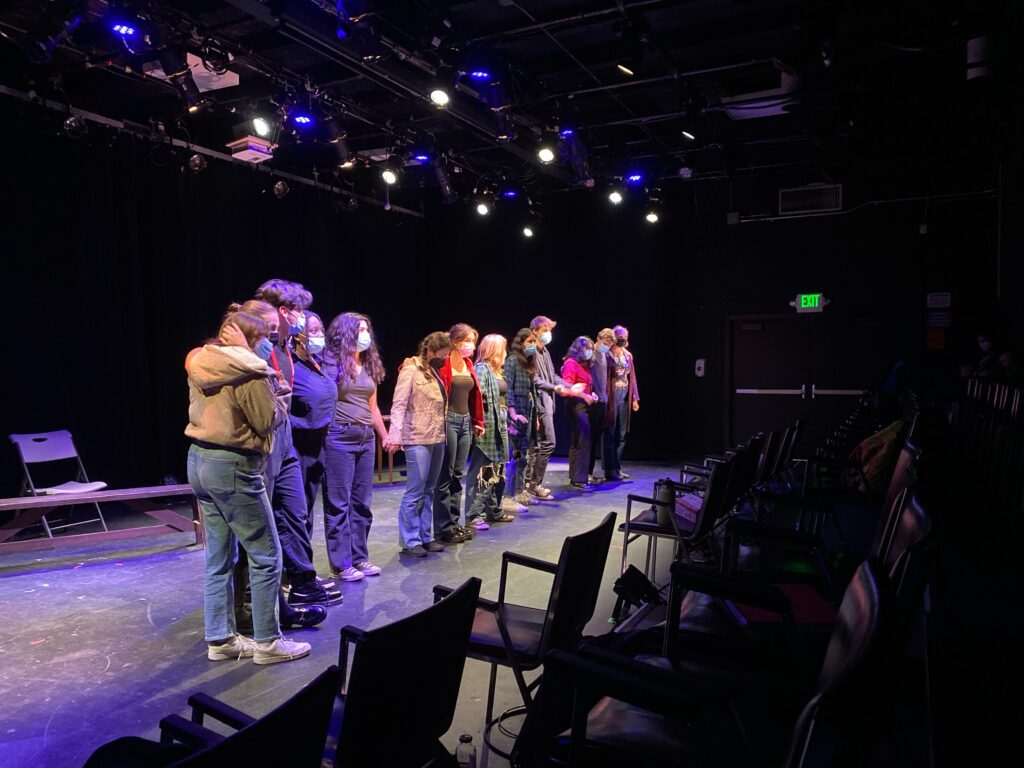 Deciding which plays to perform is serious business for ATC, which hears multiple pitches from students every year. A guiding principle in selecting material for the group is inclusivity—particularly when selecting classic pieces which may have historically excluded certain groups of actors—and relevancy to the current moment.
"Why here, why now? Why is this story relevant today?" Yesilyurt said of the selection process. "We're really looking for the director's vision, their take on the story. We want to know why the director is passionate about this story in particular." ATC's classic production, Sense and Sensibility, will open in the Massman Theatre on February 16, and their experimental show, Women Of, a piece of activist theatre loosely based on The Trojan Women by Euripides that examines navigating the aftermath of fraternity-based assault, will run at Soundbite Studios starting April 13. Women Of, in addition to being this year's experimental production, was written by a USC student, and will feature a multimedia and documentary element. ATC is collaborating with other student organizations on campus that deal with healing from sexual-based trauma.
Collaborating with Trojans campus-wide
Working with other organizations on campus and collaborating between schools has been another priority for Aeneid Theatre Company. Head Producer Ian Connolly (BA Theatre & Creative Writing, '24) points out that one goal for the group has been utilizing all of the artistic talent found across USC's campus.
"We collaborate with students from Roski, the School of Cinematic Arts, Thornton," Connolly said. "We want to use all the amazing resources and talented people that USC has to offer."
Yesilyurt agreed.
"The great thing about ATC is the collaboration and the community," she said. "We're always there for each other. Even when we have obstacles, we're Always there for each other."
Connolly went on to point to the opportunities ATC has given students who perhaps might not otherwise get involved with theatre to learn something new.
"We offer training for people who are interested in filling a role for us but who haven't had that training in the past," he said. "It's really great to see students find something that they're really amazing at that otherwise it might have been hard for them to try."
One thing everyone agreed on was that a guiding star for ATC was providing theatrical and artistic opportunities in service of the students on campus.
"ISPs like ATC give students another opportunity to dip their toe into something new, to try it out," Yesilyurt said. "They might come away thinking, 'That was amazing. I'm now inspired to write a play of my own, or I want to seek out more plays like that.' We want to help produce what students are really passionate about, what students really want to do."