In comedy, being funny isn't everything.
That's the message from Spoiler Alert, the long-form narrative improv comedy troupe that performs at Tommy's Place every Tuesday night at 10pm.
They're funny, all right. But when it comes to long-form improv, there are other things that are even more important.
"Yes, we want to make the audience laugh. But we also want to make them cry, and gasp, those kinds of reactions," said Spoiler Alert member Josh Morton (BA Theatre '25). "Ultimately, telling a story is more than just comedy. While we are all very funny, it's not the main priority for us."
Spoiler Alert sets themselves apart from USC's deep bench of student improv groups by prioritizing storytelling. Rather than doing traditional short-form improv—where players may improvise short comedic scenes based on audience suggestions—Spoiler Alert improvises a brand new, hour-long three-act play each week. They call each of these plays, which are based on audience-suggested genres, "episodes"—and each episode aims to tell a satisfying story, with compelling characters and a beginning, middle and end.
The key to a compelling episode, according to Spoiler Alert members, is committing to compelling characters.
"The most successful episodes we end up having are those that feature characters that have real wants, that are not making a joke of themselves," said Valentina Navarro-Marsili (BA Theatre '26). "It's difficult to go up in front of a group of people and really care about what you're saying. But if your character doesn't care about anything, or if you don't care about what your character has to say, it breaks the illusion."
Spoiler Alert has been a presence on USC's campus for over a decade, with their inaugural season in 2011. They started performing on the steps of the USC Pertusati University Bookstore, hoping to attract anyone who would listen. They now perform onstage at Tommy's Place, a stone's throw from the bookstore steps, every Tuesday night at 10pm.
"We haven't gone far," Morton said. "Though Tommy's Place is substantially nicer."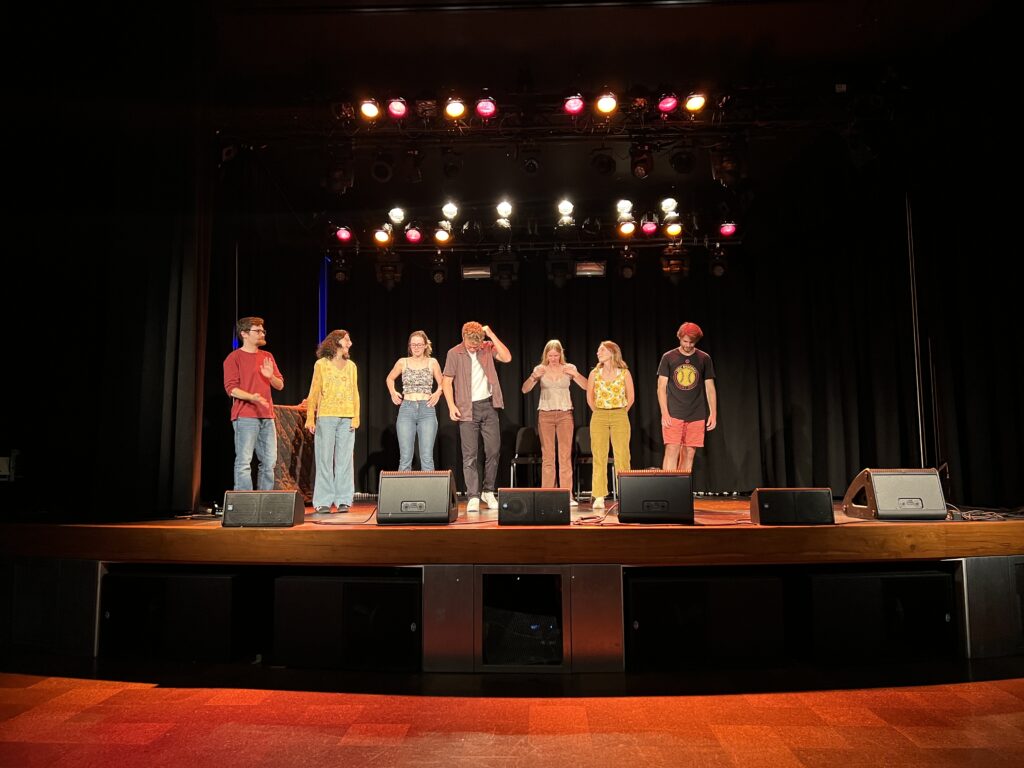 According to plan
Spoiler Alert welcomed two new members this year and is noted as a safe space where members are free to be themselves and experiment. Incoming first-year member Samara Hernandez (BA Theatre '27) saw the group's performance at the School of Dramatic Arts' new student welcome event and auditioned out of curiosity. She decided to join Spoiler Alert because of the fun, welcoming atmosphere.
"Spoiler Alert is just such a community," Hernandez said. "Everyone is nice. It's a little family, we all love each other. It's very palpable."
Navarro-Marsili agreed. She credits Spoiler Alert for turning around a longstanding dislike of improv comedy. Now in her second year with the group, she says that Spoiler Alert has made improv a big part of her life.
"I actually hated improv in high school. It was a thing," Navarro-Marsili laughed. "Spoiler Alert came at a wonderful time for me. It was a community that I didn't realize I needed until I needed it."
"Everything I learned as part of the improv troupe has helped me and furthered me in ways that I did not think were possible," she said.
While every member has their theory about the key to a successful improv performance, Morton said that it is the group's ability to listen to one another that helps set their performances apart. He says that his work with Spoiler Alert was what made him decide to finally get fitted for a hearing aid to correct a hearing issue.
"That speaks volumes about what's important in improv," Morton said. "It's so collaborative. It's all about hearing what your partner has to say and building off that."
The group, which practices twice a week, focuses on different genres in preparation for their weekly performances. One example of an exercise is the "trope circle." Members stand in a circle and choose a genre. Then group members throw out as many "tropes"—things they'd expect to see—as they can think of in that genre. Exercises like this prepare the troupe for their weekly episodes, where genres and other elements of the performance are chosen on the spot by the audience.
Of course, as much as they try to prepare, it is improv, after all—and during a live performance, all bets are off.
"It's improv," Morton said. "It doesn't always go according to plan."
Morton feels that independent student productions (ISPs) like Spoiler Alert are a unique and important opportunity for theatre students at USC, because students learn to trust and rely on one another in an organic way that can't be reproduced in a classroom.
"We're so in tune with each other, we love each other so much, we're such a community," Morton said. "That's something you can't get from a class. I think that's why ISPs are so important."
Navarro-Marsili agreed, saying that Spoiler Alert has become like a family to her.
"I thought it would just be an extracurricular activity. I didn't know what to expect," she said. "Then I slowly realized I was being sucked into this friend group whether I liked it or not."
Hernandez said that, though she is new to the troupe, she already feels comfortable and views her time with Spoiler Alert as the beginning of an adventure.
"Everyone on the troupe is an amazing person, and I'm excited to get to know everyone more," Hernandez said. "I'm excited to see where all of this will take us. I'm excited for the journey."