Judging from their large and expanding presence in the USC queer community today, it's hard to believe that Dorothy's Friends Theatre Company—an independent student production company dedicated to producing queer theatre—was just six or seven friends meeting in dorm rooms just a few years ago.
"A lot of [the founding members] didn't expect the company to last beyond their graduation because it was originally just amongst friends," DFTC Production Manager MJ Adamson said. "We've definitely restructured, reorganized, and grown a lot in the last two years."
That's an understatement. Dorothy's Friends Theatre Company has grown into one of the largest ISP-producing groups on campus, and their activities go well beyond theatre. In addition to performances of regular, experimental and queer-focused theatrical productions (like last semester's Collective Rage, which sold out the Massman Theatre several nights running), the group has collaborated with other queer groups across the campus to throw safe and inclusive events for members of the USC LGBTQ+ community and their allies. Some of these events have included queer flea markets, gender-affirming clothing swaps, queer movie nights, events for various cultural days, their popular semesterly "fund-rager," and an annual performance of The Rocky Horror Picture Show.
Filling spaces within the community
Dorothy's Friends Theatre Company began in response to what students saw as a growing desire to produce queer theatre. Adamson sees the group's expanding role on campus as an extension of this mission.
"We try to fill as many spaces as we can within that community," Adamson said. "We're pretty big on partnerships and collaboration. We go out of our way to reach out to other schools [on campus]. These people might not be from theatre backgrounds, but they have great skill sets they can offer our productions."
As the largest queer theatre group on campus, Adamson sees inclusivity and creating a safe environment for students to be themselves as an imperative for the group. One example is the time and care they took with producing last semester's Collective Rage. Because the play deals with frank and sensitive issues of sexuality and coming-of-age, they took steps to ensure that the material was handled respectfully and that everyone felt comfortable during the entire process. They brought in intimacy coordinators to work with the actors, and made use of consent packets and post-production feedback forms to ensure that everyone was comfortable.
The mature themes of the production were "not for the sake of absurdity or shock, but for the sake of being true to the piece," Adamson explained. "It's really important to us as a company to get feedback of how we're treating other people and how people are receiving what we're doing. Everyone really enjoyed the experience. Our actors felt very taken care of. We got a lot of really good audience response from the people coming to the shows."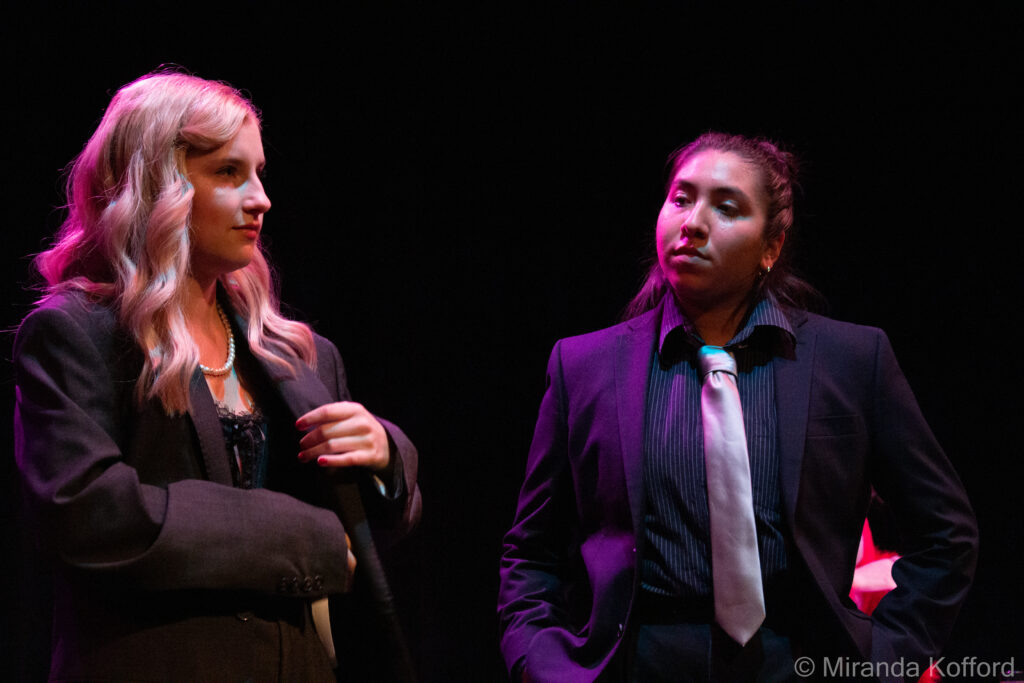 Another example of the safe space DFTC provides is with their annual "fund-rager." The event is a party that is held on the last day of classes each semester, allowing students to celebrate their hard work while also raising money for DFTC productions and various charities. Each party has a theme that is released about a week before the event in order to allow students time to put costumes together. Adamson notes that for some people in the queer community, these parties are a chance to let off steam and have a good time while feeling assured of a safe and welcoming environment.
"A lot of people like to have a good time, but people don't always feel safe partying," Adamson said. "One of the things we've tried to emphasize is, a lot of people come to our parties and say 'this is the only place I feel safe to be a queer person at a party.'"
Becoming better theatre-makers
Dorothy's Friends Theatre Company is currently busy putting the finishing touches on their annual shadow cast performance of The Rocky Horror Picture Show. The performance of Richard O'Brien's cult classic is set for four performances between March 24 and March 26.
Adamson stresses that although putting on independent productions as students can sometimes be challenging, its precisely these challenges that makes the independent student groups an incredible opportunity for students to explore new skillsets as multihyphenate artists.
"I am a BFA stage manager with USC, so I have a lot of training within that field, but nothing can really prepare you for running a theatre company except just doing it," Adamson said. "At the end of the day, it has made a lot of us better theatre makers. It's taught us to appreciate the arts more."
Adamson encourages anyone who is curious about ISPs to simply come to an event and see what they're all about.
"So many ISPs, including ours, have so many opportunities," Adamson said. "If you don't want to commit to being in a production, come attend a community event. Come sit in on a meeting, or think about crewing, which is less of a time commitment."
"The best way to learn and get involved is just to do it," she added.