Brand New Theatre (BNT), one of the oldest Independent Student Production companies on campus, has been producing original student works on stage since 1996. BNT is one of the few student producing groups on campus that connects student artists from different majors and schools around USC. The group produces a one-act festival in the Fall semester, a full play in the Spring semester, and recently has started producing a series of dramatic readings of original works. Every work produced by Brand New Theatre is 100% original work by student playwrights.
Plays are written not only by USC School of Dramatic Arts (SDA) students, but also by students majoring in other schools as well. "A lot of our playwrights are from SDA, but we also get a lot of screenwriters and narrative studies majors," current Brand New Theatre president Jacob Hollens (BA Theatre '25) said. "We like to reach out to playwrights on campus. This is a good opportunity to extend your work outside the classroom and see what that would be like."
The plays are then produced by student directors, designed by student designers, and cast with student actors. One of the group's major selling points is its accessibility for all students as a point of entry to become involved in theatre on campus.
"I was always intimidated and worried that I wouldn't get the opportunities to do play writing," Sol Lagos (BA Creative Writing and Narrative Studies '25) whose play Mirror will be produced later this semester, said. "Brand New Theatre gives me that opportunity to work with SDA students, non-SDA students, and people who want to tell stories through theatre in general."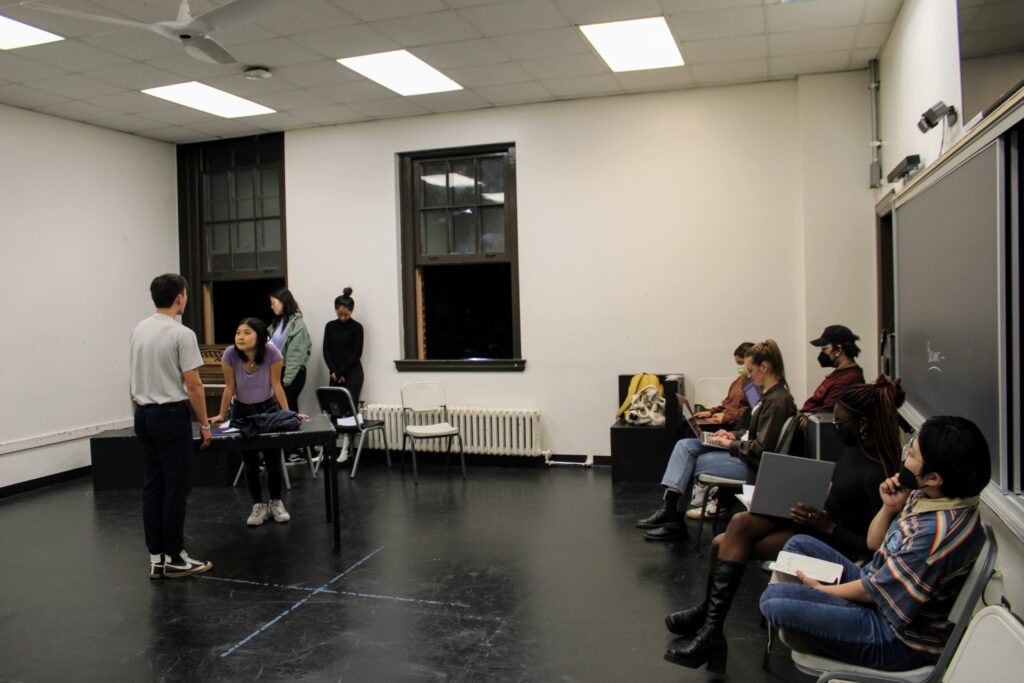 A chance to learn and try new things
One of the benefits of the group is as a training ground for student writers, directors, and actors. Lagos had just finished taking a playwriting class with Boni B. Alvarez, and Mirror was the first play he had written. As part of the process at Brand New Theatre, that play will now be brought to life by a student director and student actors, featuring a mostly Latinx cast.
"I knew that Brand New Theatre was one of the main opportunities on campus for student work to be produced, and it's very accessible," Lagos added.
Former Brand New Theatre president Eden Treiman (BA Theatre and Narrative Studies '23), whose play Bridge of Birds was produced in 2022, agreed. She was selected to serve as a member of BNT's literary board in 2020. It was the first time she had been asked to evaluate and edit student work.
"They said, 'We chose you for a reason. You have good instincts. Just do it and we'll correct you if we need to,'" she remembers. "It gave me a lot of confidence as someone who was new to writing."
Brand New Theatre is one of the few groups on campus that is open to training brand new students who are interested in different aspects of the theatre. They recruit first-year designers and directors, which helps younger students gain valuable experience in the theatre that can serve them later in mainstage productions. Hollens recalls the welcoming atmosphere of the group when he joined as a first-year student.
"I started working in the one-act festival as a lighting designer, and just really enjoyed how BNT welcomed me," Hollens said.
The current board is implementing a new mentorship program to address the shortage of student designers on campus, one in which designers with little or no experience can be paired with more experienced student designers to work on a show. "It's a learning opportunity for all of us," Treiman said. "That's what I've loved most about working with BNT."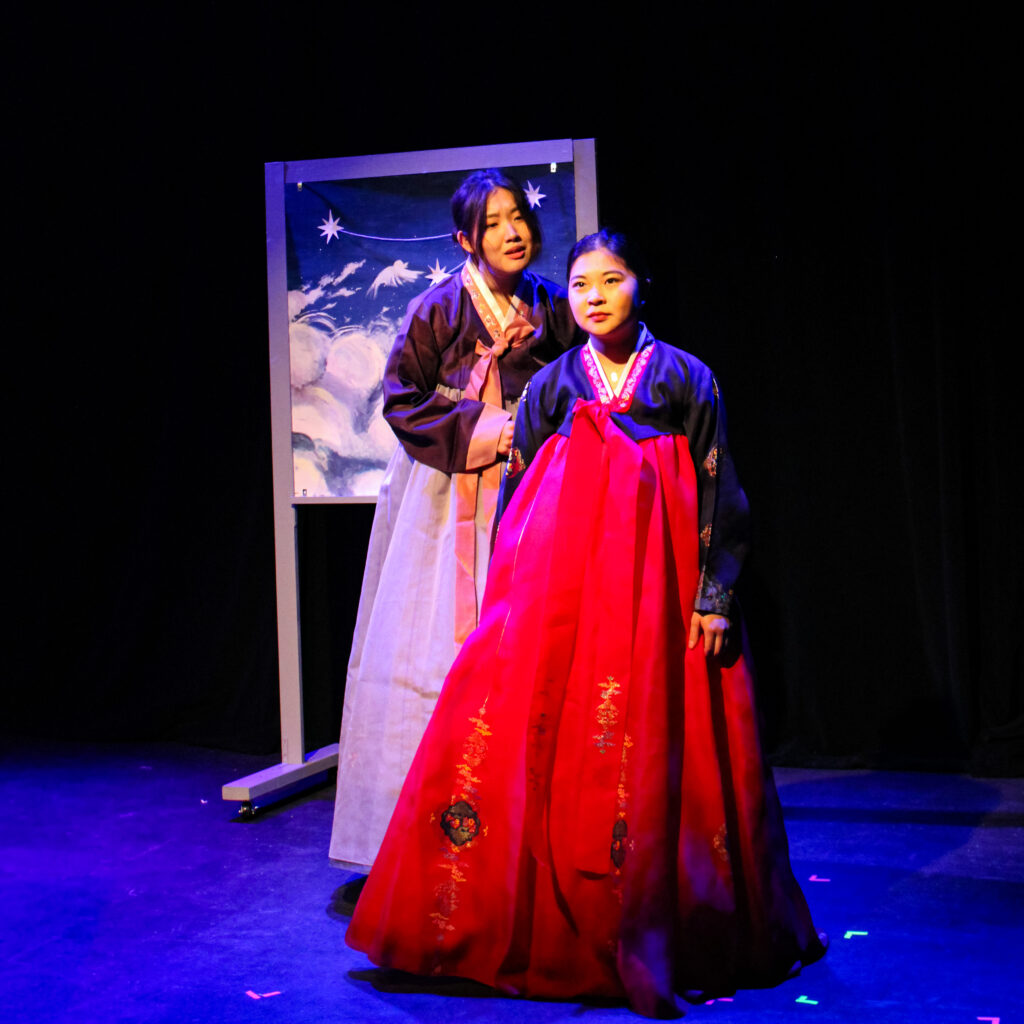 Telling authentic stories
Because the group focuses on producing 100% original student work, another aspect of the group that attracts students is that they provide opportunities to tell stories that may not find a place elsewhere on campus. Bridge of Birds, the play written by Treiman and produced in Spring of 2022, was a deeply personal expression of her experience growing up in a Korean American family and featured a fully Asian cast.
"My grandparents, who are from Korea, came to me and said, 'I didn't know that you cared so much about being Korean,'" Treiman recalls. "There were things in that play I couldn't tell them face to face, but they were things they could watch and understand about me."
Lagos, whose forthcoming play Mirror focuses on the Latinx diaspora and issues of immigration around the Mexico-U.S. border, spoke of how meaningful it was to be able to write a play that reflects his community.
"The audience I was so worried about not honoring was my own community," Lagos said. He added that he is looking forward to the opportunity to work with Latinx student actors and receiving their feedback in shaping the story. "Since it's a story so tied to community, I don't want it to be told the wrong way. They've really respected my vision."
"Because it's so personal with the playwright, since we're all of the same generation and living a similar experience, that comes with a lot of sensitivity," Hollens said. Brand New Theatre sends feedback surveys to those involved in the production after each show to capture how students felt about the process and to try to improve productions in the future.
"At the end of the day, it's a writer's work that we have to respect, and a director's vision that we have to respect, and an actor's time that we have to respect," Hollens added. "We're all students and all humans with a lot going on."
"Everyone there is so welcoming, and if you want to learn, there will always be someone there to teach you," Treiman added. "Not only that, they will be happy to teach you."
Hollens found the perfect way to sum up what appeals to students about the group. "There's just a really good energy around BNT," he said.