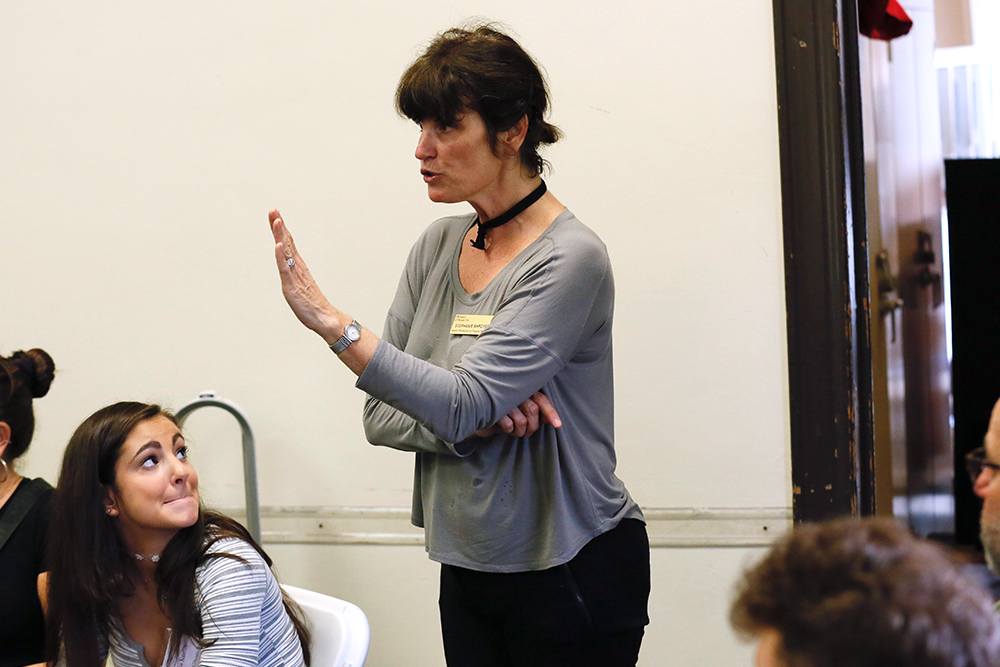 It's only a few weeks into the semester, but it's shaping up to be quite a busy one for Stephanie Shroyer. Along with taking on the reins this year as the School's artistic director, she also assumed the newly created position of associate dean of BFA programs.
And it doesn't stop there. Following her acclaimed revivals of George Bernard Shaw's You Never Can Tell and Jean Genet's The Maids at A Noise Within in 2016, the Pasadena repertory company invited Shroyer back to direct Maurice Valency's translation of Jean Giraudoux's madcap comedy The Madwoman of Chaillot. The farce — which also features faculty member Armin Shimerman and recent SDA graduates Jay Lee (BA '15), Richy Storrs (BA '15), and Michael Sturgis (BA '16) — is slated to perform Sept. 17 through Nov. 11, with an official press opening scheduled for Sept. 23. 
Written in 1943, the play concerns a plan by the idiosyncratic but morally sound Countess Aurelia to derail a scheme by the businessmen of the city to unearth a recently discovered fountain of oil underneath the streets of Paris. To do so, she enlists the aide of an entourage of bohemian misfits to lure the businessmen to a supposedly benign tea party where a delightfully nightmarish sequence of events awaits them.
In an interview with Pasadena Now earlier this week, Shroyer spoke of the play's appeal to today's audience: "Giraudoux loves to create the fantastic and imbue an otherworldly aspect to something very identifiable to us. He brilliantly challenges us with scenarios that seem fantastical, but make us question our actions if we were put in the same situation. What would you do if oil were discovered in your backyard? This play is so subtle, and so funny, and stays with you long after it's over."
At USC, Shroyer directed the BFA juniors last year in a full six-hour production of Robert Schenkkan's Pulitzer Prize-winning The Kentucky Cycle. For this season, she will direct the MFA second-year actors in Sarah Ruhl's Eurydice, playing in repertory with Annie Baker's Circle Mirror Transformation. Eurydice will open in the Scene Dock Theatre on Nov. 17 — six days after Madwoman's closes. In the spring, she will work with the BFA juniors on Barbara Field's adaptation of Charles Dickens' Great Expectations.