Plenty of theatre students travel to New York City to attend Broadway productions. But the week-long trip just taken by SDA's second-year MFA Acting students took the experience to a significantly higher level. What are the adjectives those students used to describe behind-the-scenes access to top Broadway shows and rehearsing in one of the city's most storied venues? "Surreal. Life-changing. Powerful and inspiring. A rare opportunity."
For starters, the eight students were able to rehearse their next production in a rehearsal room at Atlantic Theater Company, just as professional actors would. They worked there for five hours daily with their director, multiple Tony and Emmy nominee Kate Burton, a SDA professor who teaches and directs contemporary and classical theater and camera classes. Voice professor Natsuko Ohama and lecturer Peter Marciano also were working with the students in the room.
As a group, they attended one of the last performances of the critically acclaimed revival of Arthur Miller's Death of a Salesman on Broadway, and had a talkback afterwards with the principal cast who reimagined the American classic from the perspective of a Black family, including McKinley Belcher III, a 2010 MFA graduate. McKinley played Happy, one of the two sons of Willie and Linda Loman, who were played by Wendell Pierce and Sharon D. Clarke. The MFA students were able to ask questions and speak with the actors privately after their session. Dean Emily Roxworthy was there for the performance and talkback, as was professor Michele Shay, chair of Performance, lecturer Ntare Guma Mbaho Mwine and several other SDA faculty members.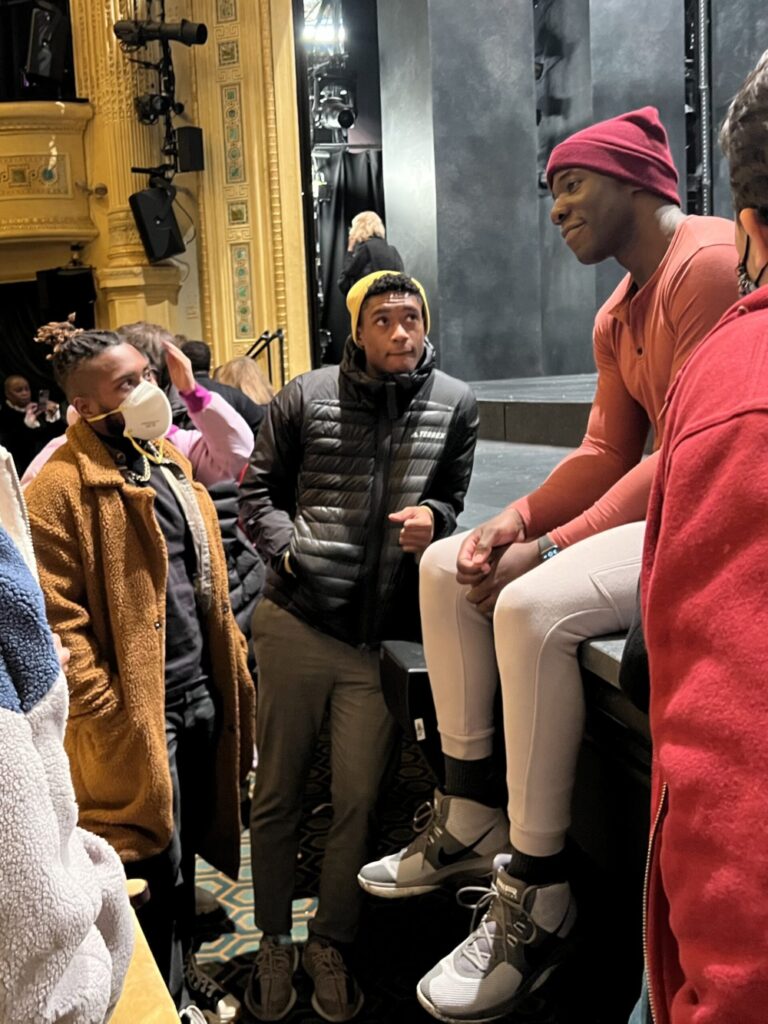 The trip had its genesis in New York City last October when USC President Carol L. Folt and Dean Roxworthy attended a performance of Death of a Salesman. "We were both blown away by the production, which was a true masterclass in acting," said Roxworthy. "We knew it was important to expose our graduate acting students to this masterclass and provide them an opportunity to hear directly from the artists who embody the agility that today's dramatic artist must exhibit to sustain careers, comfortably moving between screen and stage.
"Luckily, producer Paula Wagner (a member of SDA's Board of Councilors with a storied career in both film and theatre) immediately saw the value in this opportunity, and worked to support making it happen."
The dean noted that while Los Angeles has an extremely vibrant theatre scene, with the most theatres in the country outside of New York City, New York remains an important center for theatrical production, and SDA wants to find every opportunity to expose students to theatre there. "There is such a strong Trojan Network working both on stage and behind the scenes on and off- Broadway, that it is very easy to tap into that Trojan Family," she observed. "SDA prides itself on having a faculty comprised of working artists who can provide students with an education that's absolutely at the cutting edge of where the entertainment industry is at this moment – and our alumni are important partners in providing that education."
As a group, the MFA students attended other lauded Broadway plays: Sir Tom Stoppard's Leopoldstadt and Stephen Adly Gurigis' Pulitzer Prize-winning Between Riverside and Crazy. On their own, they fanned out to see other productions.
"The trip was life-changing," declared Devin Craig. He and fellow student Alcides B. Costa, Jr., went with Professor Burton to see Suzan-Lori Parks' Topdog/Underdog, and were profoundly moved by the acclaimed production's portrayal of the Black male experience. "It was amazing to be represented like that on stage and to see such amazing performers do different styles of acting at the highest levels," he said. Seeing the play sparked a plan. He and Costa want to produce Topdog/Underdog as an independent student production at USC next year. The two would perform as the play's two characters, Booth and Lincoln.
Craig said he "really needed this trip," as his acting background has been in film and TV, not theatre. "Being able to watch people do it at the highest level is really inspiring and gives me a point of reference to know what great acting looks like."
Student Beryl Liu took the opportunity of the Death of a Salesman talkback to confer with Sharon D. Clarke afterwards about Clarke's last, "breathtaking" monologue. Liu has a long monologue upcoming in Shakespeare's The Winter's Tale, the play the group began rehearsing in New York City, and she was looking for insight on how to approach such an emotional long piece of dialogue. "She told me not to let my emotionality overpower the language and the text," recalled Liu. Clarke told Liu not to worry about what's going to happen as she delivers the monologue, but "just let it happen and the language will provide itself naturally."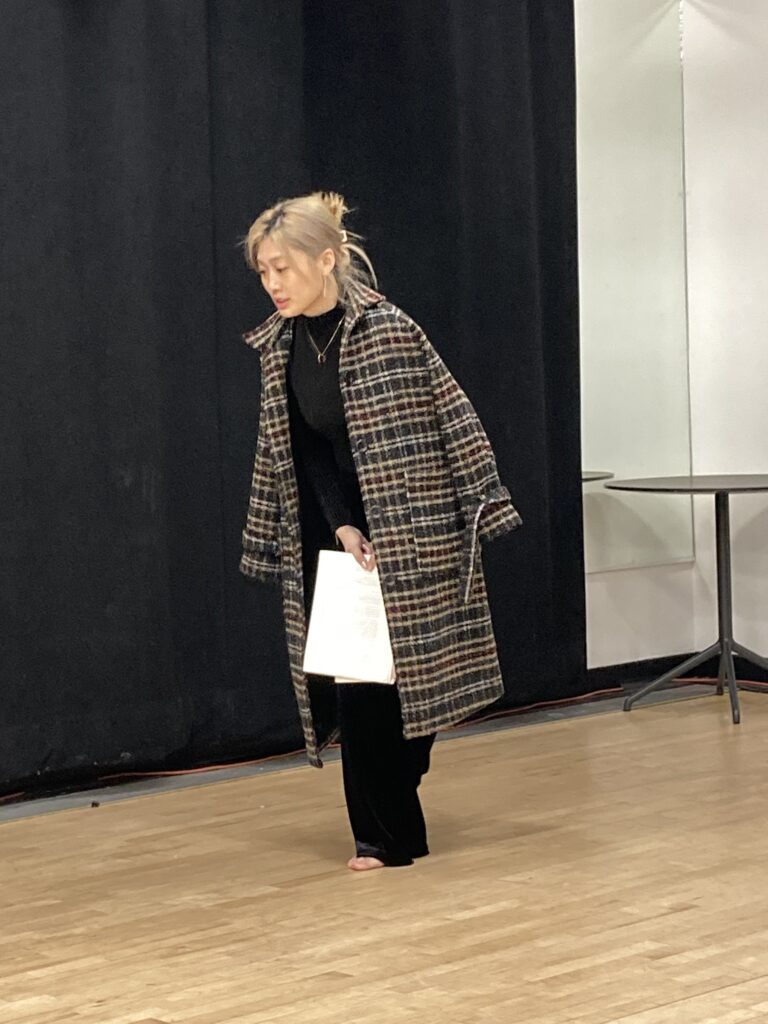 Liu said the talkback was "a really, really, really phenomenal experience. It was such a profound show and to hear them talk about their experiences and journey, and how to keep their stamina up to live through this very intense story, was a very enriching experience."
Kaixiang Zhang, another member of the acting cohort, said that rehearsing every day in a New York City theatre rehearsal space "makes me feel like I'm a professional actor right now."
Seeing Death of a Salesman humbled him, Zhang said, as the acting was so extraordinary. "Talking to them afterwards, the actors said there is always something to learn. They told us what their process is – what they do before this emotionally and physically demanding show and after. They stressed that it's important for actors to take care of the body, the voice, and mental health. It's everything we were told in our classes, but it reinforces it to hear from professional actors we just saw on stage."
Zhang confided that he thought USC alum Belcher stole the show. "He was so free on stage. His energy, his freedom, was mind-blowing."
Zhang, who came to this country from China specifically for the MFA program, said he felt supported and recognized by the dean, Burton, Shay and the other faculty. "I really appreciate them planning this for us and being here for us."
The MFA students and their undergraduate castmates will have a month to get The Winter's Tale on stage at USC's 550-seat Bing Theatre, where it will run from Feb. 23-26.
Beryl Liu said the "rare opportunity" to practice while seeing professionals on stage in New York, will have immediate dividends. "I am so, so grateful to be here," she said while still in the city. "We get to see what is the epitome of the work we are pursuing. And we get to go right into it ourselves in rehearsal, to hone in on what we are trying to do in our own personal development.
"It's been such a special opportunity."