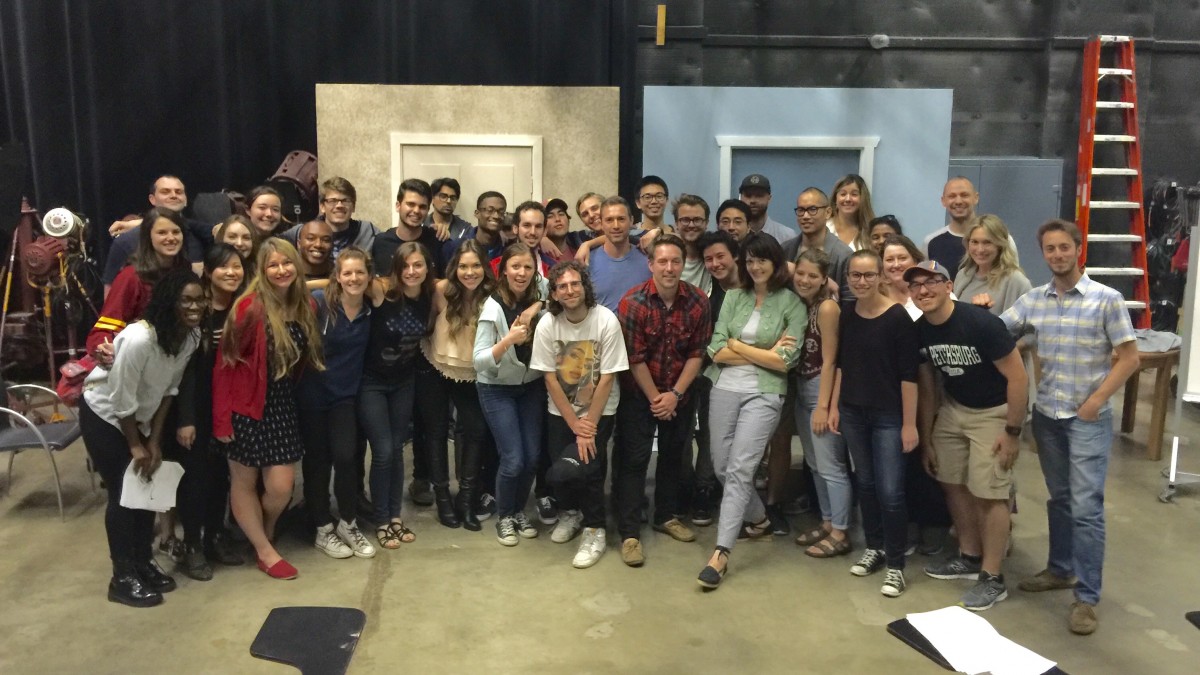 No one can say that Beck Bennett and Kyle Mooney don't give back to USC.
The friends and 2007 graduates (Bennett from the School of Dramatic Arts and Mooney from the School of Cinematic Arts) who have been Saturday Night Live cast members since 2013, recently returned to campus and spent hours with students in the university's sketch comedy class.
First, they talked to class members in conversation with Dramatic Arts instructor Kirstin Eggers (BFA '01), the Groundlings alum who teaches the acting component of the class. (Eggers said she ran into Bennett at the Target in Eagle Rock when he was on hiatus from SNL and issued the invitation.) Then, they answered questions informally from eager students for half an hour. Finally, Bennett and Mooney moved to the Zemeckis Center soundstage to watch a rehearsal of the ongoing class project, a three-episode live comedy show that is USC's version of SNL, and gave thoughtful feedback to the actors, writers, directors and production crew.
The students paid keen attention, because Bennett and Mooney have forged national comedy profiles in a distinctive, digital-age way. The two, along with Nick Rutherford, a fellow member of USC's oldest improv troupe, Commedus Interruptus, and Mooney's childhood friend, Dave McCary, were part of the first wave of actor/filmmakers creating their own YouTube videos. Rutherford went on to write for SNL and McCary, who directed the videos, is now a segment director for SNL.
"We actually got our start in videos from the Ed Wood Film Festival," said Bennett, a 24-hour festival that began at USC 19 years ago.
After graduation, "we had all these sketches we had written," said Bennett. At first, Bennett, Mooney and Rutherford tried touring. They tried unsuccessfully to get a sponsor and book enough gigs to make a go of it.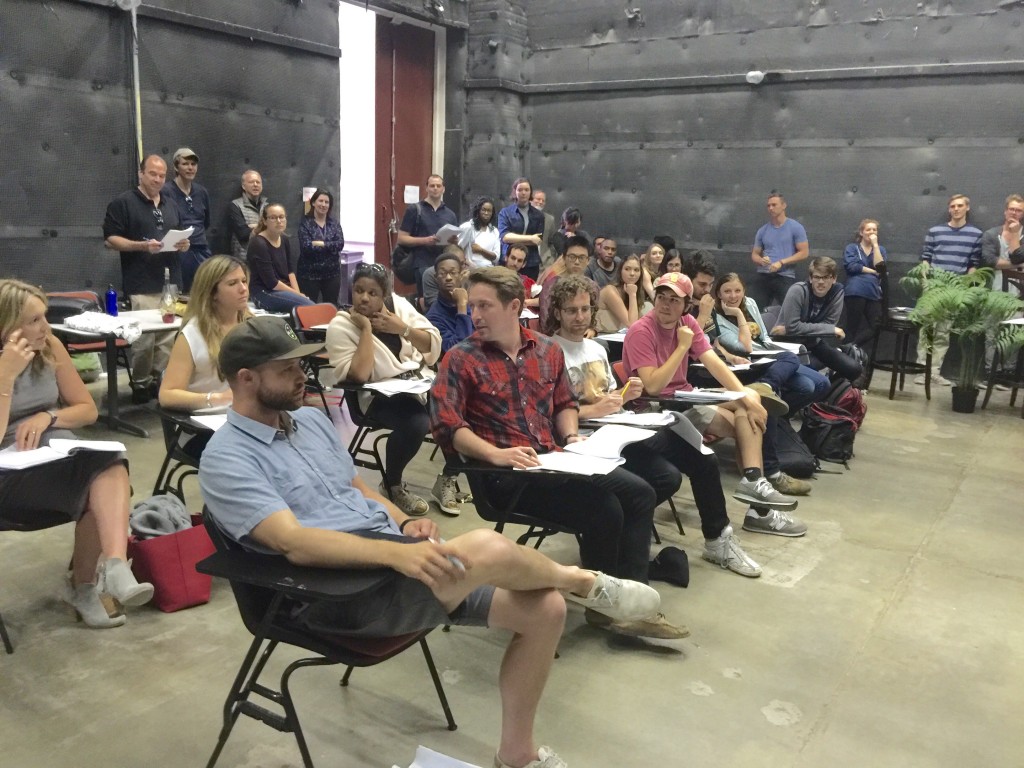 Plan B became making their own videos, and the four friends eventually produced 50 short videos under the Good Neighbor moniker. Frequently brilliant, the videos attracted attention, most notably Unbelievable Dinner, based loosely on the film Hook, which prompted its director, Steven Spielberg, to send them the following encouraging note. "My daughter, Sasha, showed me your film and we just howled with laughter. Keep making funny movies. –Steven"
The videos helped their creators get agents and managers, but the USC grads also did their own promotion. The Good Neighbor team gained traction for their videos by giving cameos to already-established YouTube personalities, thus gaining access to other subscriber pools. When they produced a video for the Funny or Die channel, they would attempt to boost its popularity by taking over an empty multimedia lab at USC. They would move from computer to computer, clicking the "funny" vote for their videos, trying to push them to higher rankings on the site.
The comics worked as production assistants, waiters and booked commercials to finance their videos and classes at Upright Citizens Brigade, a venue where they also appeared in shows. At Maker Studios, home to many YouTube stars, Bennett created a web series, Fresh Perspectives, where he was a news anchor for children commenting on current events. A cross between Kids Say the Darndest Things and The Colbert Report, is how Bennett describes it. Although it would seem that it led pretty directly to Bennett being tapped for the AT&T very successful "It's Not Complicated" ad campaign, with him having cute, mostly improvised conversations with elementary school children, the AT&T marketers did not seem to know about his web show when he auditioned. "I had to tell them 'this is what I do' and show them the videos," said Bennett.
Mooney said the group had shot a pilot presentation for Comedy Central (a drinking game hosted by them in their pretend "house") when SNL expressed an interest in having them audition. "The Lonely Island guys (Andy Samberg, Akiva Schaffer, Jorma Taccone) pushed for us," he said.
They had only a few days to prepare for the SNL audition, which was daunting, as those auditions require creating multiple characters, which normally takes months or years to hone. Beck performed at a showcase in Los Angeles with about 20 candidates, and was asked to fly to New York for a further audition. Mooney, who was in Prague shooting a Taco Bell commercial (not a misprint), had auditioned for the show the previous year and was able to skip the showcase and go right to New York. There, they each had a final five-minute stage audition before getting the welcome call from creator and producer Lorne Michaels. Both comedians had breakout freshman years on the NBC show and are now repertory players. (Another USC School of Dramatic Arts grad, Jon Rudnitsky (BFA '12), became a featured SNL player in 2015.)
While back at USC this spring, the duo talked about how the show is different from a live multi-camera comedy because of the use of cue cards – necessary because sketches are rewritten up to air time. "They basically tell us not to memorize our lines," said Bennett.
"You can be pretty prepared if it's your own sketch," said Mooney, but political sketches, particularly, are open to last-minute changes.
When asked where they find inspiration for ideas they pitch to the show's writers, the two said they seek out unintentionally hilarious people on YouTube who post videos of themselves that attract perhaps 25 views. "They talk as if they are talking to the whole world," marveled Mooney. "I love weird internet videos."
Mooney, a critical studies major who worked after graduation with Cinematic Arts legend Herb Farmer at the USC Hugh M. Hefner Moving Image Library for a few years, has written a feature film, Brigsby Bear, that will shoot this summer, with McCary directing. The dark comedy is about a man obsessed with a children's television show.
Both said the USC live sketch class, which involves a studio audience and live airing of episodes over TrojanVision television is a terrific idea. "It's important to find collaborators at college you can continue to work with," said Bennett.
His career – and Mooney's and their Good Neighbor collaborators – are solid proof of that.