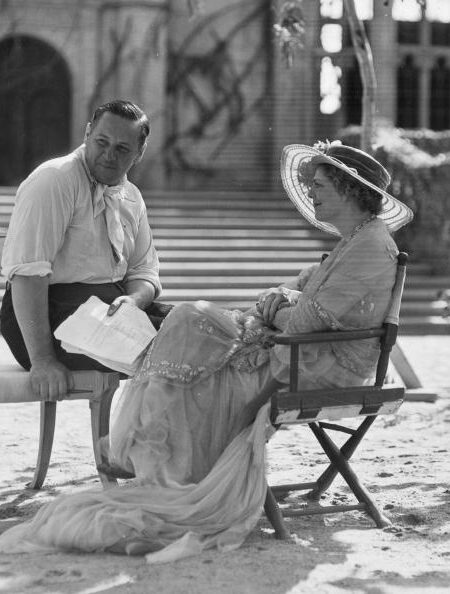 First in her native Poland later in New York and now at USC, Ewa Danuta Godziszewska is making sure that the acting techniques pioneered by Richard Boleslawski do not get "lost in translation."
Film and theatre historians who follow the work of Boleslawski know that the Polish-born director (1889-1937) was at the helm of several well-known Hollywood movies, man toured with the Moscow Arts Theatre, and brought the teachings of Konstantin Stanislavsky to America. In New York, Boleslawski taught future acting luminaries and Group Theatre members Lee Lee Strasberg, Stella Adler, Harold Clurman and John Garfield. It was his 1932 film Rasputin and the Empress that prompted members of the Russian royal family to sue MGM for libel, thereby laying the groundwork for the disclaimer: "This motion picture is a work of fiction and any resemblance to persons living or dead is purely coincidental" that has become a standard for motion pictures going forward.
But as distinctive a stamp as he has put on film and the stage in America, Boleslawski has not always received his due in his native country, claims Godziszewska, a graduate student who conducted research at USC last semester.
"In Poland, Boleslawski was not so well known," said Godziszewska, herself also a native of Poland. "I don't know why."
Godziszewska developed her interest in theatre from a young age. The craft of live performance has been a fascination since high school, but Godziszewska had little interest in acting, directing or the technical elements of production.
"But the history of theatre – the history of ideas – became a really broad topic for me," she said. "When I started to study Boleslawski, the whole topic of the transmission of acting systems is really great. I find acting methodologies interesting from cultural perspectives."
During her months at USC this past spring, Godziszewska divided her time between archival research and classroom observation. When she wasn't holed up in the Doheny Library, she could be found in the classroom of School of Dramatic Arts' Associate Dean/Director of BA Programs and Professor of Critical Studies Sharon M. Carnicke, or in Carnicke's studio – where the instructor and author of Stanislavsky in Focus teaches acting methods that came out of Stanislavsky.
Three years ago, Godziszewska and Carnicke met during a conference in Warsaw dedicated to Boleslawski. Carnicke, who is fluent in Russian, has a dual appointment with the Slavic Languages program at USC and frequently lectures and presents internationally. The two women became acquainted and Godziszewska has nursed a dream to work with Carnicke ever since.
"We spent quite a lot of time together discussing our research," Godziszewska said. "My main research interest is the translation of Russian acting system to the American theatre and movie industry, and her book Stanislavsky in Focus is really similar. She writes about the character of this translation and why it was so important to adapt this system in the United States."
Carnicke realized that the information her mentee was looking for could not be easily tracked down online or during a few days spent in a university library.
"She's looking at things like handwritten notes and the memoirs of people like Strasberg when they were studying with Boleslawski," said Carnicke. "This is the work that it takes to get a PhD to become a specialist in our field. Although we have wonderful internet access now, much of the early research has to be done in the archives, in dusty files combing through stuff hoping that you're going to find something that will just unlock the door."
Godziszewska obtained a grant from the Kościuszko Foundation to come to USC, but the arrangement – a combination of archival research and seeing techniques in practice – is unique.
"Most graduate students don't shadow you and come to your classes," she said. "Ewa is very committed in her own research to grounding this in acting."
Godziszewska did her undergraduate studies at the Aleksander Zelwerowicz National Academy of Dramatic Art and is a PhD candidate at that university as well. Carnicke has championed and helped to guide Godziszewska's research, giving her advice on how to obtain grants. She has conducted research at the Barnard College of Theatre and also worked as an auditor at the Lee Strasberg Theatre & Film Institute in New York. Godziszewska is a PhD candidate at the SWPS University of Social Sciences and Humanities in Warsaw.
During her time at USC, Godziszewska shuttled between Doheny Library and her sessions with Carnicke, fitting in Los Angeles experiences when possible. She also presented at a conference in Malta.
"Everybody has been so helpful. It's been really lovely," said Godziszewska.