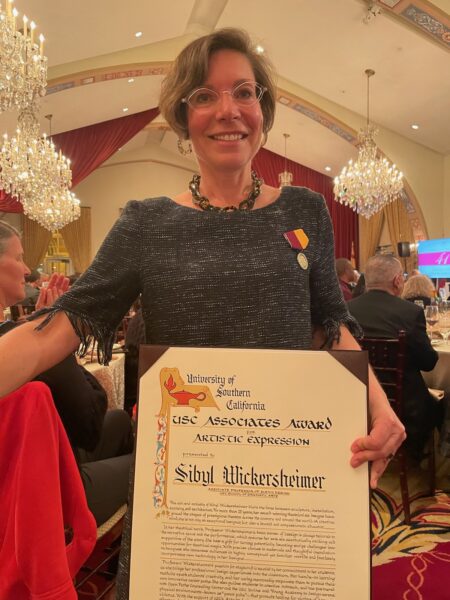 Trojans gathered this past April to honor and celebrate the highest academic achievements of the university's students and faculty during the university's 41st annual Academic Honors Convocation. Among those honored were SDA Associate Professor of Scenic Design Sibyl Wickersheimer, who received the USC Associates Award for Artistic Expression. The USC Associates Awards are the highest honors the university faculty bestows upon its members for distinguished intellectual and artistic achievements and for outstanding teaching, both in and out of the classroom.
The art and artistry of Wickersheimer blurs the line between sculpture, installation, scenery and architecture. She is a creative mind, an exceptional designer, and a devoted educator. Her award-winning theatrical set designs have graced the stages of some of the most prestigious theatres (locally, nationally and internationally) for more than 25 years.
Wickersheimer's accomplishments in the arts are matched by her commitment to her students at the USC School of Dramatic Arts. She brings her design experiences directly into the classroom and engages students in hands-on learning modalities that inspire and empower them as they enter the professional field.