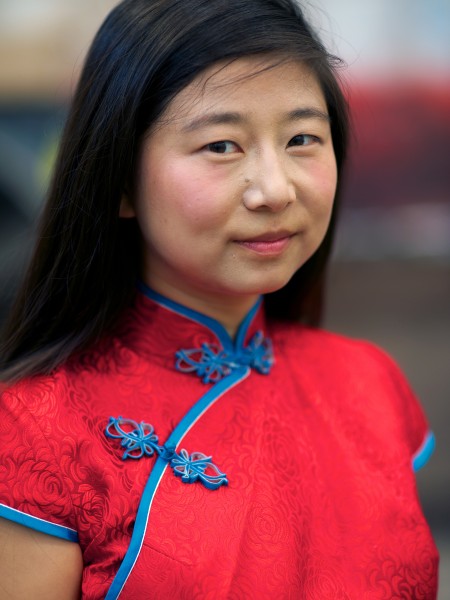 By Allison Engel
Fei Kayser says she's "desperate" to write plays about contemporary Chinese life. "There is so much story there," the former Xi'an, Shaanxi, and Beijing resident said.
The first-year MFA Dramatic Writing student is one of four inaugural fellows in the USC International Artist Fellowship Program who began their scholarly pursuits on campus this fall semester. She is joined by Vladimir Gorbach of Russia, Jacinto Astiazarán of Mexico and Frederico Fernandez of Brazil.
Kayser completed her undergraduate work at Yale University. After college, she was a founder and consultant on scriptwriting for a film production company in Beijing. The young playwright has also written for China Central Television, China Daily and interactive media.
At USC, Kayser will be working with professors Velina Hasu Houston and Oliver Mayer, and anticipates writing two plays per year during her three-year stay.
"I want to write things that are funny and accessible, and not in a didactic style," she said. "China is in the news all the time, so I have much to write about."
USC Provost and Senior Vice President for Academic Affairs Elizabeth Garrett oversaw the creation of the new program, which highlights the university's six world-class arts schools and their place in the global metropolis that is Los Angeles. The program provides tuition, travel and living expenses for fellows, allowing them to focus on creativity and supporting the production of new work. Fellows stay at USC for two or three years, depending on the graduate arts degrees they are pursuing.
In a memo to the Trojan Family, Garrett wrote that the program links with the university's strategic vision of "bringing the best international artists from the Pacific Rim, South Asia and Latin America to our campus for study to form a cadre of creative leaders, whose work will influence USC, Los Angeles and the world."
The International Artist Fellowship Program was announced at the university's 2011 Global Conference in Hong Kong. It is expected to grow to about 15 fellows. Fellows will have planned opportunities to interact with their peers as well as with professionals working in Los Angeles' leading arts industries, including the downtown arts corridor and Hollywood.
Q&A with Fei
Fei Kayser is a first-year MFA of Dramatic Writing student and international dramatist, who has received numerous awards, prizes and fellowships for her written work. She has penned for stage, publication, television and film, as well as taught American and British literature, and film at the university level in China.
The School caught up with Kayser to find out how she has settling into USC and about her current projects:
How has your experience at USC been?
It is incredibly stimulating to be in a community of such talented, intelligent, curious, and ambitious colleagues and mentors. The intellectual energy on campus is prodigious. Students and professors are passionate about and dedicated to their art.
What are you currently working on within the Dramatic Writing program?
I am writing a rollicking musical comedy set in contemporary China. Creative juices really get going when there are no artistic limits placed on us.
What have you gained from the program so far?
I am learning from artists who have made, and continue to make, historical contributions to the field.
And, what have you learned about yourself?
Having great collaborators from the other arts schools at USC pushes me to work that much harder, that much better. I am also writing an animated film with the USC International Artist Fellow from the School of Cinematic Arts.
How do you see your studies at the School helping with your professional career/goals?
This is a protected time to write my best work. My focus is centered, the environment is ideal and I have access to a treasure trove of intellectual resources.
Any other thoughts?
I am very proud to be a Trojan. We are a community that celebrates the arts.