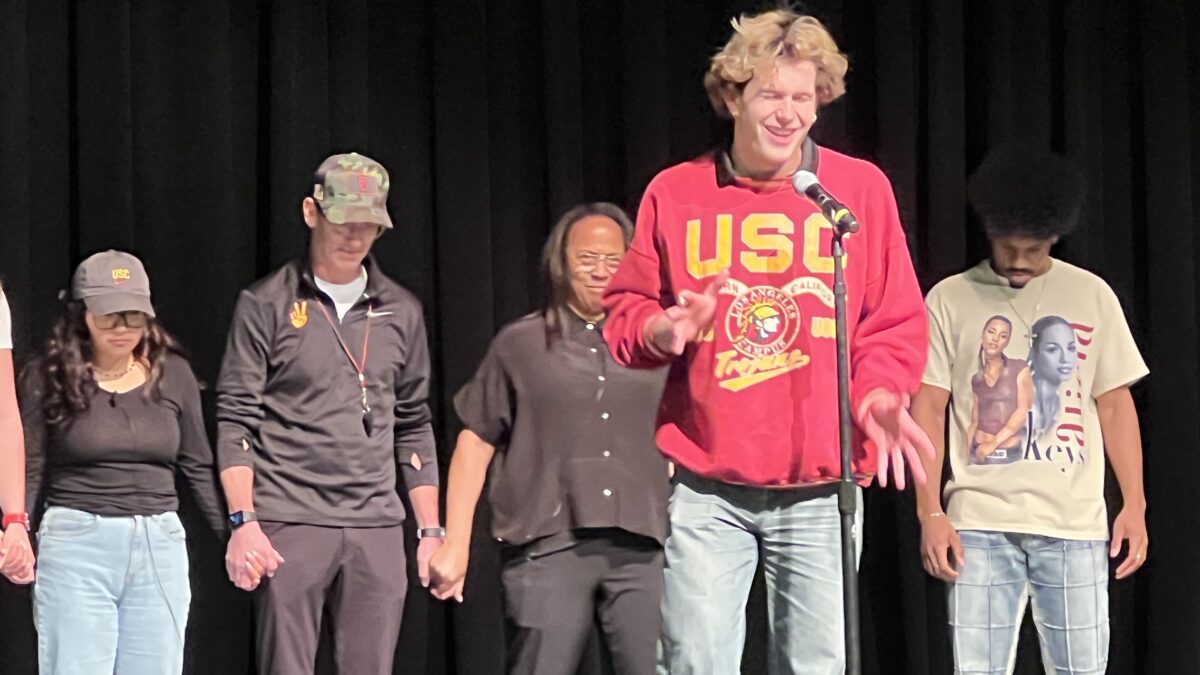 Earlier this semester, USC School of Dramatic Arts faculty members Anita Dashiell-Sparks and Brent Blair worked with the university's student-athletes to use theatre skills to react in the face of microaggressions and discrimination. The event was the result of a collaboration between the School of Dramatic Arts' Office of Diversity, Equity, and Inclusion and its Institute for Theatre & Social Change and cross campus partners, including USC Athletics and the USC Office of Spiritual Life.
The focus of the event was religious microaggressions, and skits and scenes were used that highlighted real-life scenarios experienced by students, including being singled out for a religious-based dietary restriction by an overwhelmed caterer and coming out to one's parents about having a change of faith while studying in college. Student-athletes and coaches from across all of USC's sports teams attended and enthusiastically participated, being called on to interact with the scenarios and, for some, to get on stage and act out what they would have done differently.
Once the situations were portrayed by student actors participating in the event, the student-athletes would vote with screams and cheers on which skit hit closest to home. Volunteer student-athletes from the crowd would then be called to join the actors on stage, either to replace a character or to become a new character in the scene, to test out ways that the new addition could make the scenario end differently. They joined the actors onstage, trying a variety of tactics, some successful, some less successful, to make the scene end more happily—and equitably—for all involved.
"Dealing with challenging and complex issues through theatre is impactful and powerful because it provokes dialogue and invites everyone to actively strategize and practice other possibilities of interventions that supports and advocates for the person in need," event co-creator Anita Dashiell-Sparks explained. "This interactive empathetic experience humanizes everyone involved in the situation."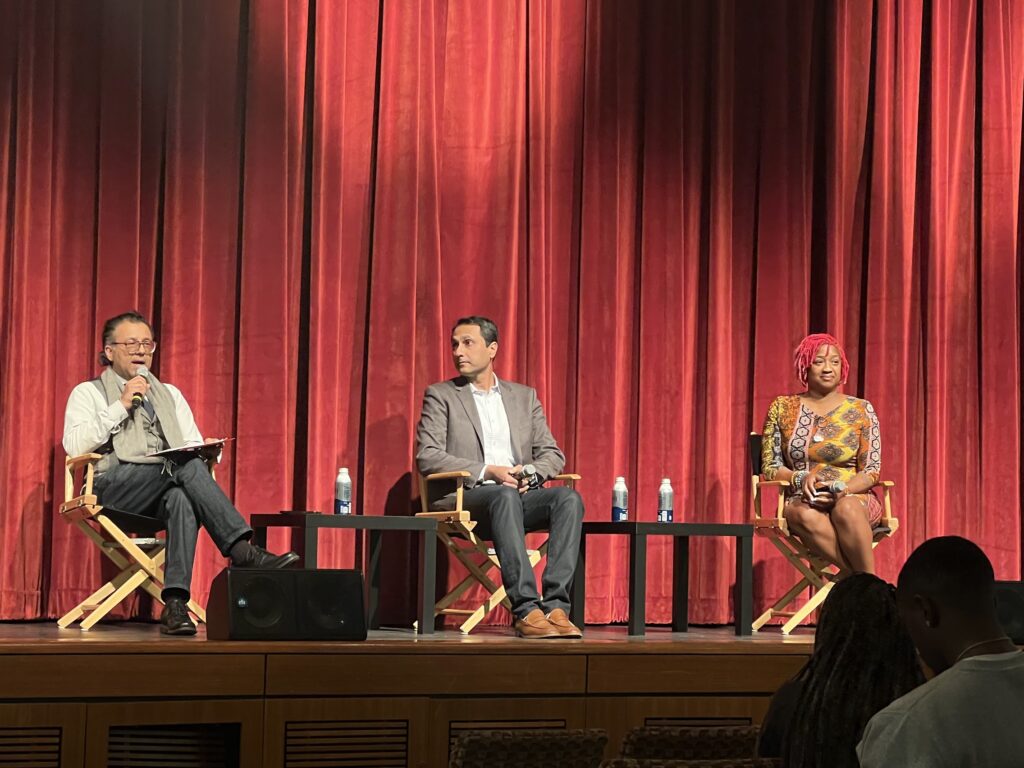 Centering patience and grappling with nuance
The interactive portion of the event was followed by a panel of experts on religious life led by Varun Soni, Dean of Religious Life at USC. Other panel members included Najuma Smith Pollard, Assistant Director of Community and Public Engagement at the USC Center for Religion and Civic Culture, and Eboo Patel, founder of Interfaith America.
The panel held a frank discussion of the interactive performances in which the student-athletes had just participated, lending their experience and expertise on dealing with the complexities of religious issues in the context of university athletics.
"The situations that were depicted tonight are nuanced. They're challenging," Dr. Soni said. "The remedies and outcomes can be messy. Even if you have the best intentions, there aren't always clear answers."
Rev. Dr. Smith Pollard commented on the final scene, wherein the student came out to his parents as no longer identifying with their religion. Dr. Smith Pollard acknowledged the particular difficulty of religious disagreements between close friends and loved ones, and advocated for patience.
"Part of what we can offer to our family members and friends is the grace of patience," she said. "If we can center patience, we can get there over time."
The biggest moment of tension in the event occurred when Dr. Patel confessed to being a die-hard Notre Dame fan. The Trojan student-athletes were won over, however, with his appreciation for USC's stellar athletics programs and his keen insights on the special role of athletics in a diverse society. Dr. Patel recalled a scene from Monday Night Football wherein Kansas City Chiefs safety Husain Abdullah was flagged for unsportsmanlike conduct after performing an Islamic prayer.
"The ref didn't recognize it. He made a huge mistake in front of millions of people on national television, and the NFL had to apologize the next day," Dr. Patel said. "That's an example of what it feels like sometimes to be a religious minority."
The Trojan student-athletes were engaged and energetic in their participation with both the theatrical scenes and the panel, coming away with new insights on how they would react in the face of thorny and difficult conflicts relating to religion and sports.
Dr. Patel noted how important such training was by pointing out the profound role that athletics plays in American society.
"In order for a diverse democracy to run, especially a religiously diverse democracy, it has to have spaces where people from very different identities learn to cooperate," Dr. Patel pointed out, to murmurs of recognition and approval from the student-athletes. "That happens here more profoundly than anywhere else."