On Friday, May 12, the USC School of Dramatic Arts celebrated the accomplishments of the Class of 2023, conferring degrees on 142 undergraduate students and 10 graduate students. The 140th Commencement Ceremony of the University of Southern California was held in the morning, with the SDA undergraduate and graduate ceremonies held in the Bing Theatre following.
Actor, comedian, writer and SDA alumnus Beck Bennett (BFA '07) delivered an inspirational—and profanity-laden—speech to the undergraduates, advising them to embrace the uncomfortable and to learn to be flexible when life throws unexpected curveballs. Bennett talked about his long journey, full of failures and wrong turns, which led him to a successful eight-year run on Saturday Night Live.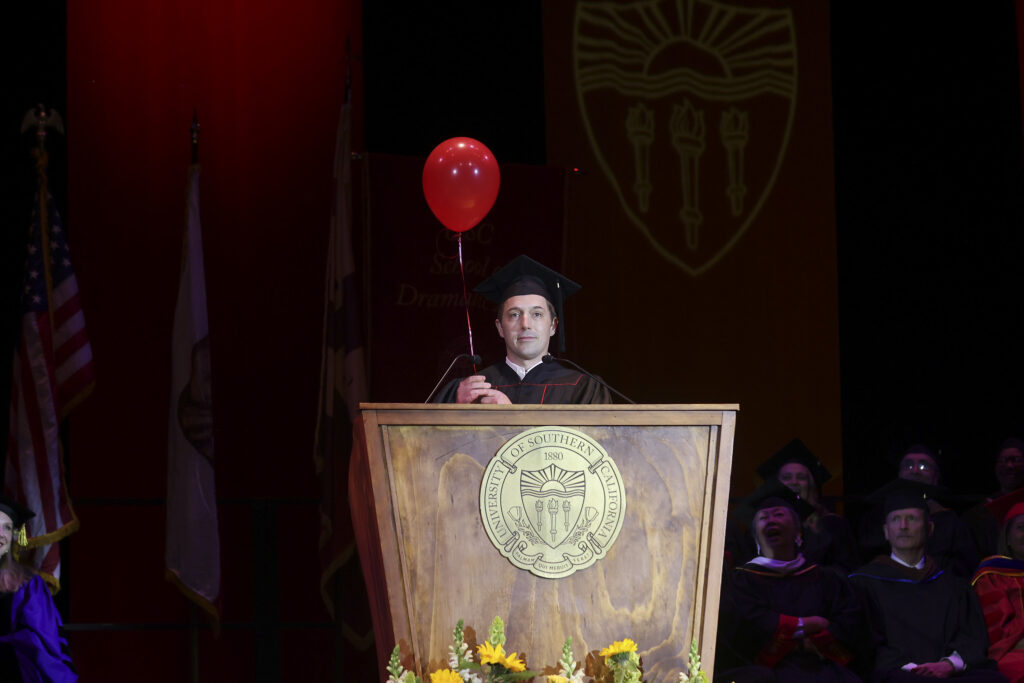 "Eat s—," Bennett advised, hilariously. "Go out into the world and embrace failure. Remember that it's going to be uncomfortable, and that's okay. Continue to put yourself out there and learn from your experience. And do it with your peers here in this room."
Undergraduate student speakers, selected by their peers, reflected on their experiences at USC, where they each learned to accept themselves and not wait for others' permission to live and make their art.
BA student speaker Dara Adedara spoke eloquently about her decision to start saying "yes" to herself. Reflecting that, in her early acting career, as a "big, tall, dark-skinned black woman" she "never heard 'yes' a single time growing up," Adedara revealed that she had learned to start making her own opportunities while at SDA, including founding the production company Fifth Floor Studios with fellow graduates Wynton Jones and Kennedy Hill.
"The reason I never felt fulfilled was because I was always trying to chase something that wasn't for me and never ended up getting it," Adedara said. She reminded her fellow graduates, "we're storytellers and however you take the past four years and apply it to your life, just know we've already won and we've already given ourselves a yes."
BFA student speaker Tina Archer noted that studying theatre prepares students for every challenge that may come their way, including important lessons in leadership, problem-solving, perseverance and self-acceptance.
Archer assured her fellow students, "The skills that we have learned while at SDA, inside the classroom, while working productions, and from observing our peers, have prepared us for absolutely anything and everything." And she challenged them to "continue to use the skills we've learned in theatre to continue to make a positive impact on the world."
At the celebration for the MFA graduates, award-winning playwright, screenwriter and SDA alumna Madhuri Shekar (MFA '13) spoke passionately to the graduate students about the ongoing writers' strike, and for the need to fight for a more inclusive industry.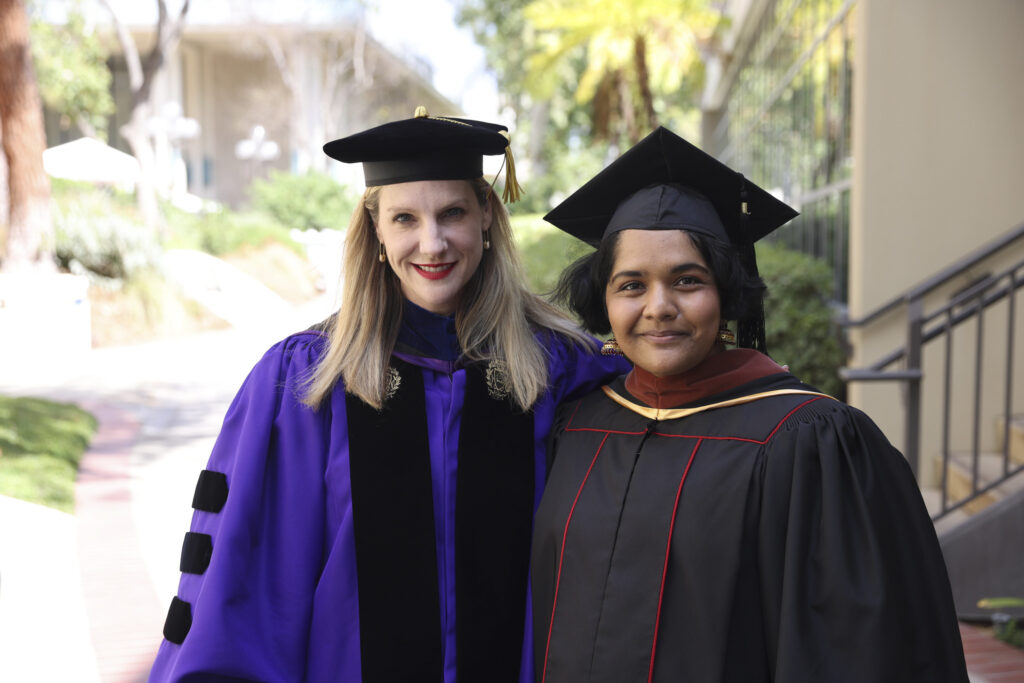 "We make that room. It's not given to us," Shekar said. "We carve it out. We hold the seat. We hold the door. We build the ladder over the wall and then we protect the ladder until we can demolish the goddamn wall. We make the room."
MFA Acting student speaker Levonte Herbert reflected on his unlikely path from Golden Glove boxer to actor, thanking individual faculty members for helping him feel accepted and believing in himself.
Herbert also noted that USC's motto Fight On was fitting to his life and to that of his cohorts.
"Each of us has had our own personal journey along the way. Personal obstacles, challenges, and adversities. And each of us prevailed," he said.
He asked that as his cohorts move forward into the beginning of their careers to remember what it took for them to get to today's commencement: "Persistence, Fortitude and Determination. Those truly are the three virtues. Fight on!"
MFA Playwriting student speaker Adi Eshman spoke about the need for self-compassion, quoting a favorite adage of SDA Professor Luis Alfaro.
"You're always writing," Eshman said, quoting Professor Alfaro. "You write when you watch YouTube videos. You write when you horseback ride. You write when you surf in Malibu, or when you're answering calls at a day spa… You're always writing. That hope can power the creation of something new, vibrant and original."
The ceremonies were followed by celebrations and reminiscences about the journey that had led the students to this point, and the new one that would begin following graduation.
One thing that is certain: they learned and grew together, and will be fully prepared for whatever challenges lie ahead. And no matter what happens, they'll always have their Trojan Family to rely on.
"I hope you continue to lean on each other and prioritize each other as you build your careers," Shekar said. "Let's do what we can, whenever we can, to take care of each other."
Photo Memories