The future of live performance was on tantalizing display in early October at Thunder Studios, an integrated studio and production services company. Studio founder and SDA alumnus Rodric David (BA '93), noted technology pioneer Elliot Jobe, President of Metaverse Operations Helix Wolfson, and visual effects creator Julian Sarmiento took turns introducing SDA students to the studio's various projects and painting an exciting portrait of a future where narrative, live performance, and technology converge.
This was the third of the School's new Multihyphenate Masterclasses. The set of 10 co-curricular weekend intensives – free to all School of Dramatic Arts students and taught by USC faculty and guest artists from stage and screen – is designed to unleash the next generation of storytellers to be media-agile, multihyphenate dramatic artists.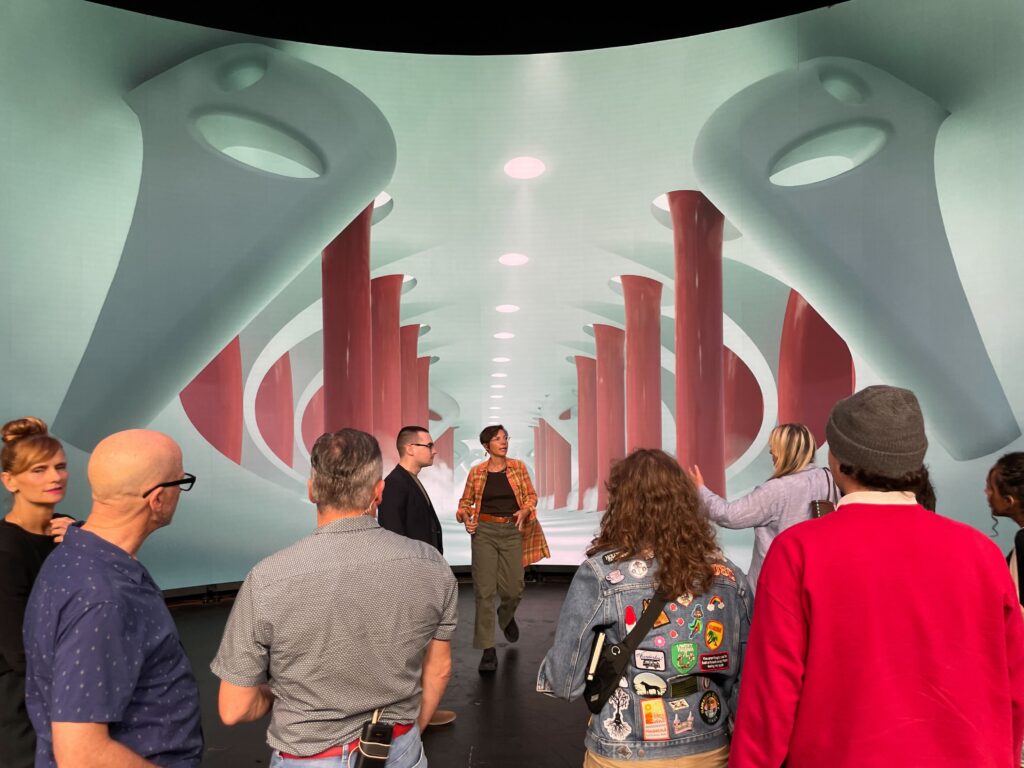 The art of constant reinvention
The day began with a tour of the massive studio complex, which included numerous large-scale stages with customizable backdrops for adding state-of-the-art visual effects. Thunder Studios has produced work ranging from commercials and television to music videos and broadcasts of live boxing matches, and the likes of Rihanna, Justin Bieber, and Kanye West have all graced their stages. The tour also included a look into the company's state-of-the-art remote broadcasting studio for live performances, as well as a look at their e-sports spaces—the company sponsors several e-sports teams and hosts tournaments.
"Hollywood has reinvented itself every generation through new technology," David said. "There's got to be a way that these technologies can be exploited to actually bring these tool suites to creators so that they can go directly to consumer, and that's where we've been working diligently since 2013."
David pointed out that collaboration between creative people no longer relies on proximity, and he demonstrated this by introducing one of the "wizards behind the scenes," sitting in his home in Oregon and controlling the virtual production stage remotely.
"Collaboration is no longer geographically bound. As students starting to embark on your careers, you need to break out of that mindset that collaboration has to be with people in the same location as you," David said. "You can collaborate with creative people from a global talent pool. That's a really big component of where we think the creative economy is going to go."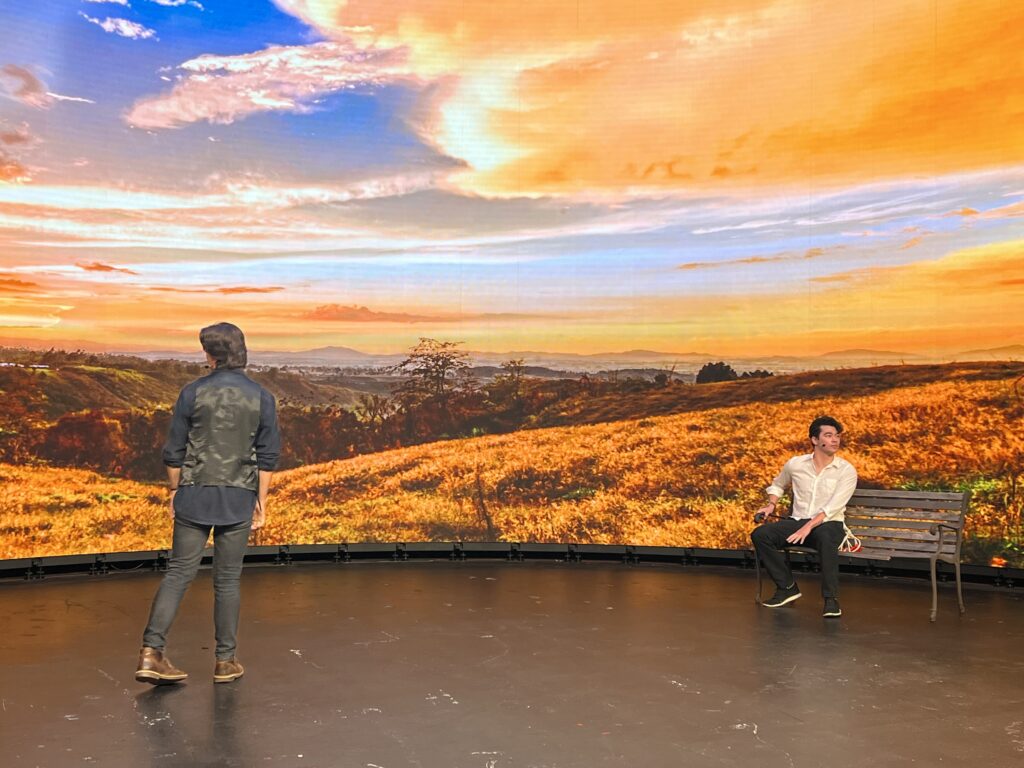 The human element
The masterclass, which was led by David, Jobe, and SDA faculty members Sibyl Wickersheimer and Scott Faris, also featured performances by SDA students. Each performance embodied the marriage of technology and live performance at the heart of Thunder Studios' philosophy, as the performances made use of the large, curved screen in the background to whisk the audience away to a streetlamp-lit road, the backstage of a movie studio set, and finally to the harsh desert environs of the TV show Westworld. During the event, SDA Musical Theatre students Bruno Koskoff and Matthew Dean performed a dance number to Frank Sinatra's "One More for the Road." A second dance performance paying tribute to classic films was performed by sophomore Ethan Holder and SDA and USC Kaufman faculty member Kate Dunn; and SDA BA seniors Clarence Ball and C.J. Craig performed a dramatic reading from HBO's hit television show Westworld.
Julian Sarmiento discussed the matrix of human users and technological interfaces promised by the rapidly developing field of UX, and discussed its applications for the performing arts. Sarmiento, whose visual effects credits range from I, Robot to Pacific Rim, emphasized how his career has drawn on his dual background as a creative and an engineer. Helix Wolfson then demonstrated some of the upcoming opportunities for creatives and performers in the emerging virtual world known as the Metaverse: he took the audience through a live, virtual reality "Playa" created for Burning Man participants during the pandemic, and shared a short film demonstrating some of the many new commercial and artistic opportunities that live performance could find in the virtual world.
Changing the world, one more time
Rodric David took to the stage once more to drive home his belief that these technologies will fundamentally change the nature of the creative economy in the near future.
"The internet changed the world in the last thirty years," David said, emphasizing his belief that students need to understand new technologies and the artistic possibilities they bring. "The metaverse has the potential to change it again in the next ten."
The various demonstrations were followed by a Q&A session with students, faculty, and parents, who asked for advice about embracing new technologies and sought to better understand how to apply these technologies to their own art and careers.
David emphasized that, while technology creates new opportunities for artists and creatives, it is the art and creativity itself that makes these technologies engaging to people.
"The more we let go of spectacle as an end goal, the more we get excited that these technologies are utterly unexploited," David said, adding that students like those studying at SDA are the future of making these technological feats appealing to audiences. "No one is better at live performance than those engaged with theatre."