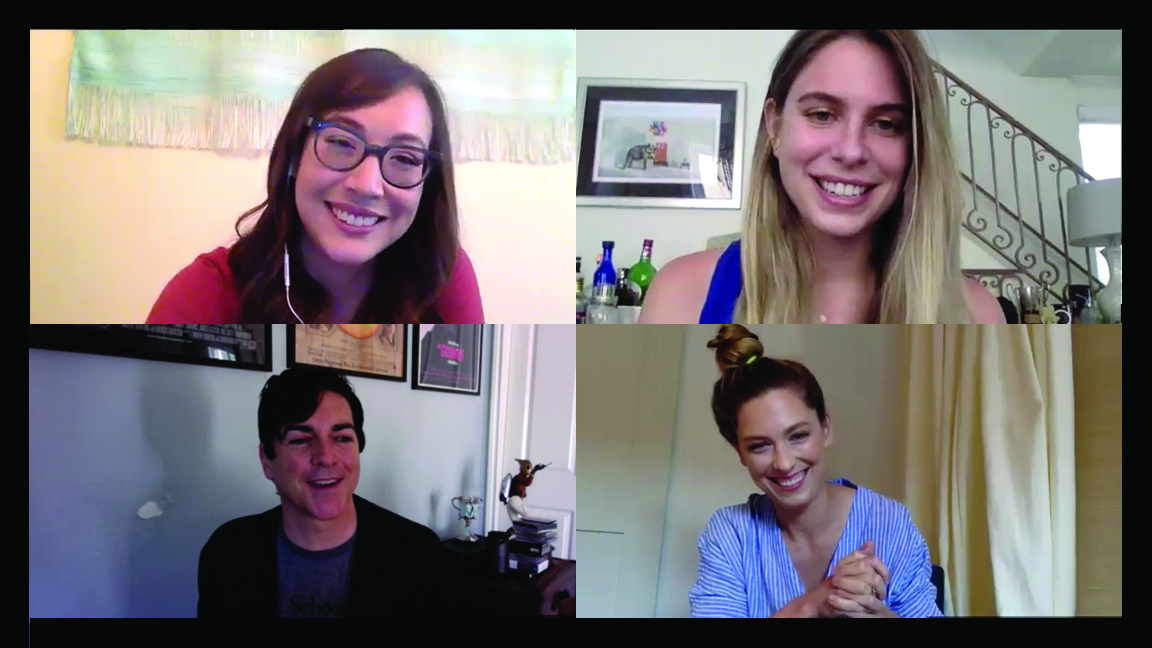 Alumna Briga Heelan holds herself accountable to keeping her acting chops and her physicality in shape when the country bounces back from the pandemic.
"You're not gonna be able to run as hard or be show-ready at the end of this," she told SDA students and alumni over Zoom webinar, "but you have to get ready to get ready."
Heelan wants to be sure that she's ready to jump into rehearsals as soon as theatres reopen; she will play Cinderella in the upcoming Britney Spears musical Once Upon a One More Time.
On April 30, Heelan and seven other alums gathered online for an SDA panel, titled Staying Creative During a Global Pandemic. This edition of the CareerSeries@SDA program focused on ways to stay positive during quarantine.
Panelists included designer Phil Kong BFA '08; writer and producer Autumn Chiklis BA '16; writer Timothy Dowling BA '96; and actors Heelan BA '09, Elizabeth Ho BA '06, McKinley Belcher III MFA '10, Devin Kelley BFA '08 and Tomm Polos BFA '10.
Projects slowed and cancelled
When safer-at-home orders took effect across the country, many of the School's alums found their current projects abruptly cancelled. Belcher was performing in A Soldier's Play on Broadway, alongside SDA Board of Councilors member Blair Underwood. Less than a week was left in the run when Broadway was completely shut down.
Similarly, Ho was supposed to be doing a table read around the same time.
"Pilot season is my favorite time of year and the worse time of the year," she joked. She got a call that production would start in a week, but shortly after, things were put on hold.
Even the creative process changed, Dowling said. Something as simple as the environment in which he writes — such as getting inspiration being surrounded by people at restaurants,  "sitting at In-N-Out or a sushi bar … but you can't do that now."
"It's getting used to the new normal and finding that creativity and trying to focus on it after we're done with this," he said.
Adapting in the face of change
Sharing their own experiences in the current climate, the panel of alumni had tips for overcoming — or, even, managing — the stress of the pandemic with creative outlets.
Chiklis has been reprioritizing her time, reevaluating her interests and acting upon other endeavors.
"What do I want to do? What are things that I'm interested in? What are creative endeavors that I have put to the side because I didn't think that they were sellable?" she said, suggesting that students who were feeling stuck ask themselves the same questions.
"… this is a time to create your own new norm," Kelley said. "Get your brain and your creativity flowing so you're not just sedentary … So when things do start back up, you're ready."
The alumna found herself dusting off old Shakespeare monologues from college as a way to stay creative during this time.
"[The skills] come back really quickly," she said. "So that's been really fun, and exercising a new muscle or an old muscle that's completely atrophied."
Also as a recommendation for actors, Belcher encouraged they find a means to self tape. "I'm finding that especially now, I'm having to do that," he said.
In agreement, Ho said: "If you're an actor, self tape is what's going to be the future until a vaccine comes out."
The alumna uses technology as simple as a cellphone and tablet to record video. She advised actors to find "characters that really work for you or storytelling that you really resonate with" to practice self taping.
For the students in the audience concerned with losing time in getting a start on their careers, Polos advised them not to be so critical of themselves.
"Don't go into your sophomore year out of school being like 'I didn't do anything that first year.' I promise you, you did because it's working towards something," said the alumnus, who also suggested graduates to not compare their experience to their peers.
Beyond the artistry, the panelists also advocated to take the time for self betterment, which would allow for more focus on the creative side once orders have lifted.
"Essentially, it's working on yourself and your mental fortitude, which we're all actually doing by default," said Heelan, who explained that she found her career stride when she had a sense of ownership over who she was. "Just being in tune with how you're getting stronger going through this, so — that when you go into those auditions, or are in those meetings and you're terrified, or you blew it and you got to get back in the saddle — that you have a sense of who you are when you do so."
"That would also give you a sense of clarity about what it is that you want, which would maybe guide you if you weren't sure," Belcher added.
From the business perspective of being an artist, Kong encouraged the audience to spend time to learn financial literacy.
"Specifically for all of us who are artists," Kong said, "there are some really great resources for learning about personal finance online … the other side of your craft is being able to support yourself and using your money wisely."
Collectively, the panelists have endured their share of stifled creativity, but they offered a message of hope in the endless possibilities of the art form and the promise of free time. Though they may be missing a live audience or being in a room with other artists, they will be ready when the curtain rises and they challenged the audience to do the same.