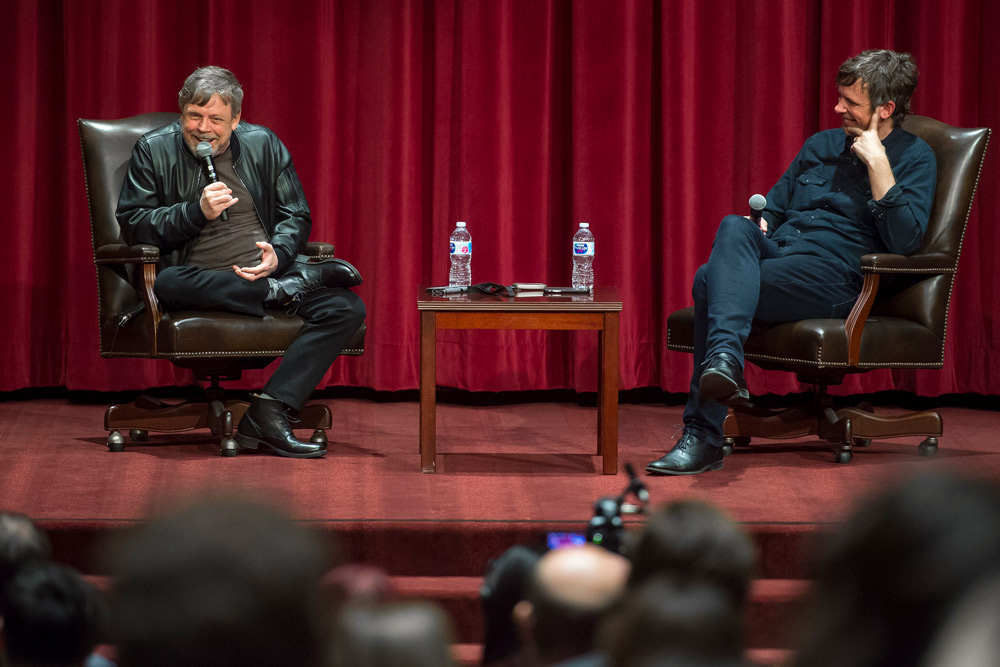 If you were to ask a young Mark Hamill whether some of his early roles would lead to a successful career cemented by one of the most iconic characters in one of the most beloved movie franchises ever, the critically acclaimed actor may not have seen the force at work.
Especially since Hamill, who is best known for portraying Luke Skywalker in the Star Wars series, landed his first post-college role acting in a television format he was highly skeptical of working in ­– soap operas.
"The only time I watched soap operas was to mock them openly. It's like kabuki characterization," he said of a time before portraying Kent Murray in General Hospital. However, once he was on set, he soon realized that he was in good company: many of the actors had been on Broadway or worked in stand-up comedy. "I learned so much in the nine months I was on."
This experience, along with others, is what informed the Spotlight@SDA guest artist to encourage a theatre full of dramatic arts and cinematic arts students in the spring to "not only take the opportunities as they present themselves," but to "recognize the opportunities."
"Take every audition you can get. Even if [you're] not good for it. Go for it. That's part of your training," he said to the actors in the room during the conversation with Dean David Bridel.
It was an audition shortly after he got an agent and received his Screen Actors Guild card that changed his professional trajectory and led him to stardom. Hamill found himself at what he described as a "cattle call audition" with a room full of leading men and teenager types. Unbeknownst to him, he was auditioning for what would become Star Wars.
When he was sent a scene of Luke Skywalker to learn for callbacks, the language in the screenplay took him aback. "Is this like a parody? Who talks like this? … It was so stylized," he recalled.
Even though "every other guy was perfect and would have made fabulous Lukes," Hamill believes he got the role because he followed two important steps: "Be sincere and genuine. Don't comment on the material."
Hamill was ultimately cast in not only his breakout role, but his most famous role to date. He described the process as being unique because "George [Lucas] doesn't like to talk about characterization or technique. He casts people close to [who] they actually are."
Being a part of the Star Wars franchise has been an exceptional experience for the actor, and he has found that separating himself from his character as Luke Skywalker has been difficult and, at the same time, rewarding, he explained. "It's stunning to see the impact. It's inspirational," he said.
Following Star Wars, Hamill returned to theatre – a place he was familiar with, particularly from his days training at Los Angeles City College. He performed in multiple productions on Broadway – most notably, Mozart in Amadeus and Jon Merrick in The Elephant Man. He also played Tony Hart in the musical Harrigan 'n Hart, which was his only musical experience but one that gave him a deep admiration for musical theatre actors for their ability to sing, dance and "do it all."
After performing eight shows per week, Hamill later transitioned into voice acting. He has voiced characters in numerous television shows, video games and movies. Notable roles include the cartoon series Justice League, Avatar: The Last Airbender and Super Robot Monkey Team Hyperforce Go!
"Voice over is one of the best aspects of professional work in that they can cast with their ears, not with their eyes. I would've never played the Joker on camera. It's a form of performance that is like no other," he said.
After sharing about his experience at the Spotlight@SDA event, the floor was opened for questions, including his impression of Rogue One and his favorite part of the film to which he replied to immense laughter: "I love Rogue One. My favorite part was because I wasn't in it."
He also shared helpful advice to acting students. When asked by a student about his style of approaching a character from the ground up, Hamill said: "You read the script. What is the purpose my character serves in telling the story? What do other characters say about me? How is he used?"
Perhaps one of the most valuable pieces of advice, Hamill encouraged the actors in the audience to perform as often as possible. "Any chance you get in front of an audience, no matter how big or small, do it. … It's your chance to get better."