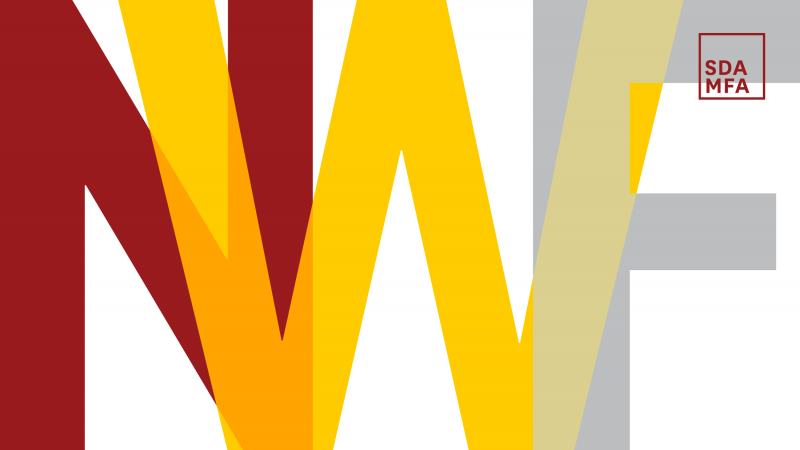 "As a producer, I've learned that it's not just about writing a wonderful play," says actor-producer-director Elisa Bocanegra, founder and artistic director of Los Angeles-based HERO Theatre. "It's about being a wonderful artist in the room." That, she says, is what she has found in the USC New Works Festivals program: "people who have a true passion for theatre and are real collaborators—and that, I think, is a reflection of the teachers there."
The USC New Works Festivals program is the required, three-tiered, curricular production program of the Master of Fine Arts in Dramatic Writing of the USC School of Dramatic Arts (SDA). Year One encompasses readings of student works presented in association with Los Angeles-based Playwrights' Arena. In Year Two, participants experience workshop productions of their plays with student actors, professional directors, and professional dramaturges, presented in association with the Latino Theatre Company at the Los Angeles Theatre Center. Year Three, in partnership with the Pasadena Playhouse, culminates in concert readings of the MFA in Dramatic Writing graduating cohort's thesis plays at one of the Playhouse's theatres, staged with professional actors and directors.
"Every semester that goes by, the work gets stronger," says Year Two student Noa Gardner. Year One, he says, was a place to "sort of figure out how I can grow my writing to say what I want to say in the most effective way. It taught me the skill of finishing a play, looking at it, saying this is not me, putting it aside, writing a second play, and saying, this is closer to what I want me to be."
As a native Hawaiian writer, Gardner says, "I was trying to find a way to tell Hawaiian stories in a way that Westerners might understand. I've found a lot of encouragement and validation by leaning in to that."
"It is an incredibly supportive environment," says playwright Stephanie Swirsky, a 2011 graduate of the MFA Dramatic Writing program. "And, if you're proactive and work hard, the professors respond to that and you're able to create a body of work and find your voice. My voice has evolved since my time in the program," says Swirsky (now working on a time-traveling, dark comedy involving Jared Kushner), "but the beginning of the evolution started while I was a student."
At the end of Year Three, new graduates practice building professional relationships on their own by setting up one-on-one meetings with three "responders"—people affiliated with a theatre company (an artistic director, producer, director, dramaturg), who attend concert readings and provide constructive feedback.
Bocanegra, who recently completed L.A. Theatre Works' national tour of Steel Magnolias, is a past responder, and this year will direct Year Three student Mariana Carreño-King's senior thesis play, The Red Gene, as part of the Pasadena Playhouse's May 17-18 presentation of USC New Works Festivals concert readings. (Other plays on the program: Journey to Alice, by Aja Houston, directed by Jon Lawrence Rivera; and The Color of Blood, by Gideon Wabvuta, directed by Anita Dashiell-Sparks.)
"I'm thrilled to be working with an emerging Latina playwright," Bocanegra says. "It's important to me being a Puerto Rican woman myself, and as someone who has worked for about 25 years as an actor developing new Latinx plays."
(A small sampling of other responders: Amy Wegener, Actors' Theatre of Louisville; Amy Levinson, Geffen Playhouse; John Glore, South Coast Repertory; Wren Brown, Ebony Repertory Theatre; caryn desai, International City Theatre; Chay Yew, Victory Gardens Theatre.)
Recent plays to come out of the New Works Festivals program include Black Super Hero Magic Mama by Inda Craig-Galván, a 2017 USC MFA Dramatic Writing graduate, which was seen earlier this year at the Geffen Playhouse, and Southernmost, by Mary Lyon Kamitaki, a 2018 USC MFA Dramatic Writing graduate. The world premiere run of that piece was staged by Playwrights' Arena Artistic Director Jon Lawrence Rivera, as part of the company's 2019 season. Rivera directed Kamitaki's play in its earlier incarnation as a Year Three concert reading.
"There's usually one play that I go,'oh, my god, we have to figure out a way to do it,' " Rivera says, "and that's what happened with Mary's play." Other graduates of the program produced at Playwrights' Arena include Janine Salinas Schoenberg, Donald Jolly, Michael Premsrirat, and Boni B. Alvarez. The theatre has also produced works by USC's School of Dramatic Arts faculty members Oliver Mayer, Paula Cizmar, Luis Alfaro, and Velina Hasu Houston, USC's School of Dramatic Arts Distinguished Professor, Resident Playwright, Head of Undergraduate Playwriting—and the creator and Director of USC's MFA in Dramatic Writing.
Throughout the New Works Festivals program, the text of each piece remains the focus, Houston says. "We ask students to remember that it started with their play and their idea. We don't want a production to overshadow what they are trying to do artistically as a playwright."
Houston will add to her own extensive body of work this year with an upcoming reading of her play, The Mexican Friendship Circle at Border Field at San Diego Repertory; commissions for Canada's Parodos Festival in Toronto and Bonnie Franklin's Classic and Contemporary American Plays; and The Body Female, with colleague Cizmar and other artists as part of Los Angeles Opera's 2020 festival inspired by its production of Eurydice, by composer Matthew Aucoin and librettist Sarah Ruhl.
Meanwhile, Houston's play, Tea, about the experiences of World War II-era Japanese war brides in the U.S, which premiered Off-Broadway 1987, is still widely produced.
"I've had students ask, 'you're still writing?' " Houston says. Her response: "There's not been a day when I've woken up and said today's the day I'm going to stop writing, today is the day I'm going to stop feeling like an artist. You are what you are."
"Organically, [the MFA Dramatic Writing students] are already artists," Houston adds with emphasis. "Our job as faculty artists is to help them cultivate their artistry and humanity over the three years of the program." And, "given the challenges, beauty, and intricacy of such a process—established artists nurturing artists-in-the-making—I find that I grow as a human being and as an artist."
The Tickets for the three staged readings for the New Works Festival Year Three are free and available to reserve online.