In late March, the School of Dramatic Arts held the seventh installment of its groundbreaking Multihyphenate Masterclass series on the art and business of producing. The intimate and interactive workshop featured accomplished multihyphenate producer-artists discussing with students and alumni on projects in various states of production.
SDA Professor Luis Alfaro was joined by SDA Professor Alexandra Billings and Chrisanne Blankenship-Billings (co-owners of the acclaimed production company Schmengie, Inc.) along with playwright and educator Isaac Gomez and Director of Education at the Wallis Annenberg Center for Performing Arts Manuel Prieto (BFA '12). The interactive format of the workshop allowed for frank back-and-forth dialogue between the invited guests and participants, often focusing on the nitty gritty details of the specific artistic projects they brought to the event.
"Artists in the room, you think you're not producers, but in fact you've been doing that your whole life," said Professor Billings. "If you change the story, the story is going to shift. If you say, 'I'm a producer,' then you are."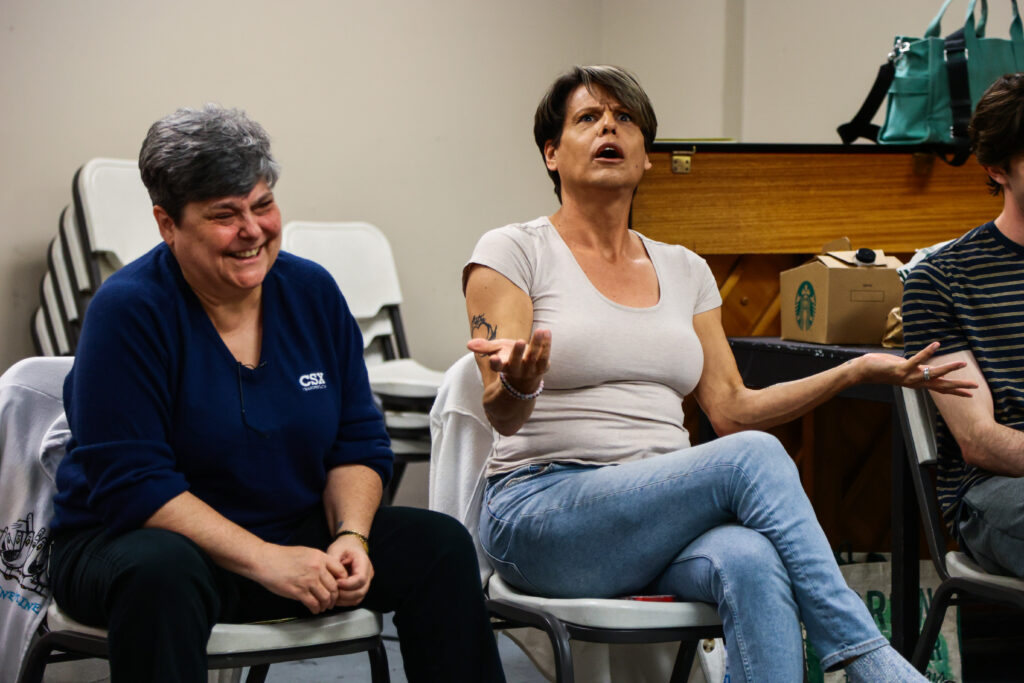 A major recurring thread throughout the workshop was the importance of building a community as a producer. Producing, many of the invited guests agreed, comes down to finding people who want to work with you to make art, and then making it.
"I think of producing less as fundraising and logistics—even though that's obviously a huge component of it—but I think of it as building community," Isaac Gomez said.
"You don't do it alone," Professor Alfaro said. "You rarely ever do it alone. But the mission is completely yours."
Blankenship-Billings agreed.
"It's finding that community that is passionate the way you are passionate, and saying to them, 'I can feed your passion, and you can feed mine. You give me money, I can show you a beautiful production,'" she said.
Finding your motivation—the why behind everything a producer does—was another important point discussed by most of the invited guests. Professor Alfaro encouraged all the workshop participants to be clear on the why behind their project as a first step to becoming a producer.
"The why is that there is a story that needs to be told, and I'm going to figure out how to tell that story," he said.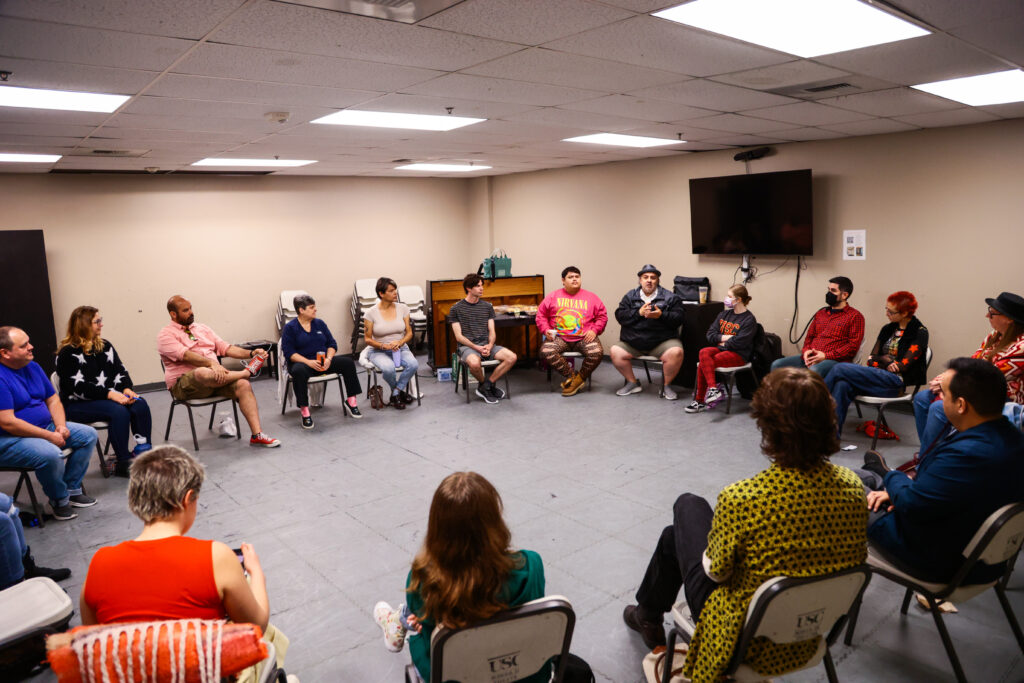 Manuel Prieto frankly discussed that he found his inspiration and motivation for producing in making changes in the arts and entertainment world that would benefit future generations. "There's a lot of initiatives to include BIPOC artists and BIPOC people in projects, but there's really no training ground for leadership opportunities," Prieto said. "I'm there to enact change. Hopefully by the time I'm done there, there will be more leadership of color, more artists, more teaching artists inspiring the next generation of queer people and people of color."
Discussing community building and motivation were not the only topics on the table during the three-hour workshop. A huge host of wisdom and practical, actionable advice for the students and alumni in attendance was shared, from how to approach law firms about setting up a 501(c)(3) organization pro bono, to which organizations in Los Angeles to approach for potential funding. Many secrets of the trade were shared among the artist-producers, including the fact that Trader Joe's will provide a catering table for an independent film shoot as a means of supporting the arts.
"We're all residents of the city and the state," Professor Alfaro explained. "If you're a resident, you qualify for an artist grant. And there's a whole slew of doors that open based on family foundations."
Blankenship-Billings mentioned the evolving world of social media as a new means of finding community to collaborate with as an artist. "TikTok and YouTube is huge," said Blankenship-Billings. "That's a place where a filmmaker—and let's be honest, executive producers are filmmakers—maybe they go out to TikTok or Facebook and they create content on there, and somebody sees that content and says, 'Wow. I want to work with those people.'"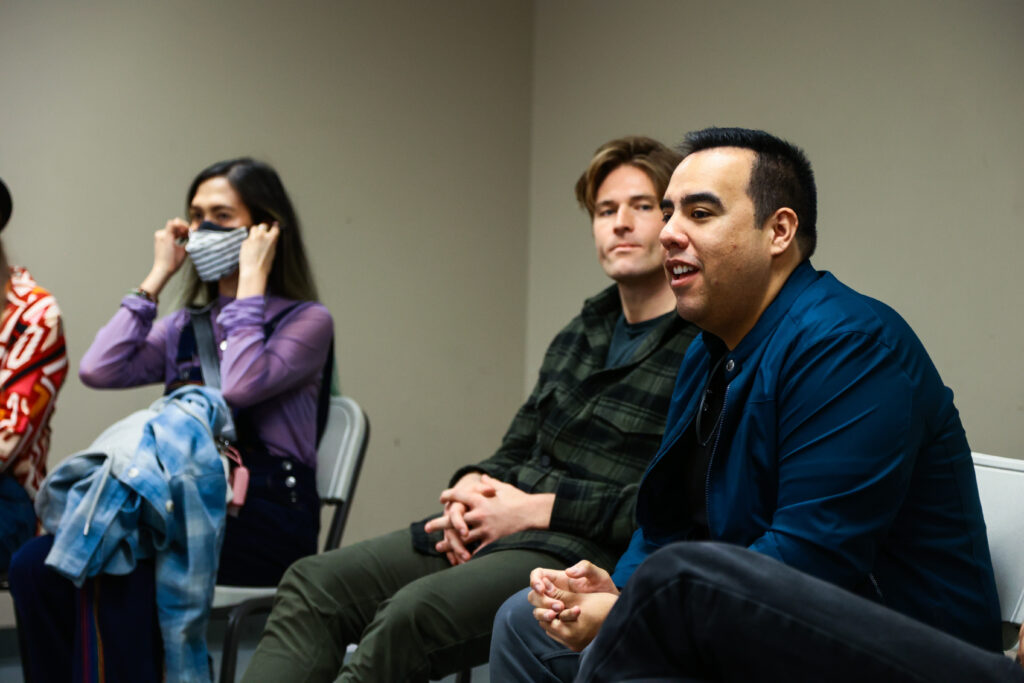 The second half of the workshop involved small group breakout sessions, where the students and alumni in attendance could ask questions, get advice, and practice their elevator pitch for projects they are working on.
Everyone in attendance walked away with a feeling that the role of producer—which can typically be shrouded in mystery, at least for artists who are new to the process—is actually much simpler once properly understood. Producing is simply about making art and entertainment: bringing people together with different resources and talents to tell a story that needs to be told. Simply making art with others is a form of producing that creates new experiences and relationships for everyone involved.
Gomez summed up the feeling of the workshop with a memory from early in their artistic career, when they worked at the Victory Gardens Theatre in Chicago.
"I remember feeling like—where I'm going, I don't want to be there alone," Gomez said. "So I'd bring people with me, and make these connective tissues. All I really did was find people who I thought, 'I think you'll like this play.'"
Professor Alfaro agreed.
"'How can I find my tribe, and how does my tribe help me do the work?' seems really essential," he said.