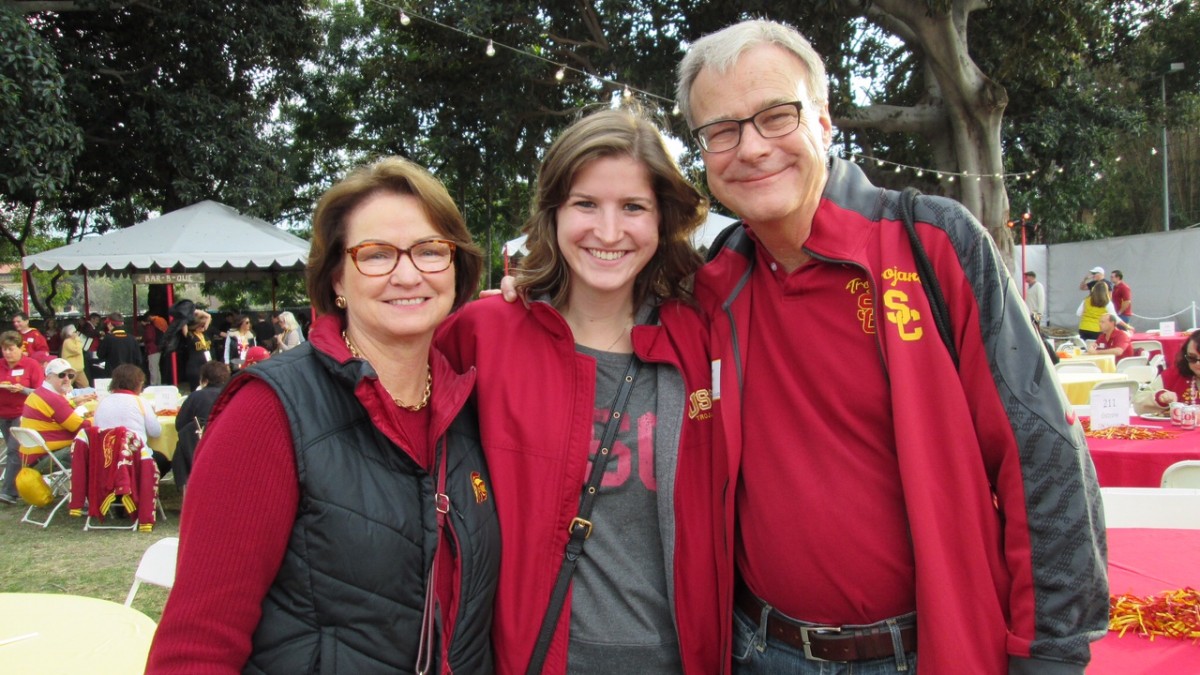 The USC School of Dramatic Arts announced on June 8 the creation of an endowed professorship in stage management, established with a $1.5 million gift from Teresa and Byron Pollitt, and their daughter, USC School of Dramatic Arts alumna Alice M. Pollitt.
The Pollitts' donation is the first naming gift to a stage management professorship in the nation and the first endowed professorship at the USC School of Dramatic Arts.
"The Pollitt Family's generosity enables the USC School of Dramatic Arts to immediately strengthen and enhance the training we provide stage managers, and underscores the importance of these artists on a national level," said David Bridel, dean of USC Dramatic Arts. "We are profoundly grateful to Alice, Teri, and Byron for this transformative gift."
The creation of the new Alice M. Pollitt Professorship in Stage Management will enable the university to create a new position and hire an industry leader with the charge to enhance curriculum, as well as create increased mentorship and professional development for stage management students, with an emphasis on bi-coastal career opportunities. The overarching goal of the professorship will be to position the school's stage managers to graduate fully prepared for the careers that await them and more versed in a wide variety of different theatrical styles including musicals.
The BFA in Stage Management degree has been offered at USC Dramatic Arts since 1991, and is distinctive in its ability to provide students with ongoing, intensive hands-on experience in the technical aspects of production, management, and design. Students begin exploring the skills they acquire in the classroom through assignments on productions as early as their first year of enrollment, and they stage manage at least two productions each academic year.
"The USC stage management program, the unusually large number of university theatrical productions, and a lively community of undergraduate independent student productions provided Alice with numerous opportunities to develop her craft and create an impressive theatrical resume. Having lived this experience with our daughter, we realized that the program could be taken to a whole new level of student experience and professional development if it had more dedicated resource support," said Byron Pollitt. "Alice, Teri and I are making this investment so that future stage management students will benefit not only from more personalized mentoring and instruction, but have additional exposure to career opportunities that allow them to pursue their passion and their craft."
"My belief is that we should all try and make a place we care about better off than when we arrived," said Alice M. Pollitt. "The collaboration with Dean Bridel over the past year aimed at building on the foundation of the stage management program to make it truly preeminent has been more rewarding than I could have imagined."
This donation, the largest gift to the school in 10 years, is the first since David Bridel was named dean in June. "It's so incredible to see the positive energy and drive that Dean Bridel possesses," said Alice M. Pollitt. "He is a collaborative artist and administrator with a bold vision. It will be exciting to see how his legacy unfolds for the school as we move forward in this next chapter."
A national search for this new faculty member will begin this fall.
Tiburon, California, residents Teresa and Byron Pollitt are three-time proud USC parents. In addition to Alice who earned her BFA in stage management, daughter Emily earned a BA in political science from the USC Dornsife College of Letters, Arts and Sciences, and Mary earned a Masters in Accounting from the USC Leventhal School of Accounting.
Teresa (herself a USC MBA alumna) and Byron are current members of the USC Associates, the USC Parent Leadership Circle, and Cardinal and Gold Athletics. They also served as the USC School of Dramatic Arts' San Francisco Bay Area Parent Ambassadors from 2012-2015.
Alice M. Pollitt, a 2015 BFA Stage Management graduate, has interned with Disney Theatrical Group, worked the 2015 Tony Awards, as well as the productions of American Psycho (Broadway), Noises Off (Broadway), Aladdin (Broadway), Amélie, Before Your Very Eyes, Marilee & Baby Lamb, The Screens, and the Canadian tour of Matilda. This summer she will be the Production Stage Manager on Lisa and Leonardo in the New York Musical Festival.
Located in Los Angeles, a city synonymous with artistic innovation and excellence, the top-ranked USC School of Dramatic Arts is a leader in dramatic arts training. The School uniquely blends artistic training in a conservatory environment with world-class faculty artists and the full academic experience found only within a major research university.
Under the leadership of newly appointed Dean David Bridel, USC Dramatic Arts is embarking upon an exciting period of expansion and growth and has articulated a number of goals that offer a flexible and contemporary approach to dramatic arts training. To respond to today's rapidly changing media climate, the School is enhancing its curricula, growing its professional development offerings, and cultivating new programming that will provide the versatility and cutting edge skills essential to the contemporary actor, writer, stage manager, and designer.
The gift supports The Campaign for the University of Southern California, a multiyear effort to secure $6 billion or more in private philanthropy to advance USC's academic priorities and expand the university's positive impact on the community and world. The campaign has raised over $5 billion to date.