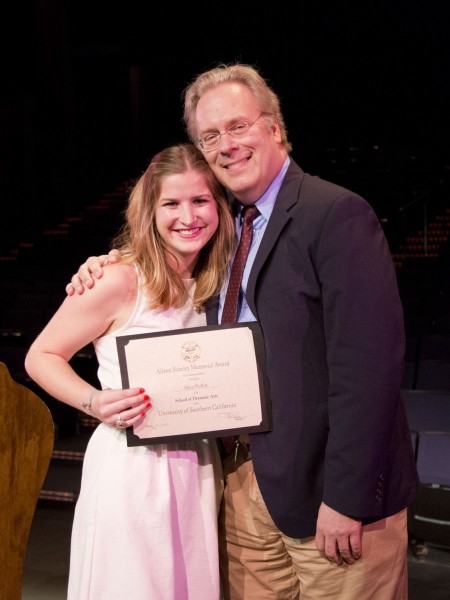 An endowed professorship in stage management is a first for the USC School of Dramatic Arts, and the first of its kind in the country. Announced in June, this groundbreaking professorship was established with a $1.5 million gift from Byron and Teresa Pollitt and their daughter, Alice, a USC Dramatic Arts stage management graduate who earned her BFA in 2015.
"So often in theatre you hear about the actors, the actresses, the individual performances on stage," says Byron. "We're very proud that the first endowed professorship at the School of Dramatic Arts at USC recognizes a role on the production side of theatre.
"Teri and I felt it was just really important…to support the arts in a way that honors what the School has done for our daughter, as well as what it can do for the students that follow," he says.
"I wouldn't trade it for anything," Alice says of her experience at USC. She was speaking by phone during a break from her job as production stage manager for the new Mona Lisa-inspired musical, Lisa and Leonardo, at the New York Musical Festival.
"You have courses that give you certain tools, and if you can't use them in a university production," she says, "you're using them at full throttle working with your peers on student productions. You can do everything that is mapped out for you, or you can challenge yourself. Doing other things within the curriculum to kind of squeeze every ounce of education that I could, ended up being a really solid foundation for when I came out here [to New York]."
"By the end of my four years at USC," she says, "I had worked on over 30 productions. I needed that experience to be the person confident enough to take charge in the room."
Among Alice's other credits — earned while she was still a student at USC and since graduation — are the 69th Annual Tony Awards, Broadway productions of American Psycho, Noises Off, and Aladdin, and shows for Berkeley Repertory Theatre, the Public Theater and Marin Shakespeare Company.
Surprisingly, theatre as a career wasn't Alice's first choice. "I had always enjoyed being in the theatre, performing and being behind the scenes — that started in elementary school," she says. "But because pretty much everyone in my family either has an MBA or a CPA, I kind of assumed that's what I had to do."
(Teresa is a USC MBA alumna; Alice's sisters, Emily and Mary, are both USC graduates, too: Emily holds a BA in political science, Mary earned her Masters degree in accounting. Byron, who recently retired from his position as Chief Financial Officer of Visa Inc., is an MBA grad from Harvard Business School.)
A serious illness in high school prompted Alice to reassess the future, however, and after her first taste of stage managing her high school production of The Comedy of Errors, she found her passion.
"And I knew my dad would love it because [the job title] had the word manager in it," Alice says, laughing.
"Alice jokes that she's different from the rest of the family," Teresa says, "but when you stop and think of what a stage manager does, it's really management skills. It's just that your venue is the theatre, as opposed to the corporate world. I say, 'you can laugh all you want, sweetie, but the apple does not fall far from the tree!' "
Teresa and Byron, who live in Tiburon, Calif., have attended every one of Alice's student and professional productions, sometimes more than once. ("Jet Blue is our new favorite airline," Byron says.) The couple served as SDA Parent Ambassadors for the San Francisco Bay Area, and they are current members of the USC Associates, the Widney Society, the USC Parent Leadership Circle, and Cardinal and Gold Athletics.
Alice's experience in the stage management program, Byron says, was "foundational to our willingness and desire to step up and try and help take this School to a different level. With the recent naming of David Bridel as the School's new dean, it's clear that the ambition is there, the vision is there. While the breathtaking amount of productions available to students already sets the program apart, we realized through Alice that specifically-targeted dedicated resources will help to fully realize the potential of this outstanding School by bolstering students' professional development and expanding career opportunities through connections to both the Los Angeles and the New York theatrical communities."
When asked if she has any advice for students, Alice is emphatic:
"Do whatever you can to have a presence on both coasts," and "network, network, network. It can be as simple as running into someone on the street or sending off an email or getting drinks with somebody. It's amazing how someone can introduce you to someone else and they can hire you for a job. It's that simple, and it's that important."
"And, whether or not you feel you actually will pursue stage management after college," Alice adds, "it's still a fantastic degree to have. Maybe you're not going to use grayscale and drafting and all of that for the rest of your life, but the management skills, the people skills, the communication skills — all of that is 100 percent necessary in anything you do, if you want to do it well."
This story appears in the 2016 Callboard.