In October, Oscar winner and acting legend Adrien Brody stopped by the USC School of Dramatic Arts during Trojan Family Weekend for a conversation with his Blonde co-star (and director of SDA's MFA in Acting program) David Warshofsky. Brody's storied career includes being the youngest winner of the Academy Award for Best Actor, an accolade honoring his work at age 29 in Roman Polanski's The Pianist, as well as appearing in a host of well-known films like The Thin Red Line, King Kong, Midnight in Paris, and many of Wes Anderson's films. He starred in the hit BBC series Peaky Blinders, and most recently appeared as coach Pat Riley in HBO's Winning Time.
Brody spoke frankly about his upbringing in Queens, and remembered the encouragement he received from his mother, a photographer, and his father, a public school teacher. Graciously extending the session time to open the floor to student questions, Brody remarked that his father's influence had given him a profound respect for education.
"It's an honor [to be here]," he said. "It's so important and so valuable to have someone give you spark and insight. If I have anything to share, I want to share it."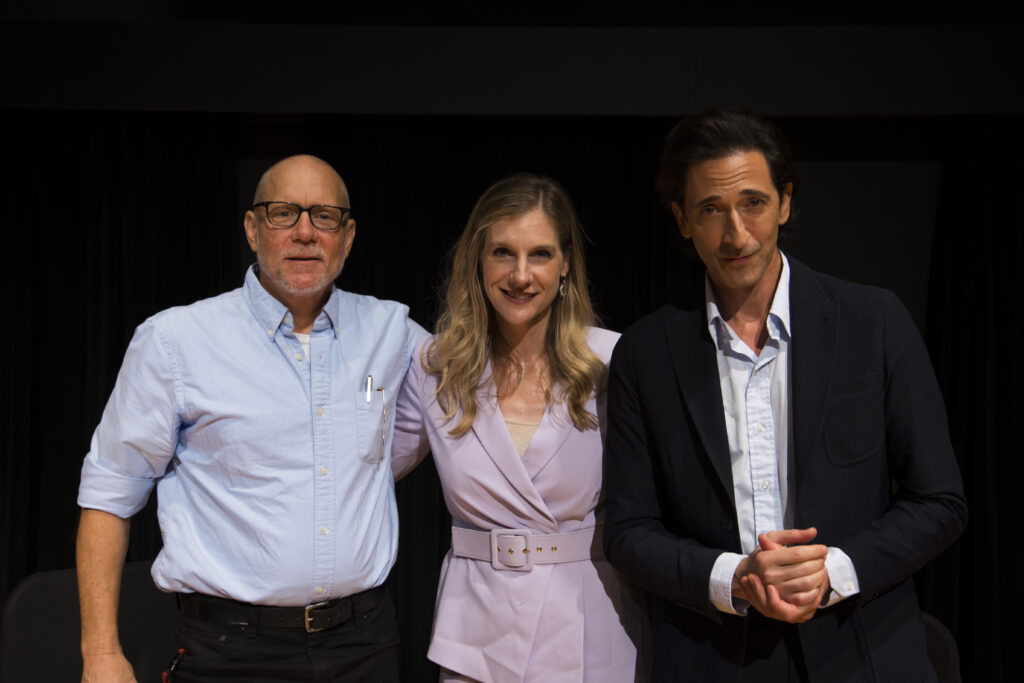 "You were present, you were fearless, you were connected."
Brody spoke about the difficulties of being an actor—of supporting oneself financially, of remaining true to one's artistic vision—and encouraged students to hone their craft and to be clear about their motivations.
"If you look at Van Gogh, he's one of the greatest artists of all time. He never sold one painting in his lifetime, and his brother was an art dealer," Brody said, eliciting laughter from the audience of SDA students and families. "But he kept trying to grow as an artist, even without that sense of accomplishment."
When one student asked how he deals with rejection, Brody laughed.
"Who cares? It's inevitable. Don't do this if you fear rejection. It's not easy to say, who cares? Because it sucks. So I don't say it lightly," Brody said.
Warshofsky and Brody spoke about their work together, leading to a discussion of balancing commercial success and artistic integrity. Brody talked about a period of time when he stepped back from acting, as it was difficult to find projects that matched the levels of artistic vision that he expected from himself.
"My objective is to be an artist," he said. "From the perspective of the industry, when you achieve a certain level of success, you become a movie star. You can't really sustain a career as a movie star and be an artist. You can be artistic in your approach, but if you want to be a movie star, you need to play ball, you have to change, you have to adapt to a whole new thing that you know nothing about. And they don't teach you that either."
Brody encouraged students to be as pure as possible about their motivations, to view even their trials as experiences to draw upon as actors, and to confront a very difficult industry with resilience.
Looking back on their careers one day, he said, they will hopefully find that the journey was worth it. "You were present, you were fearless, you were connected. And it was profound," he said. "It's all beautiful. And even not getting there, it's all beautiful. It's all the journey."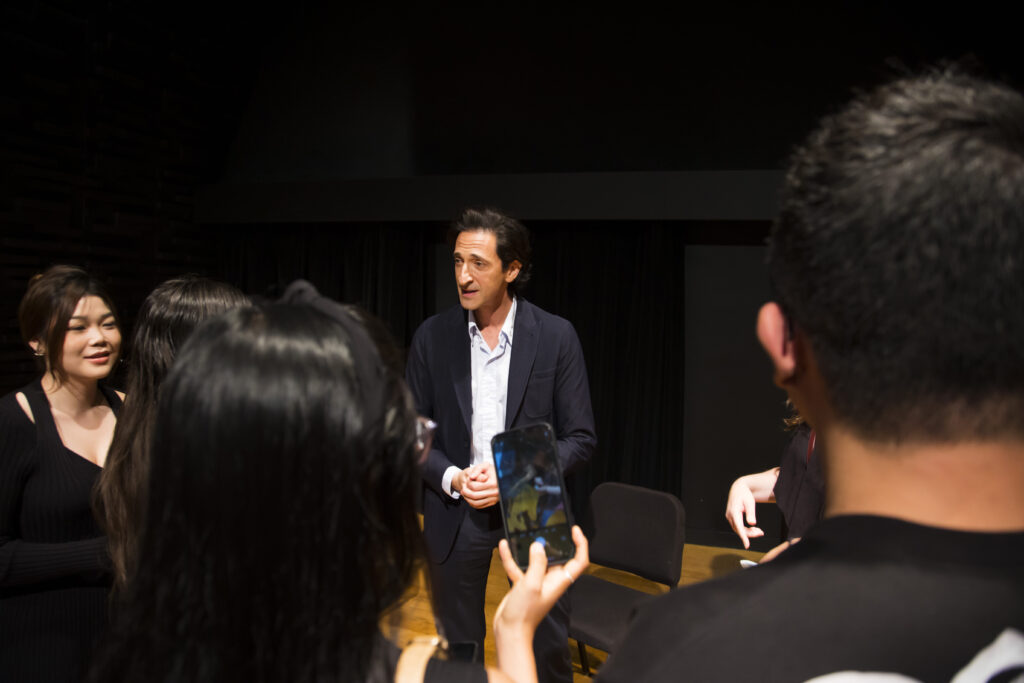 Don't shed your empathy
Brody also spoke to the empathy that embodying characters and thinking deeply about a character's experience can bring to one's life. He recalled a time in New York after having shot a film wherein he played a character at 129 pounds, and for the first time had real, lived empathy for people who were starving.
He recalled eating a slice of pizza at his favorite pizza restaurant and suddenly bursting into tears.
"I cried at my own blindness to the fact that I took this for granted, that a buck fifty will always be available," Brody said. "Playing those characters builds a whole new perspective. And then shedding that is a challenge. But maybe we shouldn't shed it."
Brody wrapped up the session with a message of realism and encouragement for young actors, noting that the path they have chosen is a difficult one but that it also comes with great personal fulfillment. He encouraged students to not compare themselves with others, to do it for the love of the art, and to keep going in spite of inevitable difficulties."Everyone's path is going to be different," Brody said. "Someone's going to be luckier than you. You can mourn the things you've lost but you've got to put them to bed. And you've got to keep fighting. If you stop fighting, then you've lost."