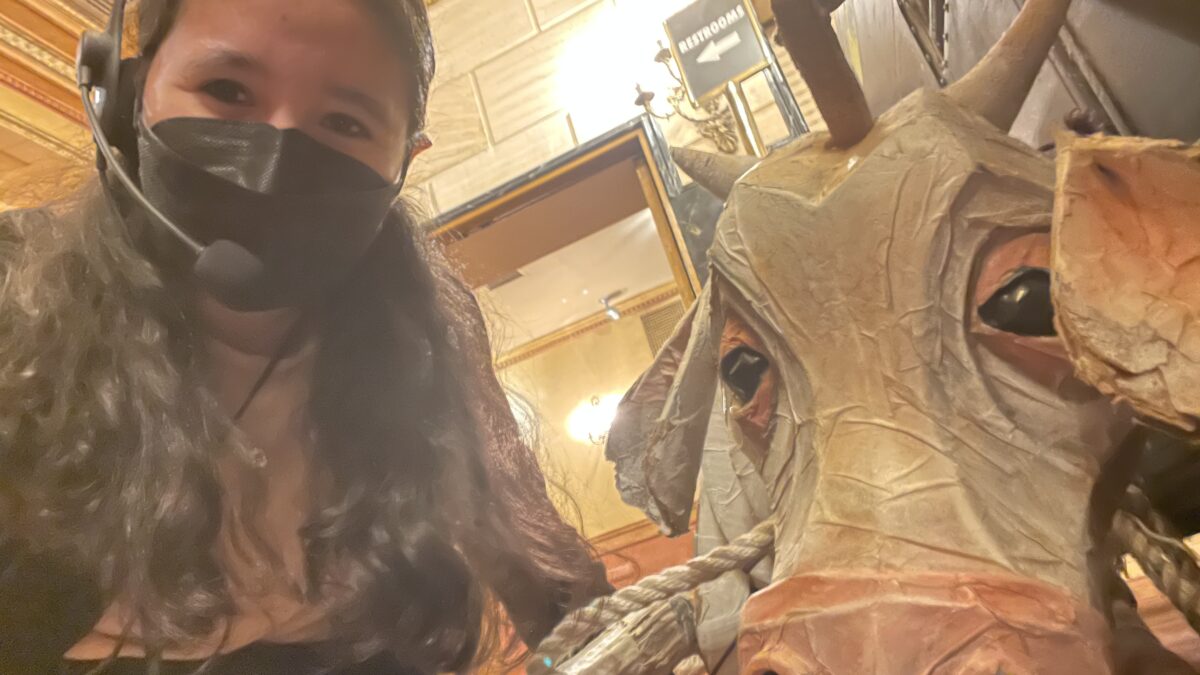 Into the Woods, the critically acclaimed Broadway revival of Stephen Sondheim's musical about fairytales gone haywire, just closed its last stop of a national tour at the Ahmanson Theatre in Los Angeles. But much as the musical features classic fairytales intersecting in unexpected ways, the production featured its own surprising twist of fate: three alumni of the USC School of Dramatic Arts reconnected after realizing they all worked on this award-winning revival.
Sophia Pesetti (BFA Stage Management '19), who served as the Assistant Production Manager at New York City Center, was the first one to notice the strong Trojan presence when she spotted her fellow alumni included in an all-staff email. "My shift to production management let me zoom out and say, 'Wait a second. Something funny is happening here,'" she laughed.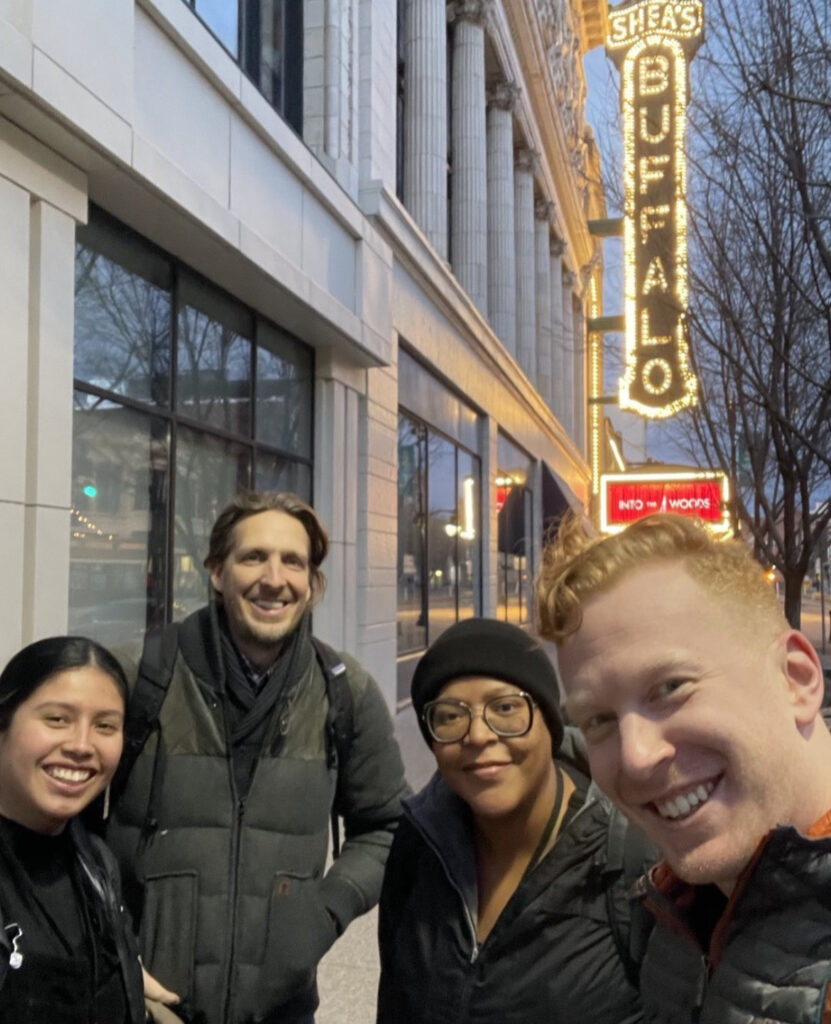 Karlie Teruya (BA Theatre '21), she learned, was a Production Assistant for the Broadway run at the St. James Theatre, and Zaira Paredes-Villegas (BFA Stage Management '21) worked as a Production Assistant for the musical's North American tour.
"It's so crazy, but so cool to see how we are all somehow still connected after college and that we all worked on Into the Woods," Paredes-Villegas agreed.
Pesetti, Teruya and Paredes-Villegas may have been surprised to discover they had worked on the same show, but they were not surprised to find other Trojans working backstage in Broadway houses. All three agreed that their training at SDA had well prepared them for jumping into professional roles in a Broadway show.
"At USC, we worked so hard as stage management students," Pesetti reflected. "You had to live both in the present and the future. That brain training really helps me in my current job."
Paredes-Villegas agreed.
"I feel like SC gave me all of the tools to show up and, even if you didn't know what was happening—it gave me the tools to figure out how to handle not knowing," she said. "SC taught me that not everything goes as expected, so you always have to be open to figuring things out as you go."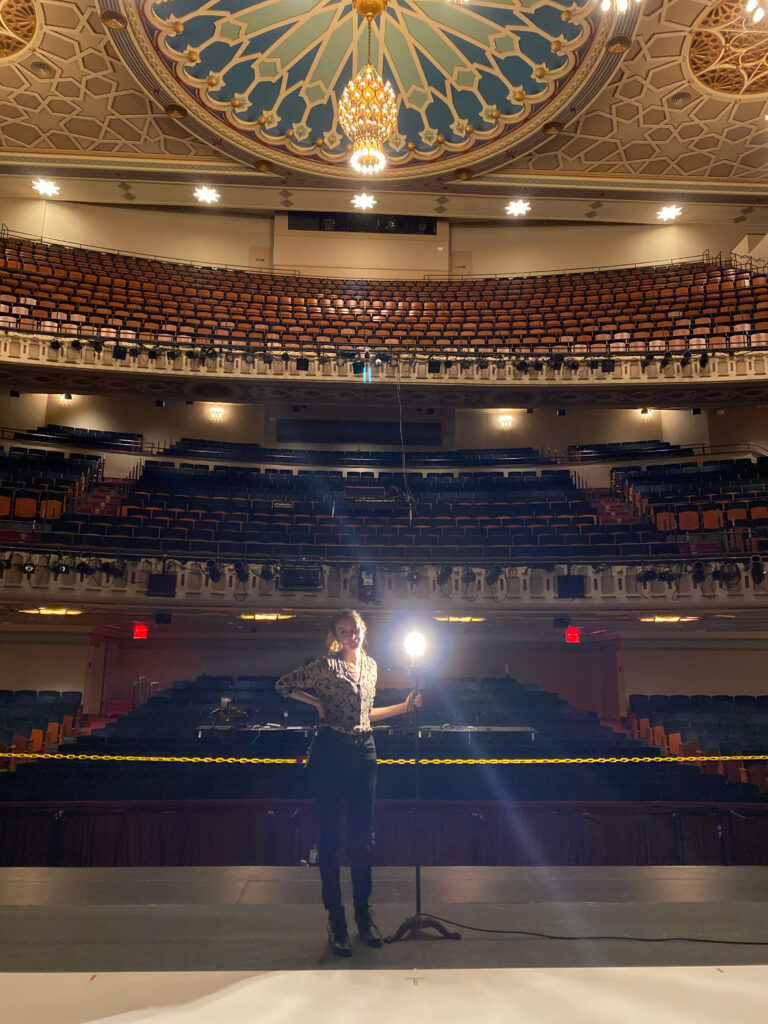 From the Massman to the Great White Way
Scott Faris, who is the Alice M. Pollitt Professor in Stage Management at SDA and leads the Stage Management program, says that this rigorous, hands-on training helps students jump straight into the world of professional theatre.
"I mentor [the students] on the big shows, and I don't coddle them," Faris said. "I let them deal with it, and afterwards I'll ask them, 'Could you have done something differently? How could you have made that work better?'"
"I think that approach, along with the other skills they learn while in the program, prepares them for the professional world."
Teruya added that being made to solve problems independently while training at SDA made the transition to a professional career as a production assistant on Broadway more manageable. She said that while working in a Broadway house required learning many new things, the problem-solving skills she learned at USC were highly applicable. "You're in the Massman at 2:00am and if there's a problem, there is no one to solve it for you," Teruya said. "You just have to figure it out. It helps me stay a little more calm when things get stressful."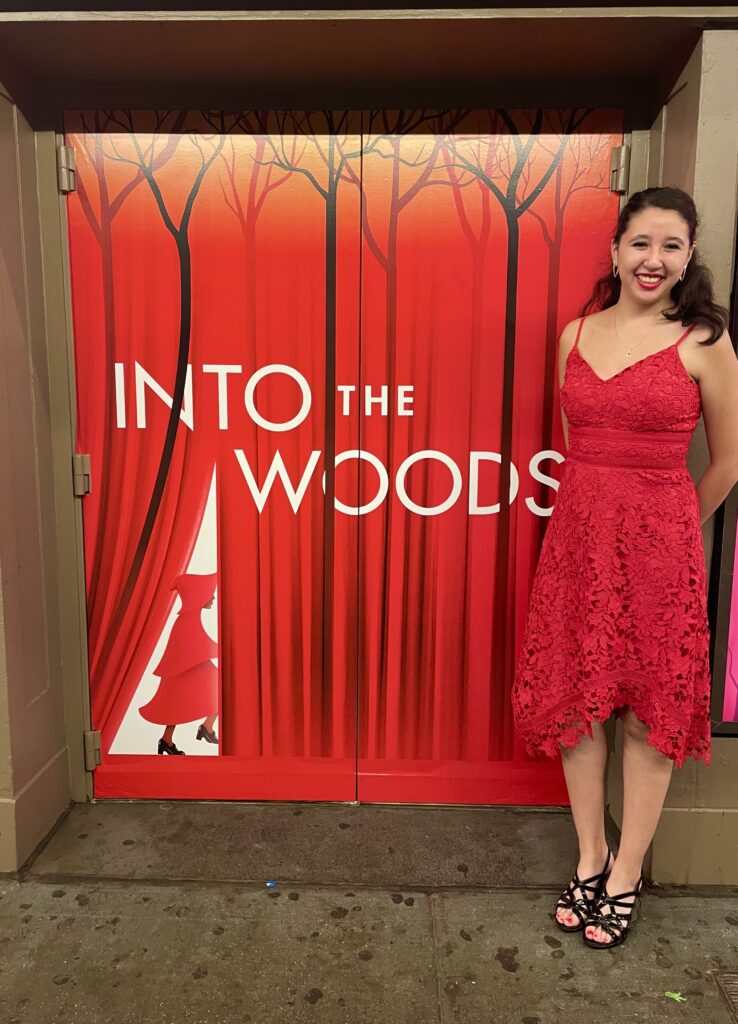 Professor Faris pointed out that, while it is a delightful coincidence that three SDA alumni all ended up working on the same Broadway production, Trojans going to work on Broadway after graduating from SDA is nothing new.
"We have a great track record for job placement," Professor Faris said. "I believe these skills we teach, you can take to any business. The vocabulary of what you're leading, guiding, moving around, the components all change, but the job is the same."
Pesetti, Teruya and Paredes-Villegas encouraged current students hoping to make a future career in Broadway to embrace the training and connections they are making at USC, while also keeping their minds open to new experiences.
"Be open to learning and continuing to learn," Teruya said. "Every rehearsal room you're going to be in is going to be different. SDA will give you the basis of what you need to know, but then going out into the real world, you will continue to learn so much if you're open to that."
"Be aspirational in your job search," said Pesetti. "Apply for jobs you don't think you're qualified for. Because everyone else is."
Paredes-Villegas agreed, encouraging young Trojans to be flexible and say yes to opportunities that present themselves.
"Having the opportunity to do so many things while you're young is so important," Paredes-Villegas said. "There are so many different things we could be doing with this degree. We're so young, there's so much time. Say yes to everything!"