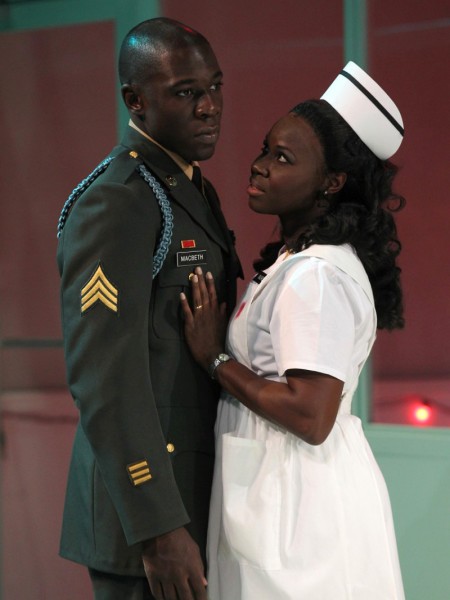 When he considered changing his focus from law to acting, McKinley Belcher III turned to the example of a performer he greatly admired: Denzel Washington, who had transitioned from drama school to a successful career in stage, TV and film. Belcher conducted extensive internet research and, learning that Washington was slated to direct and star in the 2007 film The Great Debaters, Belcher decided to go to the source.
He created a resume consisting of one credit: a student production of Lorraine Hansberry's A Raisin in the Sun in which Belcher had appeared while an undergraduate. A friend helped him create a headshot, and the submission was sent off to the address of the production company that Belcher found online.
"I had no idea how these things worked," Belcher recalls. "Of course the envelope was returned in the mail, but for a moment I actually believed something would come of it."
The Atlanta native and 2010 MFA Acting graduate has come a long way since that initial foray into blind auditioning. Now based in New York, Belcher has transitioned extensively between live stage and television with occasional film work as well. He is among the principal cast of the Civil War-set PBS miniseries Mercy Street, which premiered in January, and is performing in a run of the boxing drama The Royale at Lincoln Center Theater on Broadway. There is talk of bringing the production of Alfred Hitchcock's Rear Window to New York in the spring. If this were to happen, Belcher, who starred opposite Kevin Bacon in the show's world premiere at Hartford Stage, would reprise his role and make his Broadway debut. "He and Kevin have fireworks together," says Rear Window director Darko Tresnjak. "Even at a young age, McKinley has enough authority that he should be able to pick and choose between TV, film and theatre. He's that good."
A drive for storytelling
The son of a substitute teacher mother and a father who drives trucks, Belcher was the first in his family to attend college. While studying at Belmont University in Nashville, Belcher nursed his love of spoken word, poetry, and speech and debate, fully expecting to go to law school after graduation. But a friend had a role in A Raisin in the Sun and suggested that Belcher audition as well. The production's director considered Belcher for the lead role of Walter Lee Younger, but an intimidated Belcher preferred to take on George Murchison instead.
Regardless, Belcher found the experience addictive.
"Anytime you attack something that scares you, and you come out on other side, you get that feeling of conquering something that was bigger than you," Belcher says. "I grew so much during those two months. It made me think about art, what it is to take on someone who is not you on a whole macro and micro level, and do it well enough so that people see another person."
After a brief internship at an Atlanta law firm following his graduation, Belcher knew he wanted to move in a different direction, and he harkened back to the satisfaction he felt performing in that play. He began researching graduate schools and ended up applying to New York University and USC. He was accepted into both programs, and opted for USC.
Over the course of the next three years, SDA faculty, such as Andy Robinson, David Bridel and Charlotte Cornwell, helped Belcher get in touch with his body, with text and with the importance of research. He appeared in plays ranging from Alice in Wonderland to Brecht to Shakespeare and had a particularly satisfying experience creating the 10-minute solo showcases.
Path of dedication
Soon after leaving USC, Belcher began booking TV spots and he eventually relocated to New York to have greater access to live theatre. Even in his guest starring roles, Belcher found opportunities to take on characters that ran deeper than the generic "thug #3." More recent TV roles have been substantial including a recurring role in the David Simon-produced Show Me a Hero and Mercy Street, which has Belcher playing Samuel Diggs, a free man from Philadelphia who learned medicine as a doctor's apprentice, but now needs to tread carefully as an orderly while working in a union army hospital in Arlington, Va.
"It's amazing when you get to do something that is entertaining that also manages to be social commentary and speak to a higher calling, all in same breath," Belcher says.
Whether working opposite actors like Mercy Street's Josh Radnor, Show Me a Hero's Oscar Isaac or Kevin Bacon, Belcher has been gratified to discover that the dedication to the work remains paramount even after you reach a certain level of success.
"I hope that's something I can carry on in my career no matter how high I go," he says. "It's all about rolling up your sleeves and telling the truth."