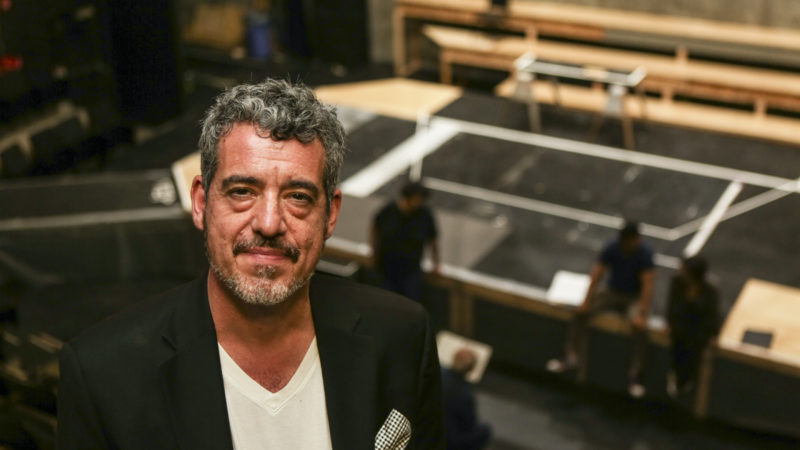 Associate Professor Oliver Mayer's musical Three Paderewskis, a new American musical hybrid, performs several times this fall: first locally at USC's Newman Recital Hall, then internationally in Poznan, Poland and finally cross-country at the Kennedy Center in Washington, D.C. Mayer's new book immortalizes famed musician and former prime minster of Poland, Ignace Jan Paderewski.
Three Paderewskis was originally commissioned as part of the Paderewski Cycle project, a national competition calling for new musicals based upon Paderewski and sponsored by the Adam Mickiewicz Institute within the Polish Government's Minister of Culture and National Heritage in Warsaw, Poland. It first premiered on November 3, 2017 at Camilleri Hall Brain and Creativity Institute as a 15-minute treatment and returned the following year, on November 2, 2018, at the Paderewski Festival in Paso Robles, California as a 40-minute show—eventually, it won the Paderewski Cycle competition.
Three Paderewskis follows three versions of beloved Ignace Jan Paderewski: pianist/composer Ignace, politician Jan, and ancient sage and viticulturist Paderewski. Throughout the production, each version of Paderewski reflects upon a lifetime of memories and is visited by the ghost of his first wife Antonina.
Oliver Mayer has written more than 30 plays. His newest play, Members Only, is the sequel to Blade to the Heat, and premiered at the Los Angeles Theater Center in October 2018. His other plays include Yerma in the Desert, Fortune is a Woman, The Wallowa Project, Dias y Flores, Joy of the Desolate and The Sinner from Toledo. He wrote the libretto for the opera American Tropical and the children's books Big Dog on Campus Learns to be a Trojan, Big Dog on Campus Goes to the Library and Big Dog on Campus Goes on Patrol. He holds the 2015 USC Associates Award for Excellence in Teaching and a Mellon Mentoring Award for mentoring undergraduates. He also serves as faculty-in-residence at USC's Parkside International Residential College.