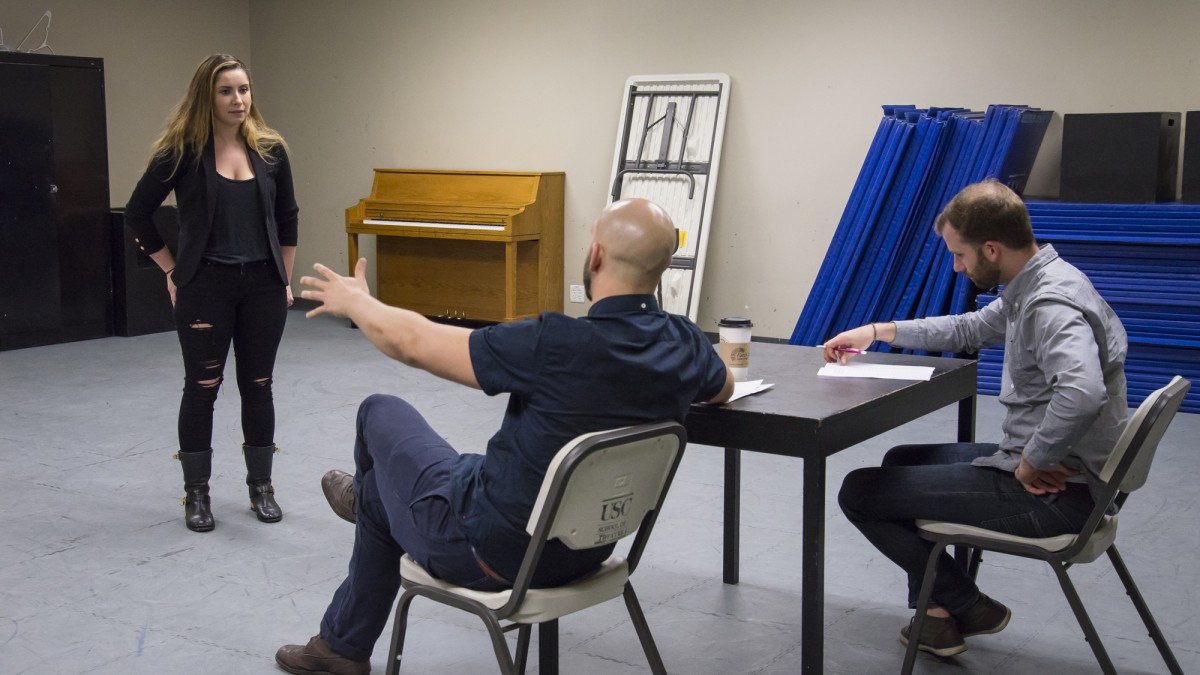 For a student actor, being selected for the non-Equity company of the Williamstown Theatre Festival is like winning the lottery. The odds are long (this year, 850 actors will vie for 20-25 positions), but the payoff is sweet. The festival, held over two summer months on the Williams College campus in the Berkshires, attracts some of America's finest actors, directors, designers and playwrights, and often debuts new works that go on to national acclaim.
The non-Equity actors appear in non-Equity, free theatre and cabaret productions at the festival and are eligible to be cast in main stage productions along with Equity actors.
There is no shortage of acting programs eager to have its students participate, and so the USC School of Dramatic Arts was pleased to announce that the festival was holding auditions on campus Feb. 29 for the first time ever.
The director of Williamstown's professional training program, Jason McDowell-Green, conducted auditions in McClintock Theatre for 31 hopefuls from the MFA program.
"Historically, we've not been reaching out to the West coast," said McDowell-Green, "but we've had great applicants from USC." He recalled that a USC Dramatic Arts graduate, Danielle Thorpe (MFA '11), was a member of the company a few years ago. On this trip, in addition to USC, McDowell-Green was seeing actors from American Conservatory Theatre in San Francisco and UC San Diego.
"Everyone in the MFA program was super interested in auditioning for Williamstown," noted interim dean David Bridel, as he welcomed McDowell-Green and colleague Will Dowdy. "We hope this is the first of many trips here."
McDowell-Green allotted five minutes for each audition. Students could perform either two short monologues or a monologue and a song. Since the festival is not doing any Shakespeare this summer, he asked to hear contemporary monologues.
He was careful in his choice of words, asking actors "What do you want to work on today?" as opposed to "What are you performing?" He unfailingly asked if a student had any questions for him, and unfailingly complimented every auditioner's effort.
He was low-key and did his best to tamp down jitters. "Don't be nervous. We're just a bunch of nobodies," he told one actress who admitted to a case of nerves.
Most of the monologues captured intense moments from playwrights such as Stephen Adly Guirgis, August Wilson, David Rabe and Kenneth Lonergan. But not all. One student, Courtney Lloyd, performed a humorous monologue she had written, much to the delight of McDowell-Green. He acknowledged that performing an original piece can be risky, but deemed her piece "strong" and told her: "I hope you keep working on it."
Many of the student actors thanked McDowell-Green and Dowdy for making the trip across the country. "We're pumped that you guys are here," one said. "Thank you for the opportunity," said many more.
McDowell-Green was complimentary about the level of talent ("even when they're not ready, they're working in the right way"), and said he was "energized" by what a diverse and international group the USC MFA actors are. "They have more international experience than we usually see." He asked each student where he or she was from, and the countries they represented or had lived in spanned the globe: Wales, Haiti, Macedonia, Puerto Rico, Korea, Russia, and many regions of America.
Callbacks will be done via email at the end of March, with selected students sent pages of dialogue ("sides") that they will memorize, perform on video and send back.
All the graduating students will have one more opportunity to be seen by McDowell-Green this spring. He confirmed that he plans to attend USC Dramatic Arts' Acting Showcase in New York City on April 20, where the actors will perform scenes for industry professionals.
In addition to Williamstown, students at USC Dramatic Arts this spring already have had the opportunity to audition on campus for the famed Oregon Shakespeare Festival. Coming up are on-campus auditions for several other companies, including the Cincinnati Playhouse, Pacific Coast Repertory, The Guthrie Theater, the Chautauqua Theatre Festival, National Players, Dramatic Adventure Theatre and the Independent Shakespeare Company.