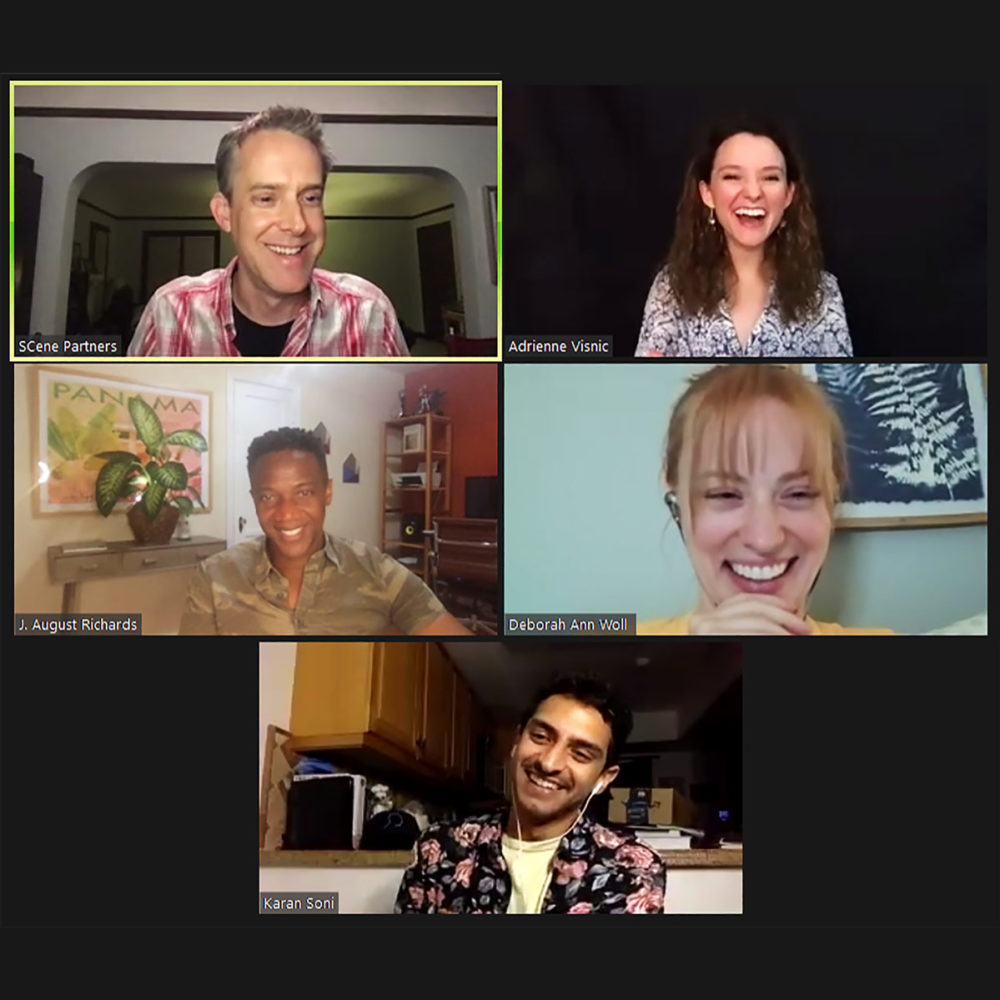 For School of Dramatic Arts alumni J. August Richards BFA '95, Deborah Ann Woll BFA '07 and Karan Soni BA '11, they can all agree they are still deeply moved and affected by the people they met at USC.
The three shared about their lifelong bonds during SCene Partners in Conversation, an inside look at their careers and paths after leaving the School. The virtual event on Oct. 29 for the School's Alumni Week was hosted by fellow alumni Adrienne Visnic BFA '14 and David Fickas BFA '96.
Memories from SDA
For Richards, his BFA Acting cohort left a profound impact on him: "I was deeply inspired by all of the actors in my class. We had a very tight group…"
Similarly for Woll, who graduated from the same program, she has stayed in contact with many of her classmates to this day. "I met a lot of really cool people and some of them are still my friends today, so I would say those are the people who inspired me then and still do now."
Even years later, the alums could point to certain shows that left them in awe and still resonate with them. "The play that inspired me the most was a performance of Killer Joe," shared Soni, "I think I was a junior. It was at the McClintock Theatre. I went to see it twice."
With the School's history of having a close community, it came as no surprise that there was even an connection between those on screen for the Zoom event. Fickas recalled watching Richards perform in A Raisin in the Sun at the Bing Theatre during his first year of college. Soni even remembered hearing about Woll's legacy as a student even though she had graduated before he transferred to the School.
Opportunities knocking
However, once it was time for Soni to graduate, he left a bit of a legacy himself. In his last semester, he auditioned for the film Safety Not Guaranteed seven times, recalling that "After the seventh audition, they were like 'You have to leave tomorrow' to go film this in Seattle. It was May 1, I was like I have finals, I have graduation."
Ultimately, Soni missed graduation, but being part of this film afforded him the opportunity to go to Sundance.
Similarly, Woll booked True Blood the summer after her senior year. She was originally contracted for three episodes, but "then it turned into a series regular and it was like [I] couldn't say 'no,' " Woll said.
Conveniently for Richards, he booked a musical tour right when his lease was ending. He remembers being asked, "Can you be on the plane on Monday?" and responding, "I have to be on the plane on Monday."
Lifelong learning
Even long after leaving the academic environment of USC, the alums witnessed that the learning did not stop.
"When I got back, I started booking," revealed Richards. With new opportunities to act, came new opportunities to learn. "On TV, your scene partner is your audience. … Anything you do, you only do for the benefit of the person you're talking to," he said.
Woll discovered that the actual business was not as cynical as people had painted it to be while she was in school. In fact, "…in my experience, for the most part, people are young creatives who want to do stuff and support each other."
She discovered that each day brought new experiences to indulge in. "Sort of the vibe and the fun of the show [True Blood] is that we did everything. Over the seven years of that show, I worked with animals, with kids, with special effects, with blood, with a million different directors and different actors. Everyone who had a different style and different process. I got to learn from everyone that I worked with along that journey," she said.
For Soni, he found himself receiving new opportunities within other areas of the entertainment industry. He recently directed an episode of HBO's Room 104 and he also wrote and directed his first film, Seven Days, which was shot in eight days and subsequently submitted to Sundance.
Paths to success
Soni said: "The big thing I learned was to be open to whatever is happening around you. It's ok to do other things that make you happy, it doesn't mean [that] you've given up."
Woll and Richards were also in agreement that there are many ways to find success and fulfillment.
"It's not an all or nothing. … I can continue to audition and be in it and do these other things. Whether they are money supportive, health supportive, creatively supportive," Woll said.
"If you follow your path, I think you'll never be let down. It just might not look like what you expected it to look like," Richards said.