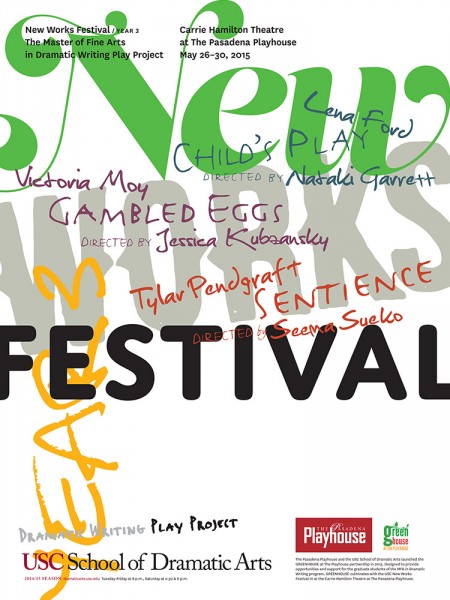 New Works Festival III, a festival of plays by graduating playwrights of the MFA in Dramatic Writing program at the USC School of Dramatic Arts, will be held May 26 to 30 in the Carrie Hamilton Theatre at The Pasadena Playhouse. The readings, which will each have two public performances, will be presented concert style with professional actors and directors.
This year marks the first time the festival will be held at The Pasadena Playhouse. In 2013, The Pasadena Playhouse and the USC School of Dramatic Arts launched their GREENHOUSE at The Playhouse partnership, which was designed to provide opportunities and support for the graduate students of the MFA in Dramatic Writing program.
USC Professor of Theatre and Director of Dramatic Writing Velina Hasu Houston said, "The culmination of a playwright's creative journey with a new play is to have that play fully realized in the beautifully collaborative dimensions that make theatre such a unique art. That is why the Master of Fine Arts in Dramatic Writing program offers the New Works Festival in all of its incarnations — from staged readings to text-focused workshop productions to a concert readings festival that the USC School of Dramatic Arts produces at a prestigious regional theatre, The Pasadena Playhouse, the State Theatre of California; culminating in personalized meetings with Southern California theatre leaders to support the professional transition process. The New Works Festival III allows our students to take their plays through developmental paces with professional artists that bring skill and depth to the plays, thereby allowing the students to experience their work on a high level that in turn inspires them to strive for greater excellence in craft and to better prepare for the profession as artists of consequence."
The three plays and playwrights are:
Child's Play
by Lena Ford
Directed by Nataki Garrett
Tuesday, May 26 & Friday, May 25 at 8 p.m.
Privatized prisons. Who gains the most when the government partners with institutions that capitalize on the lives of others? Child's Play takes a realistic look at how privatized prisons affect families in America.
Lena Ford's plays tackle social issues and their effect on individual families and the community. Disappearing Act, performed in April 2014, at the Massman Theatre at USC, took a bird's eye view at the insidiousness of racism and its impact on a mixed-raced Black teenager in 1945 Harlem who decides to pass as White.
Gambled Eggs
by Victoria Moy
Directed by Jessica Kubzansky
Wednesday, May 27, at 8 p.m. & Saturday, May 30, at 2:30 p.m.
A comedy about two sisters who 'hatch' a plan and take a gamble of their own to save their dysfunctional family from ruin when their father's gambling debts bring a henchman to the door.
Victoria Moy is a native of New York City. She graduated from Dartmouth College with an AB in Theater with a focus in playwriting. She is the author of Fighting for the Dream: Voices of Chinese American Veterans from World War II to Afghanistan.
Sentience
by Tylar Pendgraft
Directed by Seema Sueko
Thursday, May 28 & Saturday, May 30, at 8:00 p.m.
After Deborah volunteers her husband, Josh, for genetic alteration that will make him a better soldier, he is involved in a training accident that leaves another solider dead. As Deborah and Josh attempt to recover from this tragedy, she discovers she is unable to carry a child to term and turns to science to remedy the problem.
Tylar Pendgraft is a Los Angeles-based female playwright whose work is concerned with creating roles for female minorities as leads in a world representative of the multi-ethnic environment in which she was raised.
Admission is free, but reservations are required.