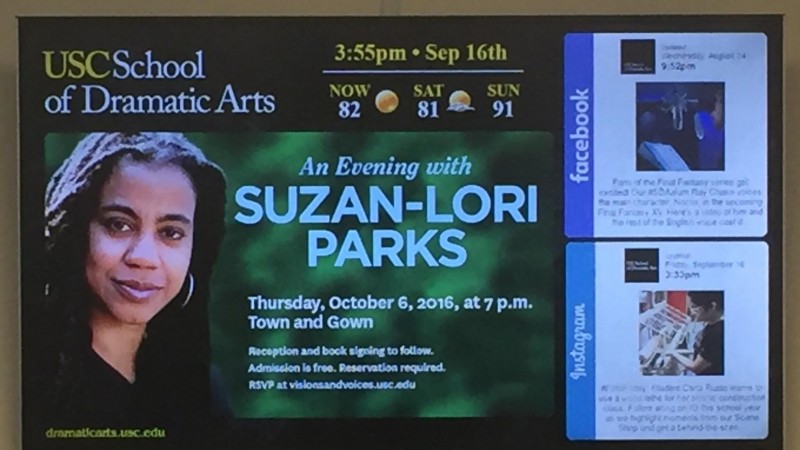 The new school year came with a new addition to the School of Dramatic Arts buildings — nine display monitors installed with the intent to create an informed community at the School. The new signs, made possible by the help of The H.N. and Frances C. Berger Foundation, aim to inform students and visitors about upcoming shows, speaker events, alumni accomplishments and important School announcements.
"The digital signage at the School of Dramatic Arts serves several functions, building community among our students, faculty and staff, showcasing to the wider university the range and depth of our work, and demonstrating one of the School's new priorities, namely, a commitment to the transformative reach and accessibility of new media," Dean David Bridel said.
The digital signage is displayed in each of the theatres, as well as in classroom and administrative buildings, which allows the entire student body, and the School's faculty and staff to be connected — regardless of their location across SDA.
"With the School of Dramatic Arts' classrooms, offices, rehearsal spaces and theatres spread throughout campus, we understood that communication was a hurdle to maintaining a sense of community among students and faculty," said Catharine Reed, Program Director of The H.N. and Frances C. Berger Foundation. "The new signage also helps welcome visitors to campus and recognizes student and school achievements."