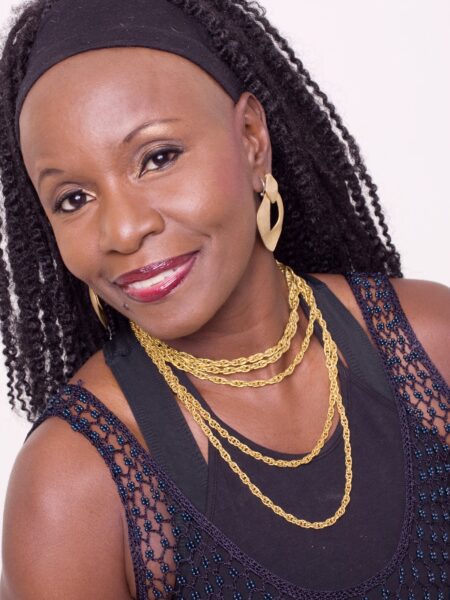 S. Anindo Marshall has recently joined the full-time faculty at the USC School of Dramatic Arts as Assistant Professor of Theatre Practice in Movement. Born in Kenya, Professor Marshall began her career as a musician, living and working as a recording artist in Madrid, before coming to the United States. She recorded albums with the likes of the Grateful Dead's Mickey Hart, Carlos Santana and Babatunde Olatunji, among many others. But it was her introduction to dance legend Katherine Dunham, creator of the influential Dunham technique, that sparked Marshall's interest in teaching and dance and led her to carry on the legacy as a dance instructor.
Dunham technique is a unique dance style that combines classical techniques, such as ballet, jazz and modern, with cultural contexts and styles from around the world. Born in 1909, Katherine Dunham was an African American-Canadian woman who learned dance in defiance of segregation laws. After attending the University of Chicago, Dunham earned an anthropological grant to study dance techniques of peoples from the African diaspora living in the Caribbean. She created her Dunham technique based on what she learned on that trip, combining it with the classical dance techniques she had been trained in.
Dunham's dance style has been hugely influential in the world of dance, and counts numerous famous choreographers among its admirers, including New York's Alvin Ailey. Professor Marshall was taught the technique directly under Dunham, and in 1999, was specifically selected, trained and certified by Dunham as someone who would continue the legacy of Dunham technique.
Professor Marshall compares the dance style to the process of cooking an eclectic dish like gumbo.
"When you're cooking gumbo, you get everything out of your refrigerator and make a delicious meal," Professor Marshall said. "If you look at a Dunham technique piece, you can see that one count of eight can have three different disciplines in it. [Dunham] wanted to have the fundamental technique, which was ballet, and she wanted to have the different cultural contexts within it. That's Dunham technique."
Although Professor Marshall is new to the faculty at the School of Dramatic Arts, she has been teaching dance and movement at the USC Glorya Kaufman School of Dance for several years. In her new faculty position at SDA, she will be working most closely with musical theatre students, teaching them a variety of techniques and skills from her years of experience as an artist and educator.
"What we're trying to do with musical theatre students, is that we have to get them ready for their careers," Professor Marshall explains. "The curriculum is put together so that they will have the tools they need when they're going out to audition. You have to approach it in a different way, even though the form is still the same."
This role is a natural fit for Professor Marshall, who has spent a career combining music, dance and storytelling, and who performed in musical theatre extensively in her early career in Nairobi.
Marshall credits her father for her interest in education. One of nine children, Marshall's father insisted that she finish college before moving to Europe to begin her career as an artist.
"He really valued education," Marshall said, laughing. "He wanted me to be a librarian."
As a tribute to her father, Marshall is in the process of building a performing arts school in her father's native village of Mwanda, Kenya. The Anindo Marshall Arts Academy will feature a full academic curriculum, along with a wide variety of performing arts courses that schoolchildren can choose from.
"We're going to have academics, and the different arts—not only dance, but music, theatre, media, visual arts, and others," Marshall said. "It's so important for a child to have a full education. Academics and the arts, together, make a full child."
Marshall counts her work on founding the school, alongside her passion for imparting knowledge to young dancers and actors, as some of the most meaningful work of her career.
"I believe that's my purpose—to be able to give back to these kids who have absolutely nothing," Marshall said.
Professor Marshall is thrilled to be working with SDA students, where she can employ different elements from her career in one place. She credits USC's culture and the warm embrace of the Trojan Family as reasons she is excited to be joining the full-time faculty at the School of Dramatic Arts.
"With musical theatre, we have the music, the dance, and the acting. This is a perfect school for me to be in, because I can touch all these different areas," Marshall said. "I'm really excited to be a Trojan. The culture of this school is just amazing."