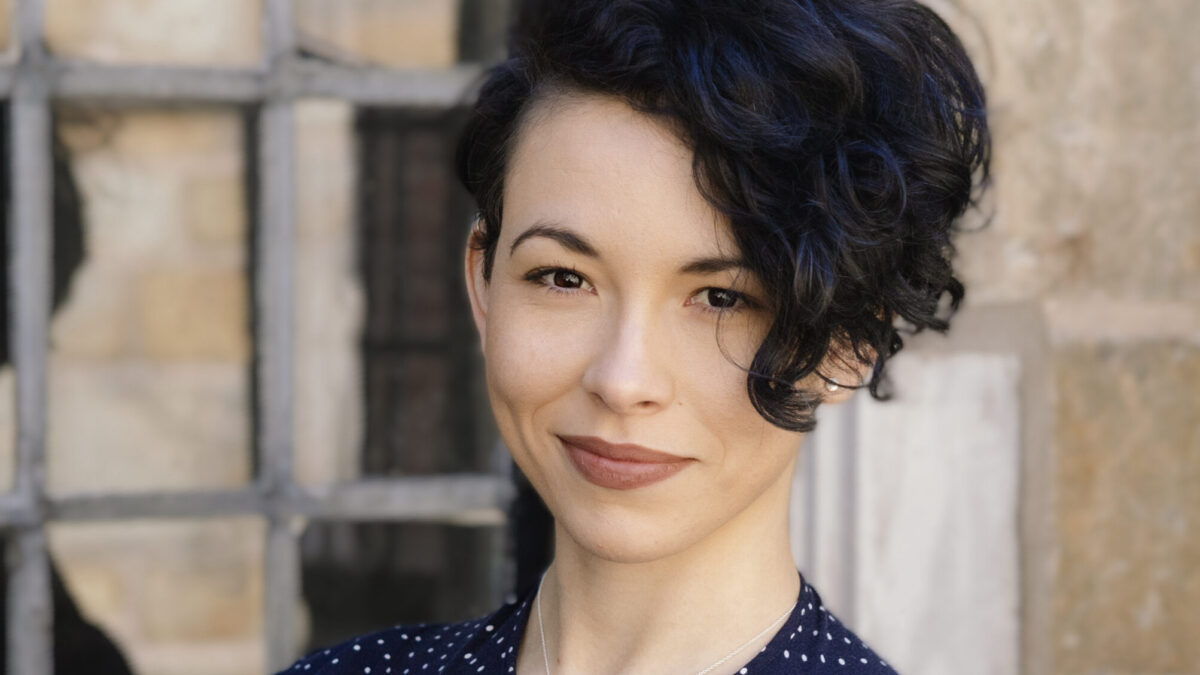 Noel Nichols, a multihyphenate sound designer, has joined the USC School of Dramatic Arts this year as Assistant Professor of Sound Design. With credits spanning the country in theatre, film, and new media, Nichols brings their talent, experience, and passion for teaching and representation to SDA's already excellent sound design program.
Nichols' career started in lighting design. Growing up as female-presenting in a Mexican family, Nichols felt themselves steered toward activities like acting, singing, and performance.
"From a young age, the messaging I received about how to be was very performance-oriented. There was a sense that to be valued was to be a singer or a performer of some kind," they said.
And while they flourished in the realm of self-expression and artistry, it wasn't until they began adding an engineering and technical aspect to storytelling that they found their calling.
"The work was to sit with the greater piece and track along, emotionally, using things like tempo and music tools to tell a story in a different way," Nichols said.
Nichols takes great pride and inspiration from their ancestry, which spans the American West and includes roots in Chicanx culture. They identify as gender-fluid and feel that representation—providing young female-presenting and students of color a chance to learn about engineering and sound design—is a huge part of their drive to teach.
"I have never been taught sound by anyone who looks anything like me," Nichols said. They cited a female-presenting mentor, Jennifer Setlow, then at Arizona State University, as an important influence, a personal example of the critical importance of representation among faculty. "She got me. And her influence is a huge part of the career I have today."
Nichols gained practical experience in many different aspects of lighting and sound design via work in the Glimmerglass Festival in Cooperstown, New York, which provided them an entry into New York, and later they served as the lead technician for the Manhattan School of Music. While Nichols earned their MFA from Yale University, they mastered many of the aspects of sound design via doing, a process they hope they can provide a short-cut to via formal education for students at USC.
"Having just moved out of the New York/East Coast scene, I know what they need, what skills are valuable, and what to expect," Nichols said.
Nichols was excited to join SDA because of the diverse student body at USC, the opportunity to lead through representation, as well as the unique structure of SDA's sound design program.
"The sound design focus here integrates a lot of music-tech fundamentals, so part of what our students are asked to do is some critical listening and fundamentals of studio recording work and they're also getting chances to program and run shows on industry-standard consoles," Nichols said, referring to the Digico SD10T and the Yamaha QL Series, all of which USC students have the opportunity to train with. "Students are getting, to me, a really remarkable and unique blend of design as metaphor and dramaturgy, things like that, as well as a technical skill set."
Nichols pointed out that, following the pandemic, many rank-and-file sound designers have chosen to leave the industry, mirroring a shift seen in professional art communities across the world. Nichols sees this as a unique opportunity to unleash a creative force of capable and more diverse artists into the world just as major shifts are poised to happen in the arts.
"I'm so thrilled to be empowering so many students, especially in a department that is primarily non-cis-male identifying at the moment, in the student body," Nichols said. "Equipping them with high level technical skills that are immediately translatable into the greater theatre production world."
Nichols currently works with UptownWorks, a collective of sound designers and engineers exploring a new model of sound design. For too long, Nichols explains, the arts and entertainment industries have suffered from an epidemic of loneliness and pressure. Nichols sees her work with UptownWorks as one potential model to introduce healthier standards to the profession.
"What we're trying to do is to create design workflows where you can say, 'I'm sick.' 'I'm not doing that,'" Nichols explained. "In a way that does not have a negative community impact—like, 'Our sound designer's not here, I guess we can't open.' As a team we're trying to create ways that we can have space to take care of ourselves, while also taking care of our greater community."
They have found the community of faculty and students at USC to be just as integral on their own journey, to learn and grow as a sound designer and a teacher.
"That's been another part of the attraction to USC," they said. "It's a space that I could come into and be part of the full-time faculty here without being totally out on a limb."
Nichols is excited to continue growing as a teacher and hopes to have an impact on the next generation of the industry's artists, engineers, and sound designers.
"I know that I'm in a position to teach people useful things that will get them jobs tomorrow, and that itself is thrilling," they said. "We have the resources and the people and the concepts to make that happen. Not everywhere has that."