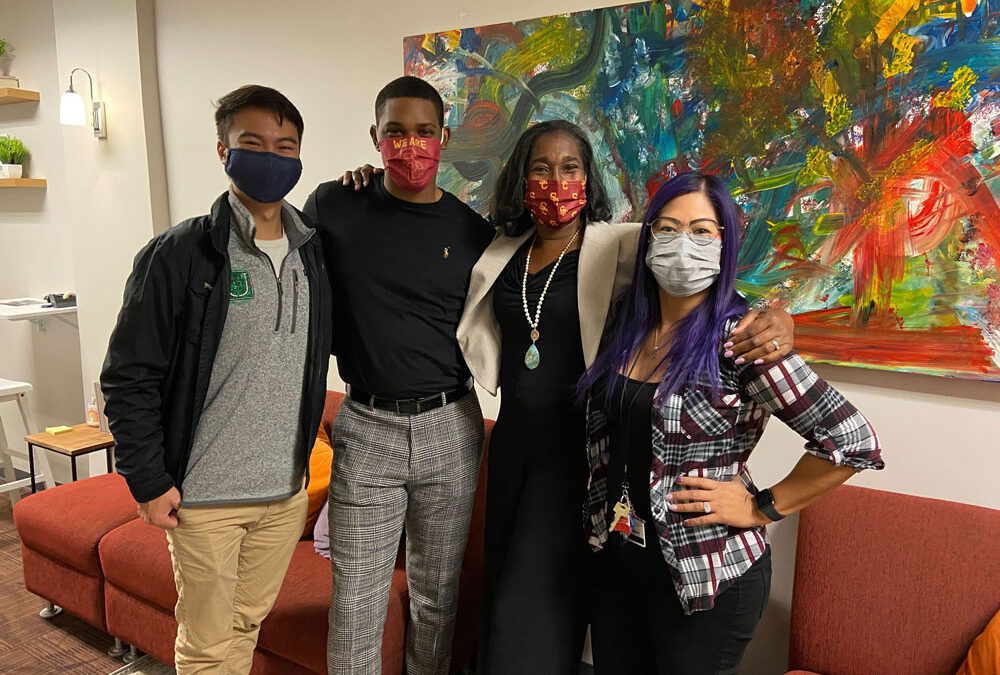 Just inside the east entrance of the McClintock Building (MCC), a new space has been created to house the School's Office of Equity, Diversity and Inclusion (EDI). An inviting lounge space opened Dec. 7 in room 101.
But the space is much more than an office and lounge. It is a place where BIPOC and LGBTQIA+ students and their allies can gather "and be their fully authentic selves," said Anita Dashiell-Sparks, associate dean of EDI and co-head of the undergraduate acting program.
It is a welcoming and colorful space, with couches, pillows, books and snacks, but the room's significance goes beyond its physical attributes.
"It is for fostering a sense of belonging and community," said Dashiell-Sparks. "It's bringing EDI into practice in everyday lives."
SDA Dean Emily Roxworthy said that she is "incredibly proud that SDA is the first major drama school to dedicate space for an EDI office. The temporary space in MCC will provide a home to all of our students, particularly those who are underrepresented on this campus."
She notes that when the new drama center opens in Fall 2023, the EDI office will have a permanent home there. "This is a testament to our long-term commitment to ensuring that the dramatic arts are equitable, inclusive and as diverse as the world we seek to represent through our art form."
Dashiell-Sparks noted that in the various SDA town halls held over the past two years, and in social media posts, students of color voiced a need for such a space. The pandemic and social and racial unrest during this time made the need even more urgent.
"Students need to be seen and heard and nurtured and cared for – that we heard loud and clear," she said.
The area holds her office, as well as three other faculty members, and will serve as a hub for EDI programming.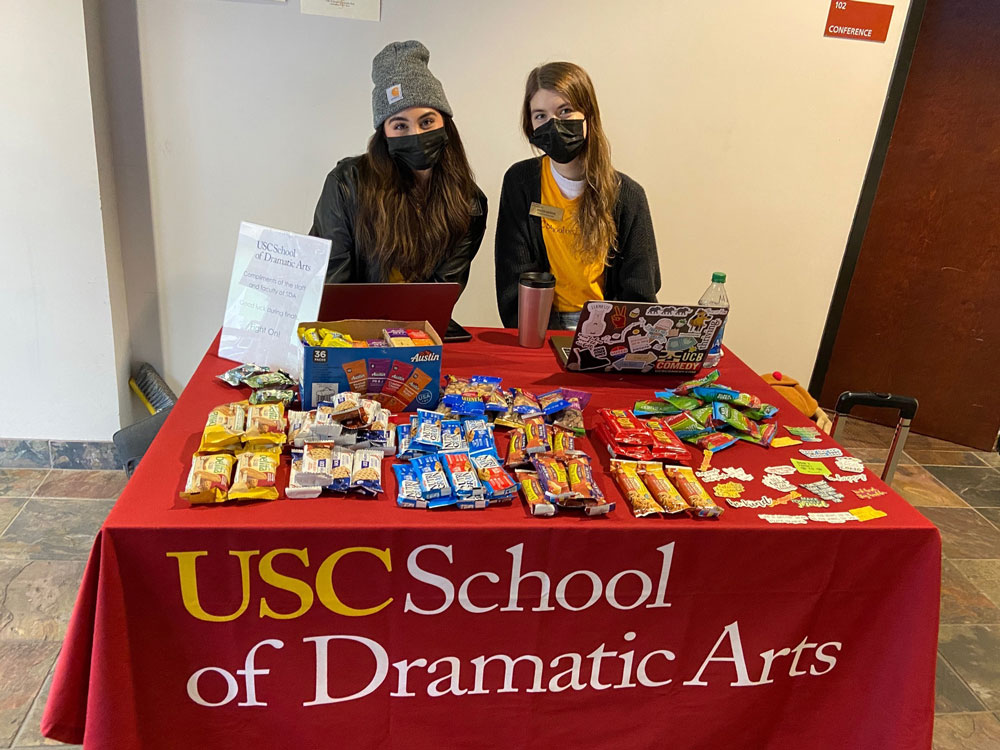 Already this fall, Dashiell-Sparks led a mandatory day-long EDI training for all faculty and staff in the Bing Theatre. The training was held on a day that was declared a non-instructional day, so everyone could attend. Other programming from the Office this semester has included a day-long CommUNITY event (which included a panel from McKinsey & Company discussing their report on Black representation in television and film, and a keynote address from award-winning leadership, diversity & inclusion strategist Dr. Omékongo Dibinga), and a panel discussing visible and invisible differences in the arts. Earlier, EDI workshops were held in the Bing for incoming freshmen and sophomore students. A second session is scheduled for spring semester for juniors, seniors and graduate students.
"The message this sends is that it signals that SDA takes these issues seriously," said Dashiell-Sparks.
SDA faculty and staff also have joined with their counterparts in the other arts schools at USC, participating in collective intensive EDI trainings to promote equity in arts curriculum and representation. This includes job searches, curriculum design, syllabi and student recruitment. Having a committed group of faculty and staff trained in EDI issues at each school is a powerful force for change, Dashiell-Sparks observed.
"We have a wonderful opportunity here at SDA," she said. "Our teaching profession and the theatre field at large is changing, with a focus on representation at every level." She believes SDA can be at the forefront of that transformation, perhaps by doing research on representation in theatre, much as USC Annenberg does important research on representation in television and films.

The EDI office and lounge will be expanded when it moves to the new SDA drama center in the former United University Church. The EDI space there will be much larger, at 650 square feet, and include a small stage and computer workstations.
But for now, the new McClintock Building space represents an important milestone.
On the opening day, SDA students experienced a double welcome: two SDA Ambassadors, junior Mikaela Villalpando and sophomore Maddi Moran, were offering a selection of snacks just outside the EDI office to all students as they studied for finals. Both said they were pleased to see the new EDI center open.
"I'm so glad we finally have a space, and one that's easily accessible," said Villalpando.
Chevaughan Dyer BA '18, who works in the Dean's office and helped establish the new EDI office, proudly pointed out the abstract painting – done by USC students during the 2019 CommUNITY Day – and the bookshelves with titles by BIPOC and female authors.
"This space represents our past, present and future," said Dyer. "You can come and take off all your masks and be the perfect representation of yourself. It's for students to come in and find their home."