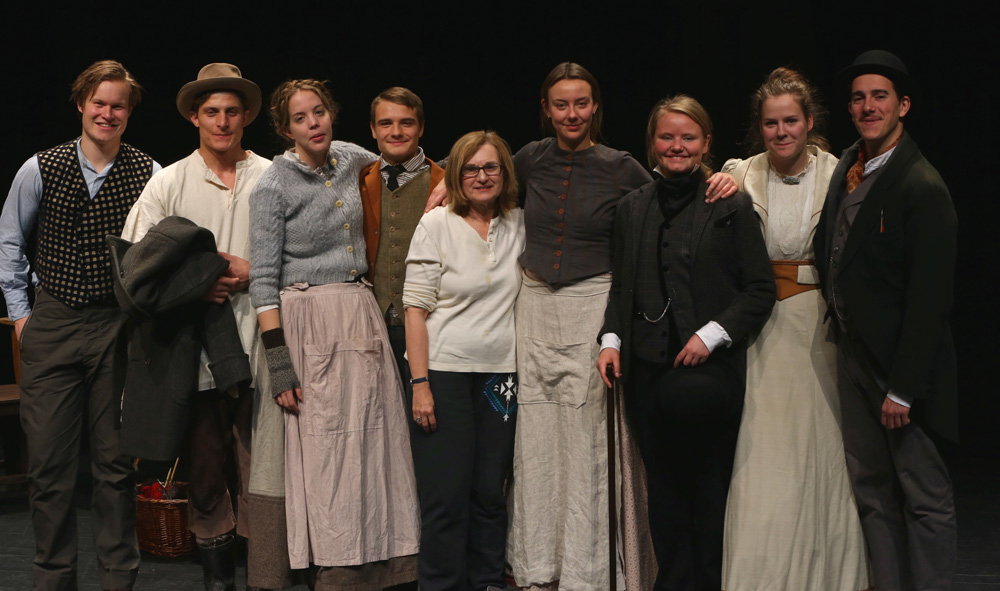 The Norwegian National Academy of Arts invited me to direct a production of any Anton Chekhov play I wanted, using Active Analysis — a rehearsal technique developed by Stanislavsky, but little known outside Russia. How could I resist!
First, I love Chekhov. "The pens scratch, the cricket chirps. It is warm and cozy," says Dr. Astrov in Uncle Vanya. It is as if he and Chekhov (a doctor by training) are prescribing a simple cure for all our frustrations and petty squabbles: stop for a moment, listen, and take pleasure in the ordinary music of everyday life. In fact, Uncle Vanya is the most musical of all Chekhov's plays. It builds a crescendo of rhythms and sounds until it ends with an audible exhalation of breath as Vanya's niece, Sonya, comforts him with "We'll rest!"
Musicality of Chekhov
My choice of play was made! I boarded the plane, already imagining the cast as a percussive orchestra, performing both story and music. After seven weeks of rehearsals, the actors brought my imagination to life. Each act began with a rhythmic sound poem, composed of ticking clocks, laughter, a book being dropped, fingers tapping on a table, the absent-minded humming of a lullaby… In the last act, the clicking sound of Vanya's abacus and a rising wind underscored Sonya's final exhalation.
Rehearsing through Active Analysis vividly illuminated the hidden corners of the characters' emotional lives. Stanislavsky had laid down the principles of this improvisatory technique while he was under house arrest for theatrical ideas that were banned by the Soviet tyrant Stalin. Since learning Active Analysis in Moscow, I have put it at the center of my own work. I introduce it in my classes at SDA; I adapted it to cinematic performance capture through a National Science Foundation grant at USC's Viterbi School of Engineering; and I have taught master classes and intensives on it in France, Finland, Puerto Rico, Australia, Italy and Norway. Yet, rarely have I had the opportunity to use it for a full production as I did in Norway. Moreover, my cast were actors to whom I had previously taught the basics.
Analysis to stage
As the actors and I actively analyzed Chekhov's text through improvisations, the interpersonal dynamics at the heart of each scene became clear and every line, necessary. For example, Astrov's leave-taking at the end of the play usually marks the end of Sonya's hope for a relationship with him. After his obsessive infatuation with her stepmother, such an interpretation seems to make logical sense. But one of Astrov's last lines to Sonya contradicts this presumed finality. "If you need me," he says, "call me and I will come." Doesn't this question open the door to renewed hope? When Leo Magnus de la Nuez (playing Astrov) and Maria Austgulen (as Sonya) improvised a prior scene in which Sonya helps Astrov get a stolen bottle of morphine back from her suicidal uncle, Leo suddenly saw Maria's kindness toward Vanya as exactly what Astrov most craves. At this moment, he sees Sonya anew and falls in love. Later, when he invites her to call upon him, he genuinely means it. Leo and Maria also confided to me that, since making this discovery, they always imagined Astrov stealing a kiss from Sonya as he climbed into his carriage.
The stunningly beautiful and emotionally moving production of Onkel Vanja premiered in Oslo on October 20. As I watched spectators laugh, cry, and laugh again, I imagined that my Norwegian Vanya would have pleased Dr. Chekhov, too.
Production Credits:
Director: Sharon Marie Carnicke
Scenographer: Christina Lindgren
Costumes: Signe Vasshus
Properties: Pernille Trobraten
Cast: Kristine Hartgen, Ragnhild Enoksen, Ragnhild Tysse, Kim Olsen, Leo Magnus de la Nuez, Olavus Udbye, Maria Austgulen, Rustam Foss
---
Sharon Marie Carnicke is Professor of Dramatic Arts and Slavic Languages and Literatures. Her many publications include Stanislavsky in Focus, Reframing Screen Performance, Chekhov: 4 Plays and 3 Jokes, and Checking out Chekhov.