Mr. Burns, a post-electric play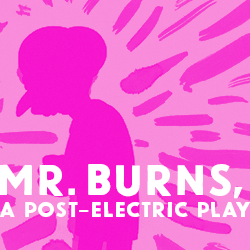 April 20–23, 2017
Summary
In a post-apocalyptic world, a mismatched group of survivors band together to try to recount the heroic fable of youth and innocence triumphing over evil — Bart Simpson's epic battle against Sideshow Bob in the "Cape Feare" episode of The Simpsons. Starting around a campfire, Anne Washburn's imaginative dark comedy travels through 82 years of society rebuilding and the creation of a new mythology.
"Downright Brilliant. With grand assurance and artistry, Ms. Washburn makes us appreciate anew the profound value of storytelling in and of itself, and makes a case for theater as the most glorious and durable storyteller of all." —The New York Times
Performance Dates & Times
Thursday, April 20, at 7 p.m.
Friday, April 21, at 7 p.m.
Saturday, April 22, at 2:30 p.m.
Saturday, April 22, at 8 p.m.
Sunday, April 23, at 2:30 p.m.
Please note: The LA Times Festival of Books will be held on USC's campus on Saturday, April 22, and Sunday, April 23. 150,000 attendees are expected over the two day festival. Parking will be limited on USC's campus and traffic is expected to be heavy. Plan accordingly and take public transportation. 
Tickets
Tickets purchased in person at the USC Ticket Office: students, $5; faculty and staff, $8; general public, $12. Tickets purchased by phone or online are $14.
Parking
Discounted parking is available for $10. Please inform the gate officer you are attending a School of Dramatic Arts performance.
Talkback@SDA
Join us on the Saturday matinee (2:30 p.m.) performance as a panel of esteemed guests discuss and explore themes found in the production with the audience.
Additional Information
By Anne Washburn
Score by Michael Friedman
Lyrics by Anne Washburn
Directed by John DeMita