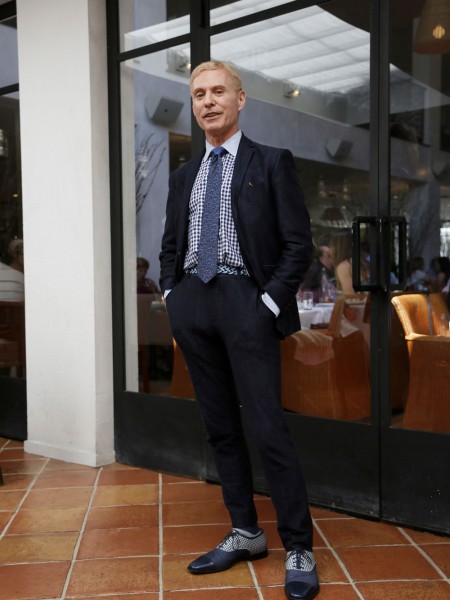 Richard Weinberg has been a successful actor, singer, competitive ballroom dancer, Broadway "angel," and film and television producer, but his first foray into entertainment did not bode well.
He signed up for a speech class in high school and floundered, receiving a D grade. "And that was only because my teacher liked me," Weinberg laughs.
But the elusive magic of connecting with a live audience had cast its spell.
He decided not to follow the family tradition of attending nearby Northwestern University and enrolled in the BFA program at USC School of Dramatic Arts (then, the Division of Drama) in the early 1970s.
It was the beginning of a relationship that has continued for five decades, including his 14-year service on the board of councilors, his last nine years as chair.
A casting breakdown couldn't describe a better board candidate. He has extensive industry experience working at Columbia Pictures Entertainment and CBS and serving on the boards of Savoy Pictures Entertainment and the Sundance Institute. As founder and president of Omneity Entertainment, Inc., he has invested in some of Broadway's biggest hits, including The Producers, Hairspray and A Gentleman's Guide to Love and Murder. Weinberg also is the savvy president of a private investment firm, Judd Enterprises, Inc., and a renowned philanthropist who has lent his time and talents to a raft of nonprofits, including traveling around the globe to meet world leaders while on the American Jewish Committee's National Board of Governors.
After his initial unhappy experience in speech class, he discovered dance. His family took annual pilgrimages from Chicago to Broadway to see musicals, and when he was 16, he was transfixed by No, No Nanette and its spectacular tap numbers. The hockey and soccer athlete was concerned with what his peers would think about him taking dance lessons, and so his father, in a lovely gesture, said he would take the lessons with him. "That's what gave me the courage to start," Weinberg says. "And I still tap."
In recent years, he added competitive ballroom dancing to his repertoire. He started out taking salsa lessons so he wouldn't embarrass himself at a venue filled with Latin dancers, "and before I knew it, I was learning 14 different dance styles." He and dance partner Tommye Giacchino recently stopped competing, but not before winning several U.S. titles, including the U.S. Nine Dance Championship, where they competed in waltz, tango, foxtrot, Viennese waltz, cha-cha, rhumba, swing, bolero and mambo. "Again, it was the lure of live performance," he says. "You learn how to work an audience and work with an audience. And, it's got to be two people moving as one."
The multi-hyphenate has a sense of style to match his unorthodox résumé. The day Callboard interviewed him in his stunning North Michigan Avenue offices, he was wearing blue framed glasses, a flowered blue tie, blue plaid sport coat, blue horizontal striped shirt with a white collar, light blue socks and blue shoes. "I usually match," he admits.
Weinberg is generous with crediting USC for helping him get over his early fear of performing and fulfill his desire to connect with an audience. His freshman acting teacher, Mary Carver (who had studied with the great Uta Hagen) showed him "how to be comfortable making a fool of yourself in public," how to look others squarely in the eye and how to feel at ease on stage.
In his senior year, in 1975, he traveled to the Edinburgh Fringe Festival under John Blankenchip's tutelage. He and fellow USC actors did a grueling 22 performances a week in repertory for three weeks, and Weinberg easily recalls the names of the musicals and plays: Gypsy, Dames at Sea, The Martian Chronicles, Small Craft Warnings and American Primitive.
"I love theatre," says Weinberg. "It's too easy to say there's nothing like it. The enduring appeal is the relationship between the performer and the audience. The same way they say you don't step into the same river twice, you really never see the same theatre performance twice."
Former Dramatic Arts Dean Robert R. Scales was responsible for bringing Weinberg to the Board of Councilors. When Madeline Puzo was dean, she asked him to become chair. He also chaired the School's first fundraising gala, a hugely successful celebration honoring Robert Redford, and was able to attract industry insiders — producers, casting agents, entertainment attorneys — to the board.
Now that he has stepped down from the board, he continues to support the School financially and with his praise.
"The School of Dramatic Arts has a wonderful program and extraordinary faculty," he says. "And it continues to get better. There's much more of an understanding of the business side of entertainment now and what students will face on the outside."
This story appears in the 2016 Callboard.