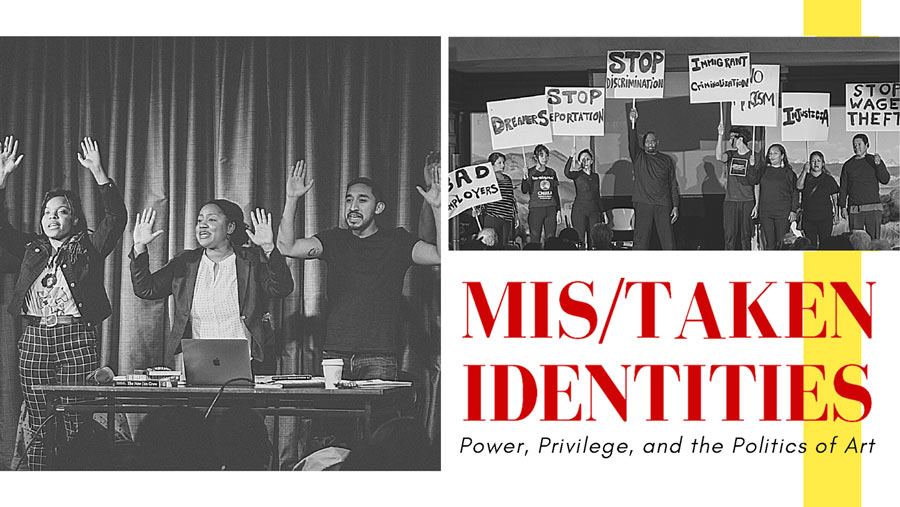 Breonna Taylor, George Floyd, Elijah McClain — the names of these individuals and many more were spoken in unison as everyone unmuted their mics to say the names of modern-day victims of anti-Black violence, during an event in the fall.
This was one of many significant moments from the second annual Institute for Theatre & Social Change (ITSC) conference, which virtually hosted seven weeks of events on the theme of MIS/TAKEN IDENTITIES: Power, Privilege and the Politics of Art. Events ranged from discussions about performing live under COVID-19 to workshops on digital activism and grassroots organizing for safe and equitable theatre to a screening of the documentary Down a Dark Stairwell.
Founded by Professor of Theatre Practice and Head of Theatre & Social Change Brent Blair, the ITSC explores the interdisciplinary nature of the dramatic arts to prompt social change and promote meaningful dialogue among the community.
During a workshop titled "In the Blackness: Anti-Racism and Anti-Black Racism," Associate Dean of Equity, Diversity and Inclusion Anita Dashiell-Sparks urged the importance of remembering the aforementioned victims' names to prevent others from suffering the same fate. "The power of understanding these different dynamics in the context of people — human being lives, Black lives — and that we say their names, that we see them, that we honor their legacy in that way, is so crucial."
The workshop, which reflected on the history of anti-Black racism and how it manifests today, encouraged participants to further disrupt anti-racism, particularly anti-Black racism, within their own communities.
During the "In Living Color: Strategies for Thriving & Surviving PWI" event, USC Thornton Professor of Music Ronald C. McCurdy, who grew up in the segregated South, shared that he was the only African American within the University of Kansas' entire music school. He recalled wanting to go home every other day and his mother telling him, "Son, you want what they have. You have to stick and stay."
"In an all-white institution, you have to be at the top of your game. You have to excel at what you do," he shared.
Dashiell-Sparks emphasized that importance of making one's self known, especially in situations where one might be the only minority in the room. "Be seen. Be heard. And tell your story. … That's how we can change things. When we make the invisible visible."
Another workshop, held before the election, also emphasized the importance of making one's voice heard. "Art, Black Identity and Digital Activism," a voter education workshop in collaboration with Sugar Hill Arts Revival Project (SHARP) shared research and information, including about voter suppression, to help participants truly understand the importance of their vote.
"Someone is paying $250 million to limit our vote. What it means is that our vote is worth that much. It's such a threat to white power," said Laura Flanagan, associate professor of theatre practice. She continued that "Really, the way we fight this is that we show up and we vote."
Patricia Williams, a member of the SHARP team, emphasized the importance of the down ballot, a term for voting in your local elections. "The first person I didn't vote for president won and the last person [I voted for] didn't. But that doesn't affect my life as much as the things on the down ballot." She went on to share that down ballot elections affect decisions on items — including felonies, marijuana and public schools.
For the "Arts Activism, and the Academy: Addressing Racism within Higher Education" workshop, the event explored the role that cultural and educational institutions play in promoting racial equity within and beyond their own institutions. Meanwhile, "Creating National Transformation and Healing in the Face of Fear" emphasized the need to expose and educate elementary-aged children who live in the United States. For speaker Jessa Calderon, educating the youth is the most efficient way to build a better America. "Honoring that we are all the same — red when our blood hits the oxygen — that we are one in the same," Calderon said.
With more than a dozen discussions, workshops and activities taking place from mid-September to early November, the ITSC conference allowed participants to become informed and empowered both as artists and global citizens. "Our battle as artists is to retell these stories," Blair shared during the conference. "Let's use art because it makes the revolution irresistible."