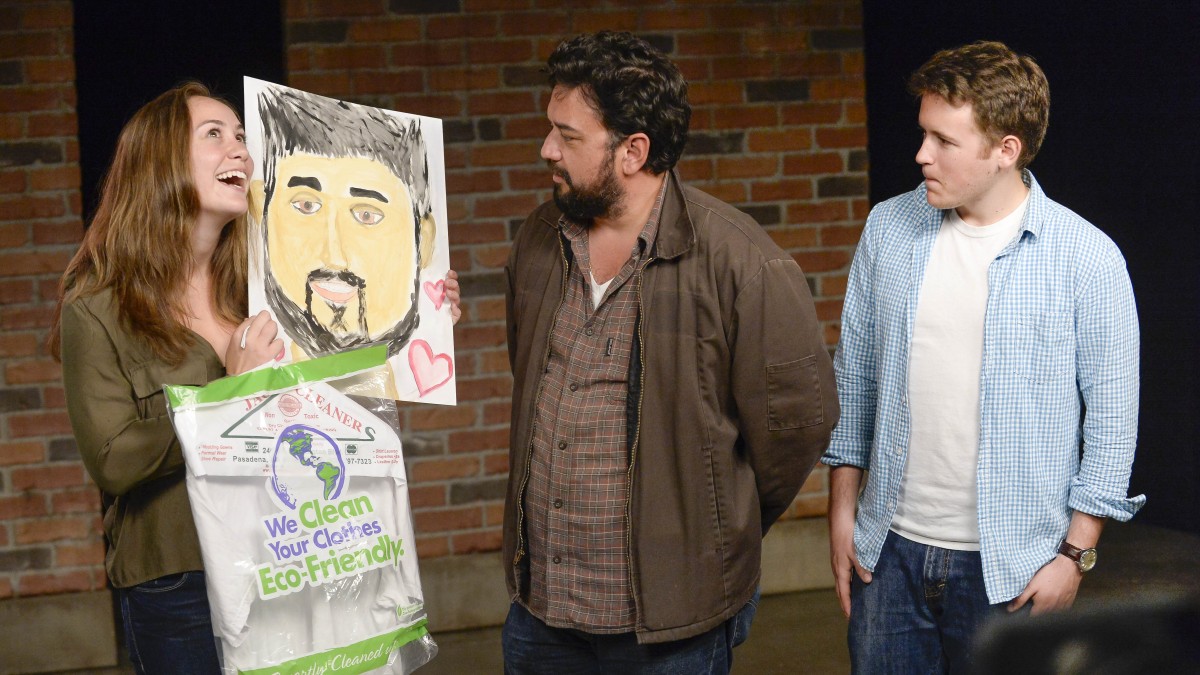 In what is arguably the coolest course offering this year, directors and writers from the USC School of Cinematic Arts, production students from Trojan Vision and actors from the USC School of Dramatic Arts produced a sketch comedy show filmed before a studio audience and broadcast live on television.
In other words, USC's version of Saturday Night Live.
The academic project was complete with high-stakes pitching in the writer's room, last-minute schedule shifts, drama in the control booth and actors dealing with fast set changes. Another constant was the pacing and watch-checking of Jack Epps, the writing division chair who served as the show's Lorne Michaels. As each Friday rehearsal neared the 10 p.m. show start, Epps' pacing increased.
The project's three episodes featured professional guest hosts: Jim Staahl (SCTV, Curb Your Enthusiasm), Misty Monroe (The Groundlings, How I Met Your Mother) and Horatio Sanz (SNL). Junior Alden Derck, majoring in writing for screen and television, called the endeavor "flat out amazing. I'm a huge SNL fan and being able to do it here and tap all the talent from different schools is phenomenal." Freshman Alyssa Leighton, a critical studies major operating a camera in her first live show, said: "The second I heard of it being conceived, I jumped on it. It's incredible that we have this opportunity."

The idea was dreamed up by Epps, Barnet Kellman and David Isaacs, principals of the Comedy@ SCA initiative begun at Cinematic Arts three years ago. The three have major Hollywood credits as key players behind
Frasier, Cheers, The Simpsons, M*A*S*H
(Isaacs),
Murphy Brown, Mad About You
(Kellman) and
Dick Tracy, Turner & Hooch, Top Gun
(Epps). USC Cinematic Arts is serious about comedy, offering 20 courses throughout its divisions for students focusing on the genre. The school recently greenlit a minor in comedy, which is believed to be a first in the nation. For the
Comedy@SCA Live
project, the logistics were daunting and collaboration was key. It involved 60 students in four classes — 11 students in a sketch-comedy writing class taught by Pam Veasey, whose lengthy producing and writing credits include
In Living Color
and
The Gregory Hines Show
; 12 students in a sketch-comedy directing class taught by Phil Ramuno, who wrote the book on directing sitcoms and has helmed many, including
Nine to Five, Gimme a Break and Soap
; 12 students in a Dramatic Arts sketch-comedy acting class taught by Kristin Eggers ('01), a veteran of The Groundlings and Fox Comedy Hour; and 25 students in a Trojan Vision production class taught by Joel Parker, who oversees 11 hours of live programming each week at the station.
"Comedy needs community," Epps said. "That's why we have writers, directors, actors and production people together. It's hard to be funny in a vacuum." "Sketch comedy and improv are so important today," Ramuno said. "The idea of the class is to let them hone their craft. They learn economy. Less is funnier." The students had about six weeks to prepare the first 30-minute show, about a month for the second and only two weeks for the third. "We didn't plan on compressing the schedule that way, but it turned out to be a very good training exercise," Epps said. "I remind them that Sid Caesar created a 90-minute show every week."
Epps said it was impressive to see the actors bring the writers' characters alive. "The theater students brought so much to the class," he said. More than 50 actors auditioned for the show, and the dozen who made it were thrilled to get the live, multicam experience. Junior Ian Elmaleh, whose memorable characters included Russell Brand in the first episode, said he has done improv since he was a high school sophomore, but never live television. "It's an exciting thing — and unpredictable. I worked five weeks straight on a sketch, and it got cut." "It's a huge leap," said actor Saba Saghafi, a sophomore majoring in pre-med and dramatic arts. "You have to deal with material on a first read. I was really bad on cold reads, but we do it so much here, your nerves kinda go away." For the first show, filmed on March 7, the four-hour dress rehearsal was mostly chaos. Chatter from the four camera operators to the control booth was constant. "They keep moving, and it's hard to keep them in focus." "Which camera should he be looking at?" "It's a waist shot?" "So we're going straight from shot 1 to shot 4?" "I can't hear through my headset."
New blocking decisions were made ("Let's shoot him sitting in the audience!"), requiring ladders to be dragged on set to adjust the lights. A prop plant fell over. Every few minutes, the stage manager yelled, "Hold, please," and rehearsal stopped to remedy another technical glitch. The prognosis looked grim until warm-up comedians A.J. Frydman and Harris Mayersohn got the crowd laughing, host Staahl entered, saying "Welcome to Comedy@SCA Live: For people without plans Friday night!" and, magically, things started clicking. A prop plant did fall, but the show's biggest problem was that the audience laughed too long, requiring the directors to dump commercials and the last two sketches. "That's a wonderful problem to have," Ramuno said.
Sketches included Staal playing Tim Gunn (Project Runway) on the red carpet and actor Sheridan Pierce doing a spot-on impersonation of Zooey Deschanel as a perky prison counselor. (The writers made use of her Zooey impersonation in the next two shows, showcasing her as a perky murder investigator and a perky marriage therapist.) At show's end, actor Riley Smith, who also was consistently funny, summed it up best. "I honestly thought it was going to be a disaster, and it honestly wasn't." Then it was promptly back to work, with the writers pounding out new sketches in the writer's room that Veasey ran like one at a network. Senior Kenny Martin estimated that he and others each wrote or punched up about 80 sketches for the class. "From what Pam's told us, it's a pretty accurate experience in that we have to work with other divisions that may have their own take on the sketches." Veasey was pointed in her critiques, occasionally giving praise and occasionally being very funny herself. "I love doing this," she said. "The students want it so much. They have my whole career ahead of them." Dress rehearsal for the second show was smoother, despite some students being starstruck by the host. "Oh, my God, I was floored," said Kevin Vaughan, a second-year grad student in directing. "Horatio Sanz is among my all time SNL favorites. I was very nervous talking to him. I'm still shaking." Sanz, for his part, also admitted to some butterflies. "I'm a little nervous, always." When asked how the Comedy@SCA Live vibe compared to that at SNL, he said, "This is more like it would be on a Wednesday when we're rehearsing."
He did the cold open with cue cards — another learning experience for the production staff — and appeared in one sketch, "Street Eats." Other sketches included a yoga class undone by an angry instructor, a loaves and fishes "holy diet" and an unexpected turn on a torture scene called "Zero Dark Dirty." A fish sticks commercial from animation student Brian Rhodes was added to the mix. There were some rough moments in the control room, with a missed cue and the show going a minute over, but Joel Parker said: "We got everything in this time." He continued: "You can't know what you don't know until you do it and when a show is live, the lessons come really fast. What these students are learning almost can't be measured." On the season finale, broadcast April 25, host Malone appeared in the open and two sketches, and there were sketches on, among other topics, befuddling locker room interviews, awkward prom photos and Lady Gaga's fashion choices. The project, by all measures, was a huge success. Afterward, Epps declared: "It was an amazing experience that greatly exceeded my expectations. We just wrapped the class a couple of days ago and when I bump into students from the class, we're all going though comedy withdrawal. Who knew USC had such a talented funny bone? I'm counting down the days until we do this again next year."