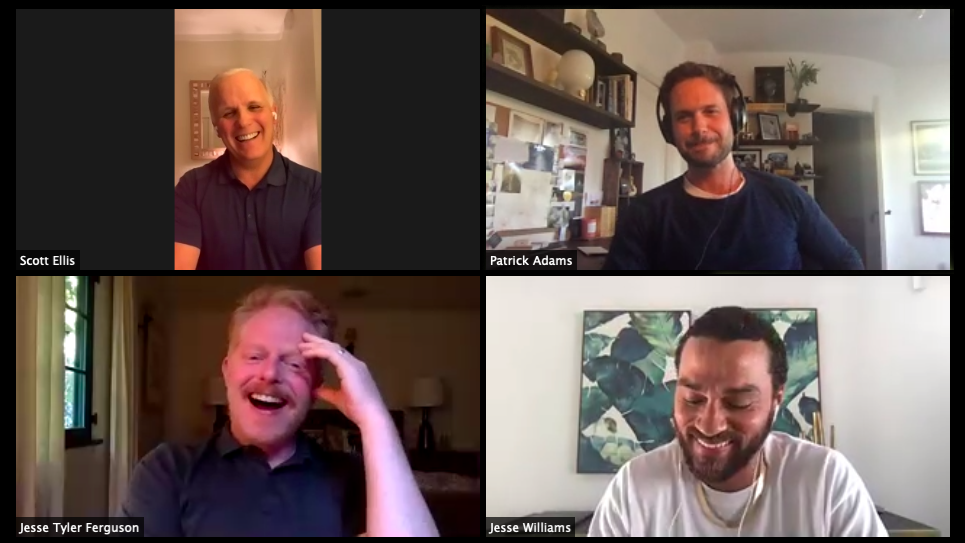 Director Scott Ellis and actors Patrick J. Adams, Jesse Tyler Ferguson and Jesse Williams from the Broadway revival of Take Me Out jumped onto Zoom in the early days of the COVID-19 pandemic for a special Spotlight@SDA webinar in Spring 2020 to give SDA students an inside look at the rehearsal process.
The production, which was put on hold until this year, is set to open at Second Stage Theater on April 4. Richard Greenberg's Take Me Out premiered in 2002 at the Donmar Warehouse in London before runs at the Public Theater, the Walter Kerr Theatre and two theatres in Singapore. The play follows star baseball player Darren Lemming, who comes out at the peak of his career to face a mixed reaction from the public and his team.
The shift from screen to stage
In this revival, Williams (Grey's Anatomy) takes on the role of Lemming – opposite Adams BFA '04 (Suits) as teammate and best friend Kippy Sunderstrom; and Ferguson (Modern Family) as manager Mason Marzac. With the actors tucking long-running television characters under their belts – each has played a role on their respective show for eight seasons or longer – the shift to Broadway was a contrast to their usual day on set, they shared during the virtual event.
"My first real acting experience was actually off-Broadway, and I've been chasing the dragon of that thrill on stage ever since," Williams said.
He noted that the live nature of acting on stage prompted him to listen differently, thinking in a three-dimensional space rather than within the camera frame. In Broadway rehearsals, he was challenged to research the character's mannerisms to fill an extended period of time on stage, as well as reacting to other actors' body language.
"To be thinking about every millisecond of every decision; finding purpose, every syllable, every affectation…that was part of the exhausting thrill ride of the experience," he said. "People say that most of this job is listening, and that's really true for me."
Ferguson is a Broadway veteran, most recently garnering a Drama Desk Award for his Outstanding Solo Performance in Fully Committed in 2016. But he approached this show as an entirely new challenge, having seen and loved Denis O'Hare's Tony-winning origination of the role live when he was younger.
"Greenberg has written this character with these sort of sweeping Shakespearean monologues," he said. "O'Hare's performance is so deeply engraved in my memory – he was just absolutely brilliant in it – so I came to this opportunity with so much respect for the text, but also a huge amount of fear."
Breaking down the walls
Adams echoed Ferguson, remembering that the first day of rehearsals, he had heard the experienced stage actor say: "I'm so afraid."
"I was approaching my own fear of being on stage, and it blew my mind, because here's Jesse Tyler Ferguson – who has done so much on stage in New York. Immediately, that made me feel comfortable," Adams said. He asked Ferguson what it was like to embrace that fear even at such an established point in one's career.
"I think I've always been afraid, every time I've gone out on stage, just because it is so immediate…you're in complete control of your performance, and it's a lot of responsibility," Ferguson said. "Sometimes your best work comes from a place of not being sure if you can accomplish it."
When Ellis was asked about his methods for understanding that fear and helping actors grow their performance, from a director's perspective, he said, "I like to create a room that actors know they can fail in…that there's no really right or wrong answer. All actors work differently; I need to figure out how they work and adjust."
Early bonding
In fact, Ellis had a very special way of breaking down walls and making actors comfortable for this particular show. When the company first arrived in New York for rehearsals in early 2020, they researched their characters by way of baseball trainee camp. The immersion helped to build their vocabulary sports-wise and served as a sort of company icebreaker.
"For me, I needed them to form a team, to start playing and reacting as a team before they really knew each other as actors. Then, we could walk back into a rehearsal room with that understanding," Ellis explained.
"It was really the best way I've ever started working on a play," said Adams. "We were able to build a shorthand with each other, so by the time we got to the table…we could mess around, we could make mistakes, we could move naturally."
In the audition room
On the topic of a safe environment where actors are free to fail safely, Ellis offered advice to SDA students walking into an audition.
"You can only fail if you take risks," he said. "When an actor comes into the room, I want them to be great and to make my job easy, so I can say 'you're it.' I'm excited, and I think most directors would say that."
The cast all agreed that their audition experiences changed once they shifted away from an eager-to-please mindset in which "winning" the audition was booking the part. Rather, they suggested approaching auditions by thinking about what they could bring to the project or the script.
Williams added that for young actors of color, there is an added layer of typecasting to overcome. He encouraged SDA students facing the burden of stereotypes to surprise the casting director – to proudly showcase their complete, well-rounded selves in the audition room.
"It's a huge part of the conversations we have while coming up as actors. You have to decide whether I want the work, or whether this work will prevent me from getting other work," he said. "Be unpredictable. Let them know there's more to you."