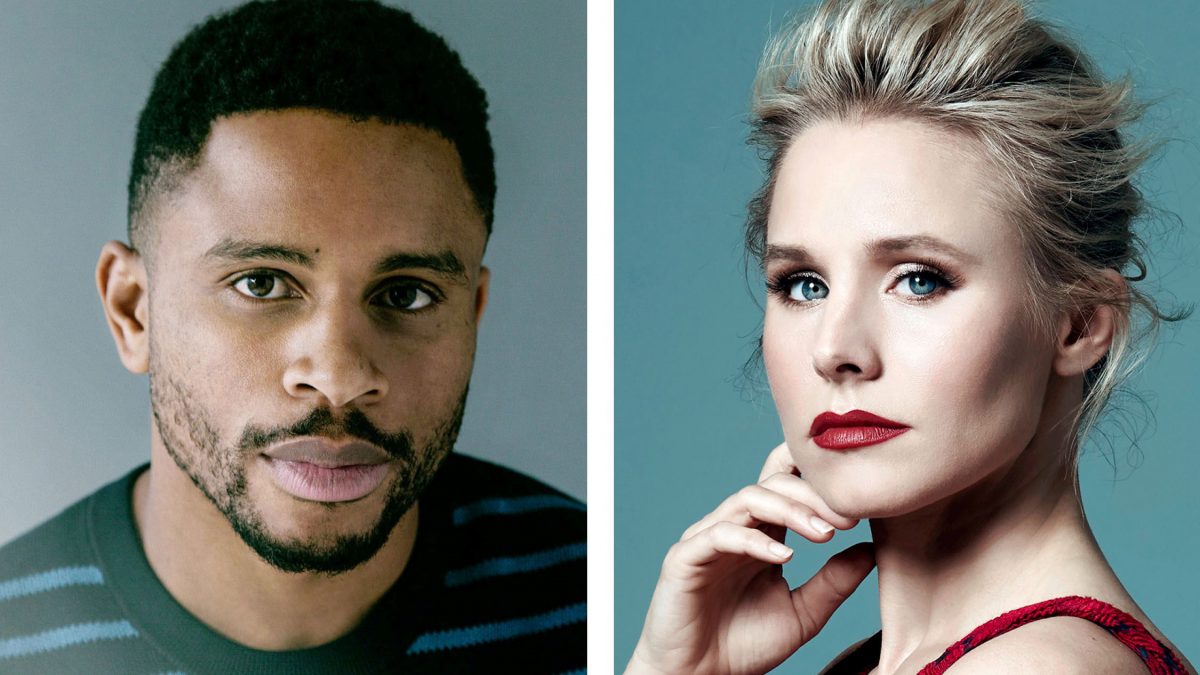 Beloved actress Kristen Bell and acclaimed former NFL player turned actor/producer Nnamdi Asomugha will deliver the charges to the graduates of the USC School of Dramatic Arts during two commencement ceremonies on Friday, May 10, at the Bing Theatre at the University of Southern California.
Bell will speak at the undergraduate ceremony, scheduled to begin at 11 a.m., and Asomugha will speak at the graduate ceremony, scheduled to begin at 3 p.m. Please note, the commencement ceremonies are ticketed events and not open to the public.
"We at the School of Dramatic Arts are over the moon to welcome our commencement speakers for 2019," said David Bridel, dean of the USC School of Dramatic Arts. "Kristen Bell is an icon for this generation of college students, while Nnamdi Asomugha's success as an athlete, actor and philanthropist offers an inspiring narrative to our diverse population of MFAs. Graduation is always memorable, but this year promises to be truly special."
Recent keynote speakers have included celebrated actress Connie Britton, actor and activist Bradley Whitford, award-winning actor Michael Chiklis, contemporary American theatre pioneer Tony Taccone, actress and alumnae Troian Bellisario, champion of diversity in American theatre Seema Sueko, and arts educator and actor Andy Robinson.
About Kristen Bell
Kristen Bell currently stars in the NBC series The Good Place, opposite Ted Danson, which will return for its fourth season in 2019. She recently wrapped recording the sequel to Frozen which is scheduled to hit theaters in fall 2019. Frozen has grossed over $1.2 billion worldwide, making it the highest grossing animated film of all time. She is also set to reprise her role as the titular character in the revival of popular series Veronica Mars, slated for release in 2019 on Hulu. Additionally, Bell is executive producing and appearing in a second season of Encore, which will air on Disney's streaming platform Disney+ in 2019. Bell also recently starred in A Bad Moms Christmas, alongside Mila Kunis and Kathryn Hahn. The film is a sequel to 2016's Bad Moms, the first STX film to gross over $100m domestically.
In 2016, Bell was seen as 'Jeannie Van Der Hooven' in the Showtime series House of Lies opposite Don Cheadle, which wrapped its fifth and final season. In 2014, Bell reprised her beloved title role in Warner Brothers' film Veronica Mars, which raised $2 million on Kickstarter in less than eleven hours and broke the record at the time for the fastest project to reach $1 million and $2 million. She appeared in a guest-starring arc on NBC's hit series Parks & Recreation and played the lead role in the independent film The Lifeguard, which premiered at the 2013 Sundance Film Festival.
Her other film credits include: PANDAS, Olaf's Frozen Adventure, Teen Titans Go! to the Movies, Like Father, CHIPs, How To Be A Latin Lover, The Lifeguard, The Boss, Hit & Run, Movie 43, Some Girls, Writers, Big Miracle, You Again, Burlesque, When in Rome, Couples Retreat, Forgetting Sarah Marshall, Pulse, Serious Moonlight and David Mamet's Spartan. Her television credits include: Veronica Mars, Parks & Recreation, Unsupervised, Deadwood, Heroes and Party Down.
Her Broadway credits include The Adventures of Tom Sawyer and The Crucible, opposite Liam Neeson and Laura Linney. Her off-Broadway credits include Reefer Madness and A Little Night Music.
About Nnamdi Asomugha
Nnamdi Asomugha is an actor, producer and former All-Pro NFL player who has consistently used his platform to create positive change in the community. He began his prolific football career as a first round draft pick with the Oakland Raiders and over the course of 11 seasons, established himself as one of the most dominant defensive players in the league. After retiring from the NFL, Asomugha channeled his passion for film and theatre into an award-winning career in the entertainment industry. Through his production company iAm21 Entertainment he works to create entertainment that illuminates important social issues and influences social change.
Asomugha's breakout acting role came in the 2017 Sundance Award-winning film Crown Heights, which garnered him Best Supporting Actor nominations from the Independent Spirit Awards and the NAACP Image Awards. He also received critical acclaim for his 2018 performance in the off-Broadway production Good Grief. Asomugha will next appear in Sylvie, a jazz-era love story he produced and stars in opposite Tessa Thompson. He has also appeared in Friday Night Lights, Hello, My Name Is Doris, Fire With Fire, Leverage and Kroll Show. Asomugha is an executive producer on the forthcoming Harriet Tubman biopic, Harriet, starring Cynthia Erivo, and Netflix's award-winning film Beasts of No Nation.
Asomugha's passion for philanthropy and community service has always been at the forefront of his work. He co-founded the Asomugha Foundation, with the mission to positively impact disadvantaged youth in the U.S. through education and empowerment. He serves as an Innocence Ambassador for The Innocence Project, and has spoken nationally on the merits of volunteerism and education at events such as SXSW Edu, the Clinton Global Initiative University, and NBC's Education Nation Summit. He has also been recognized for his charitable work with The Jefferson Award for Public Service, and the President's Volunteer Service Award.
Asomugha grew up in Los Angeles, CA and attended Narbonne High School. He earned his Bachelor of Arts degree in Corporate Finance at the University of California, Berkeley.