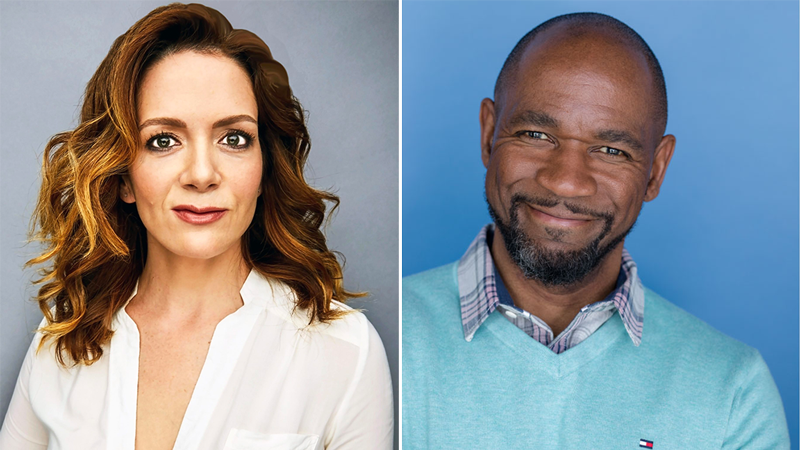 Dynamic artists Kirstin Eggers BFA '01 and Stevie Johnson MFA '95 – both with a long history at the USC School of Dramatic Arts as alumni and adjunct lecturers – returned this spring in a different capacity: joining the faculty full-time as assistant professors of theatre practice.
Johnson, who returned to SDA as adjunct lecturer in 2017, currently teaches introduction to acting, intermediate and advanced acting, and public speaking as performance. Eggers, an SDA adjunct lecturer since the spring of 2014, teaches introduction to acting, improv and theater games, advanced improv, and fundamentals of comedy, as well as two sketch comedy classes.
Eggers also recently served as performance coach for future lawyers taking part in the Dornsife College USC Trial Advocacy Program; and through a program with the Guthrie Theatre, Johnson, whose passions include communications and the law, once taught public speaking skills to trial lawyers wanting to improve their court performances.
Coincidentally, too, both Eggers and Johnson, veteran working actors and writers with extensive credits in television and film, diverged from their original career paths.
After earning an undergraduate degree with majors in Theatre, Speech, and Rhetoric, Johnson entered law school. "I had a plan," he said. "I was going to act by night and be a trial attorney by day." Encouraged by conversations with Robert Scales, the then-dean of the USC School of Theatre, Johnson changed course and enrolled at USC to pursue an MFA in acting. Today, Johnson's solid body of professional work encompasses commercial and series television appearances, as well as stints as a TV writer and producer, working with such luminaries as Idris Elba and Jennifer Lopez. Johnson further informs his teaching with his experience as a certified practitioner of IBP (Integrative Body Psychotherapy).
"As a teacher, as an educator," he said, "if I can create some kind [of] enlightenment for an individual to expand into their truth and authenticity, then I feel like that's my way of contributing to the world."
It was Eggers' participation as a student in USC's premier comedy troupe, Commedus Interruptus, that changed her future trajectory. "I was a BFA acting student and I was all in for drama, Shakespeare, all that," she said. "Then I found a comedy community, which I didn't know was a part of me and I was able to do both. That has served me in my teaching career and in my acting career."
In addition to her numerous television appearances, Eggers' live comedy sketch and improv credits include the Groundlings, UCB, Comedy Central Stage, and an award-winning turn with the Summer of Tears troupe at the HBO U.S. Comedy Arts Festival in Aspen. She helped develop both the university's SNL-style sketch comedy show, "USC Comedy Live," marking the first collaboration between SDA and School for Cinematic Arts; and the comedy performance program for SDA's High School Summer Theatre Conservatory. The latter has become something of a "feeder program" for USC, Eggers said, noting that she has undergraduate students in her classes who had attended all three years of the comedy summer program (before its hiatus during the pandemic). "Having that long-term teacher-student relationship is really fun," she said.
As SDA graduates, what do Johnson and Eggers want students to take away with them when they head out into their post-university lives?
"I hope they remember all that they have accomplished in class," Eggers said, "so that when later you're having a bad day with your creative life and you say, 'why am I doing this,' you can go back to all of those experiences and say, 'I know I have that in me, and I can call on that again.' The point is to put the work into it, feel really good about doing that, and draw upon that as you move forward." "Remember that you are not alone," Johnson advised. "Keep in contact with your school, use any kind of graduate resources available. Keep in touch with your professors and your colleagues, build a small community. And, as my dad used to say: roll with the punches. I think persistence and consistency are keys to success – a lot of times adversities are preparing you for your victories."