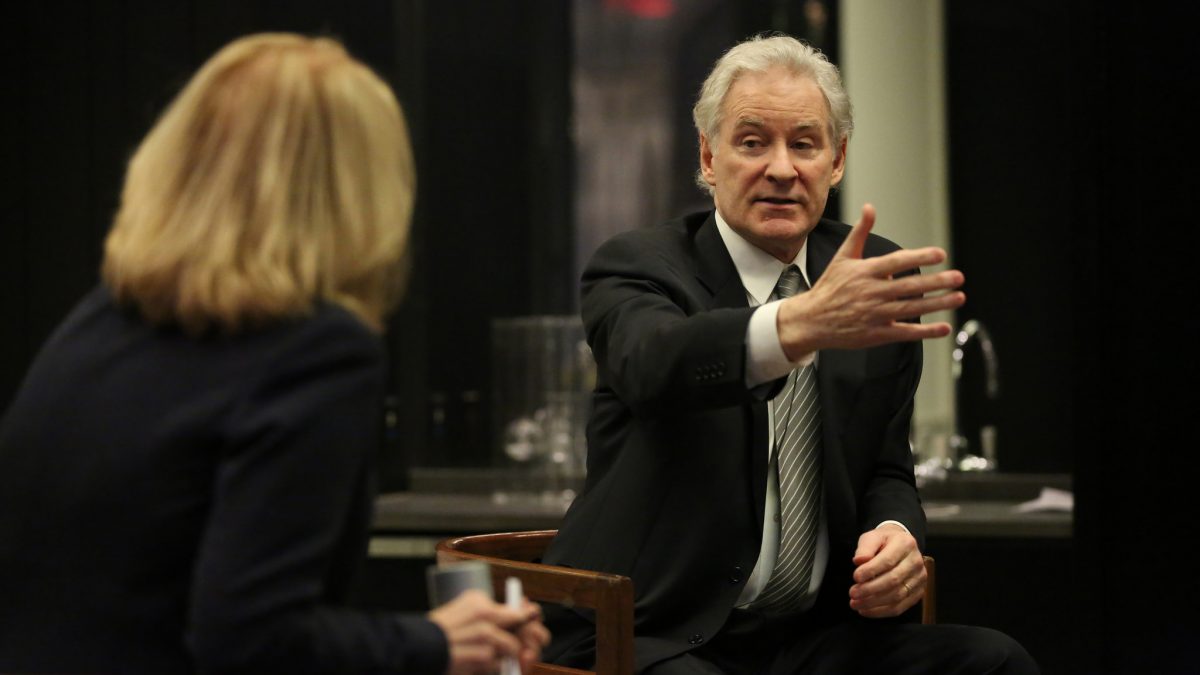 There's a belief among the public – and even some actors – that a performer must have a specialty. He can be good at either comedy or drama, either film or stage, either musicals or Shakespeare.
Yet Kevin Kline has delighted audiences in all those genres, winning numerous accolades along the way. The multi-talented actor spoke to students, alumni, and parents at the USC School of Dramatic Arts' first Spotlight@SDA event in New York City. Kline was interviewed by Kate Burton, an illustrious SDA faculty member who co-starred with him in Present Laughter on Broadway last year. He looked back at a 40-year acting career with charm and humility.
"I always see the glass as at least half empty," he joked, adding that he could name every one of his bad reviews (he even recited one from 45 years ago as proof).
Kline grew up in St. Louis and attended Indiana University, where he studied music. He took an acting class, fell in love with the art form, and changed his major. He appeared in school plays and in an improvisational troupe that performed at a coffee shop off-campus. "I learned a little something about waiting tables, which I thought might come in handy," he remarked. After graduation, he auditioned for Juilliard, and was accepted — he says — not because of his talent but because the class needed his type.
He recalls those early days with a shudder. "Give me an opening night on Broadway over an acting class." Kline then mimicked a direction from his acting teacher: "'You can do some emotional recall, can't you? Recall a time you were angry?' Give me New York theatre critics over that."
Kline's big break was in On the 20th Century, where he had the "thankless" role of Bruce opposite Madeline Kahn. To make the role stand out, he decided to play it "outrageous," and made his first entrance by throwing confetti from his pocket. "Either they'll love it or I'll be fired," he thought. The strategy won him the Tony Award for Best Featured Actor in a Musical.
A few years later, he won another Tony, this time for playing the lead in The Pirates of Penzance on Broadway, which he worried "would seal my fate as a comedy musical theatre actor for the rest of my career." Instead, he was offered his first film role: Nathan, the lover of Meryl Streep's character in Sophie's Choice.
He passed on some wisdom from the three-time Oscar-winner: "She asked me, 'Are you saying the lines as written? They don't fit. Just say it. Just tell them [the audience]." Streep also refused to rehearse, because she wanted the magic happen "while the camera's running." (This got a gasp from the students in the room.) As a result, "There's a scene where I'm clearly struggling to remember my lines. Meryl is saying them for me!"
After that came a string of fantastic performances, including The Big Chill and Dave on film, and Richard III and Hamlet in New York, along with an Academy Award for his lovably lunatic villain in A Fish Called Wanda. Most recently, he's been seen on screen in Beauty and the Beast and heard on TV in Bob's Burgers.
Despite all these honors, he cautions actors against measuring their work by awards. "I don't believe in awards. It has to do with ego. I won one [early in my career], and then I did Loose Ends and [when award season came] I thought, 'Well, where my nomination?' I thought I was in the club! How quickly we can be spoiled." Instead, actors should "do it for yourself, for the love of the material."
During the Q&A, he was asked to elaborate on that idea. His reply: "It's one of those cliché things — I take it back."
The evening was part of the School's renewed efforts to "build a strong community in New York," as Dean David Bridel put it. "The more we can to attract and build on that community, the better it is for everyone."
A group of graduating seniors, in town for their New York showcase, attended the event. One, Reed Campbell, said that Kline "was very personal and direct. I shook his hand afterwards and thanked him" for answering his question.
Also in attendance was Hannah Geller, an incoming freshman of the class of 2022. "This event showed me that I picked the right school," she said. "I'm very excited for my next four years."