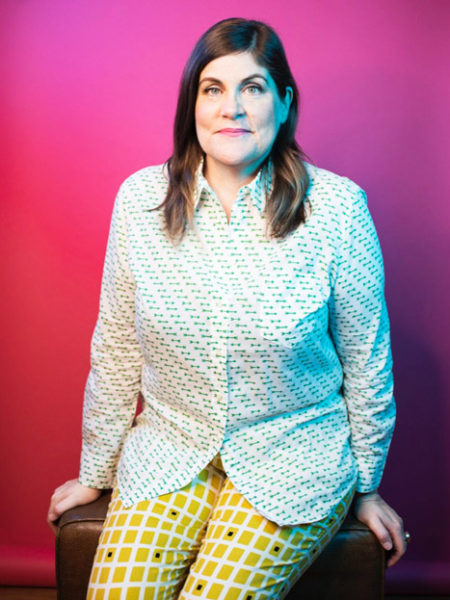 When taking Judith Shelton's class, be sure to bring your accordions, unicycles or, even, your robot heads. Because, after all, comedy is all about taking risks.
"It's really important for [my students] to do the thing they are afraid of," the School of Dramatic Arts faculty member said.
Shelton has been teaching classes in stand-up comedy, as well as improvisation and theatre games, at USC since 2016. In her classroom, she encourages her students to trust themselves and to follow their impulses because they are usually right.
Take for instance a quiet, timid cinematic arts student — who, Shelton recalled, actually brought in a cardboard robot head into her stand-up comedy class. Each side of the head had a different expression that he worked into his routine, which garnered laughs and allowed him to see his potential by taking that chance.
"That was a really special moment for me because I was hoping I was getting across to them that they could take risks like that and he did," Shelton said.
Most of the students who take Shelton's classes are not dramatic arts students, so drawing attention is something new to a lot of them. Many don't even believe they are funny. Others think they have to be perfect in their routines so they are afraid to perform.
That's where Shelton comes in.
"There's a misconception that it takes a really special person, a really gifted person to be a stand-up comic. I don't believe that," she said. "Stand-up really celebrates imperfection. Comedy in general celebrates imperfection."
Not just for laughs
For comedy (performance) minor student Brooke Finegold, the first days included both nerves and excitement, but Shelton put any worries at ease.
"… Jude immediately made it feel like such a warm and safe place. I left feeling so inspired and reflected that I learned to use comedy as a coping mechanism instead of a defense mechanism. It was very healing and eye opening," she said.
Particularly in Shelton's stand-up class, students are expected to do comedy in front of their peers at every meeting to help them get over their insecurities, but also to discover what works for them. They practice improvising, study other comedians and joke styles, and — most importantly — learn that failure is mandatory.
"You have to be willing to be jostled around and allow yourself to be imperfect," she said, likening the process to a rock being softened and polished after constant weathering.
In the middle of the semester, Shelton's students get to showcase their hard work on stage, performing three-and-a-half minute pieces in front of a live audience at a comedy club in the Los Angeles area.
"It's voluntary, but very few students miss it," she said, explaining that the performance is a reward for their progress and for all of their material to come together. "It's probably the scariest thing aside from the first day [for them]. They feel amazing when they get through it."
Comedic connection
Shelton — who has about 25 years of comedy experience, including opening her own comedy school in 2010 — sees a young version of herself in her students. As someone who felt college was challenging on multiple levels, the faculty member enjoys watching her students bring up their experience in their work.
"I love seeing the humanity in all the students. I love the bravery in sharing that," Shelton said. "In this climate … all of the things the students are dealing with, it's really great for me that they come in and laugh."
Along with teaching at USC, Shelton has been working professionally as a comedian and actor. She is currently in the studio voice recording a recurring role on the upcoming animated Fox series The Great North — which stars Nick Offerman, Jenny Slate and Megan Mullally, and premieres in the fall. She can most recently be seen in the web series Comedic Timing, for which she earned a T.O. Web Fest nomination for best supporting performance. She has also earned multiple awards for improv and comedy, including a LA Weekly Theatre Award for best featured comedy performance.