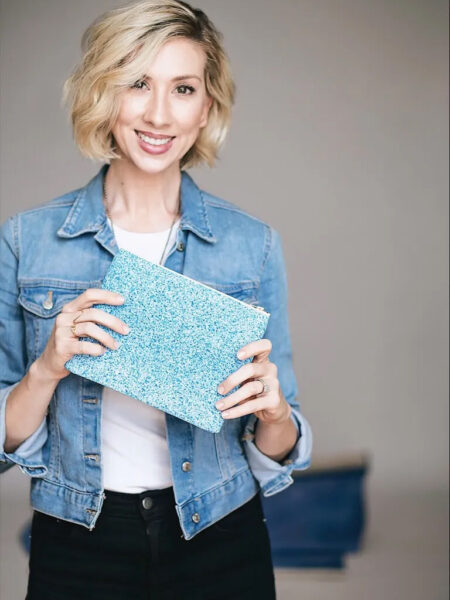 When a theatre production closes, ever wonder what happens to all the material used for the stage floors, backdrops and promotional banners? Jennifer Wheeler Kahn BFA '04, a stage manager for 17 years on Broadway, off-Broadway and at top regional theatres, saw too often that this material landed in a dumpster. Or, it was warehoused for years waiting for a tour or sale that never happened – and then ended up in a dumpster.
She envisioned a more sustainable future. In 2017, she founded Scenery Bags, a company that turns theatrical leftovers into purses, totes and jewelry. "Take the Story With You" is the firm's tagline, and its online sales platform (scenerybags.com) lets customers know exactly what production supplied the raw materials, graciously crediting the show, scenic designer and even backdrop painters.
Want a ring in the shape of a coffin made from the laminate floor deck of Beetlejuice the Musical's pre-Broadway run at The National Theatre in Washington, D.C. (scenic design by David Korins)? How about a zippered pouch from a fabric drop used in the Broadway production of Mamma Mia! (scenic design by Mark Thompson)?
Or, in her company's first collegiate collaboration, you can now purchase an elegant clutch made from the blue velour curtain that hung in USC's Bing Theatre from 2005 to 2018. The Sapphire Envelope Clutch has an inside pocket designed to hold a Playbill. And 10 percent of the proceeds are donated to SDA's student scholarship fund.
This is in keeping with her company's practice of donating a minimum of 10 percent of all proceeds to the Introduction to Theatre Program run by the Theatre Development Fund (TDF) in New York City that allows middle and high school students to experience Broadway and off-Broadway productions. Scenery Bags also supports TDF's program to provide access to theatre productions for students who are blind, have low vision, are hard of hearing or deaf.
Kahn shared: "I accidentally created my dream job, because this is everything I care about: theatre, giving back in ethical style, and access to theatre for a new generation."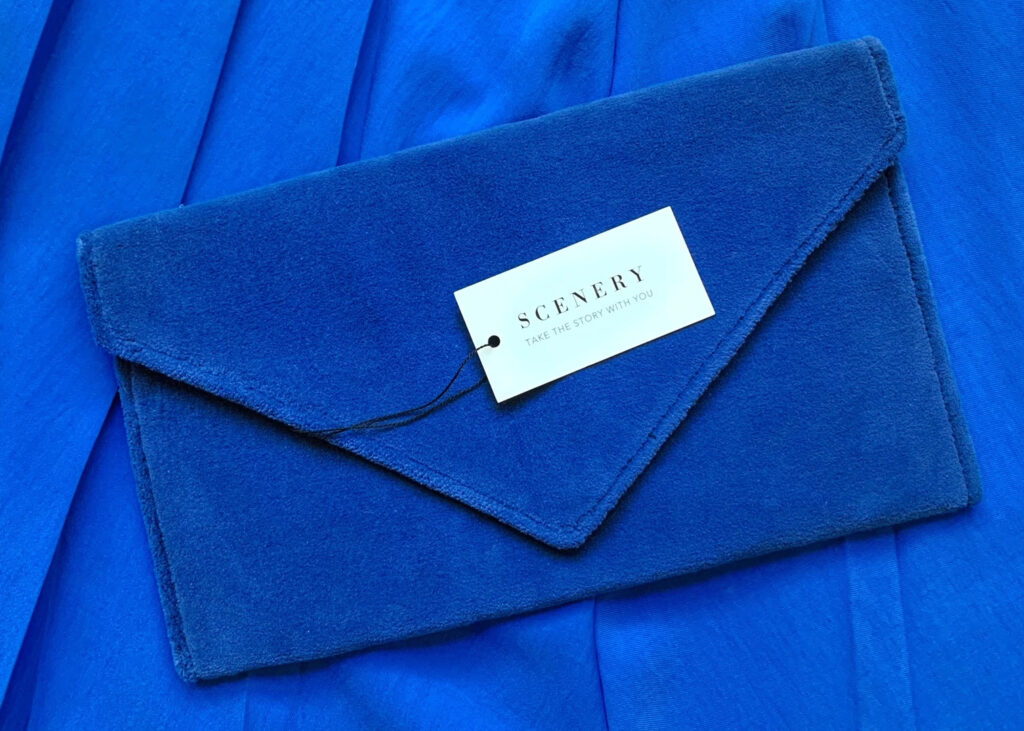 Kahn started her company when she was home for the first time in years after giving birth to her first child. He was three months old when Scenery Bags was founded. He is now 5, and his younger brother is 3. Kahn began by reaching out to every theatre production manager and general manager she knew, asking if they had anything she could recycle. "Pretty much everyone said yes," she recalled. "99.9 percent of the people I have contacted have been happy to contribute, rather than see their sets go to a landfill."
As the theatre community rallied around what she was doing, it turned into a full-time job within months. Now, when she knows a show or tour is closing, she again makes calls to general managers and production managers. Although the items are given for free, there is a cost to her, as Scenery Bags pays all the shipping costs, which can be considerable. Drops are huge (40 feet by 20 feet, typically) and a heavy front curtain can cost as much as $1,000 to ship.
"If they want to donate elsewhere, I try to help facilitate things that still have a life to go somewhere where they can be re-used," said Kahn. "If they're going to throw it away, I'd much rather it come to us."
Once it receives the goods, Scenery Bags stores, cleans, cuts and refashions the material into the retail items. There are five fabrication shops she uses across the country – two in Houston, where she now lives. (Her husband, Brandon Kahn, also a former Broadway stage manager, is the general manager of Houston's Alley Theatre.)
Kahn feels strongly about listing the designers' names on her website. "I know the blood, sweat and tears that go into the creation of these sets," she said. In addition, she asks permission from a show's scenic designer before using any material from a production.
"The theatre world's too small and I want to make sure everyone is happy with what we are doing," she explained. Kahn said many designers are "work for hire" employees with no say over what happens to their creative efforts when a show closes. "So I always reach out to the scenic designer and ask if they want one of whatever we're making from their show. I've been able to send pieces of the show they said good-bye to that many years ago and now they have a bag made from it."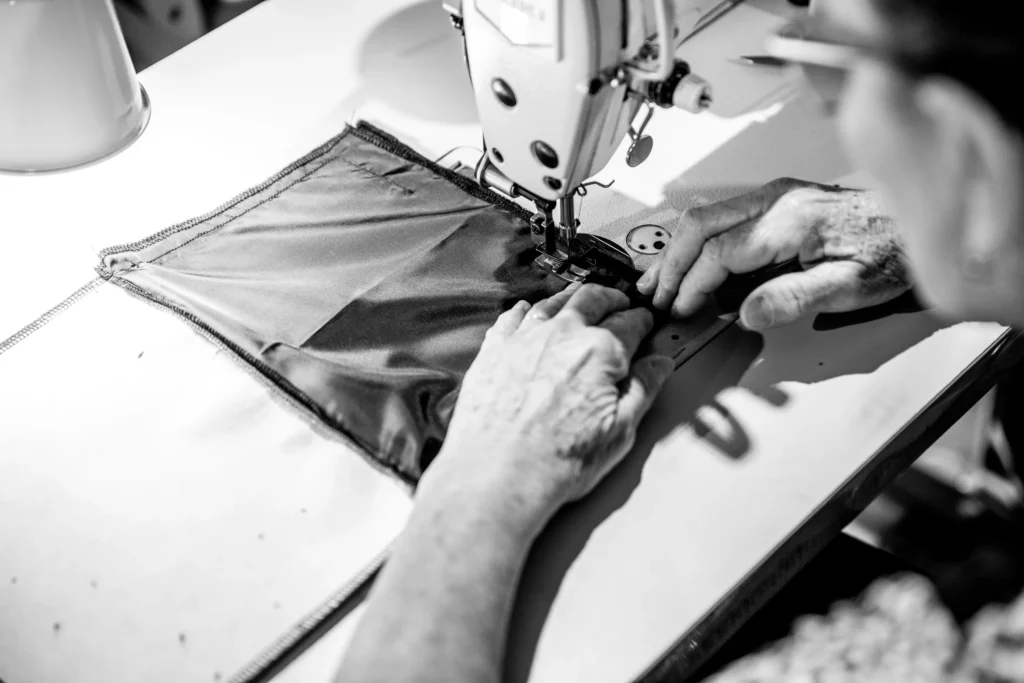 Duncan Mahoney, professor of theatre practice and head of technical direction at USC, was happy to send the old Bing curtain, as well as some used black masking drapes, to Kahn. He had heard of past efforts to re-purpose painted canvas drops, and supports all efforts of recycling. "It's a lot of material," he observed, noting that each side of the Bing curtain has a fabric width of 50 feet and a height of 25 feet.
Kahn remembers Mahoney fondly, along with several other SDA faculty members: stage management professor Mary K. Klinger, who later became a professional colleague; Stephanie Shroyer, who directed Les Liaisons Dangereuses at the Scene Dock Theatre when Kahn was the stage manager; Paul Backer and Jack Rowe, who were endlessly supportive. "I really loved all the faculty," she said. "They were ready to get in the trenches with us at any time to make it work."
Kahn came to USC to study stage management with the goal of being a producer and running her own theatre, and she thinks that in five or 10 years, she and her husband will probably be a producing team, as it is a dream they share.
Currently, she is happy that her brainchild to help theatre be more sustainable is successful while it helps introduce theatre to new audiences. Her products also create tangible memories for customers — a ripple effect she didn't fully anticipate. "I didn't think about how meaningful what we were doing would be to our customers," she admitted. "I get emails all the time saying I now own a piece of the first Broadway show I was ever in, or ever saw, or the last show I saw with my mom.
"Especially for all of us who work in this very finite industry, these beautiful stories about what it means to hold a tangible piece of it are really special."