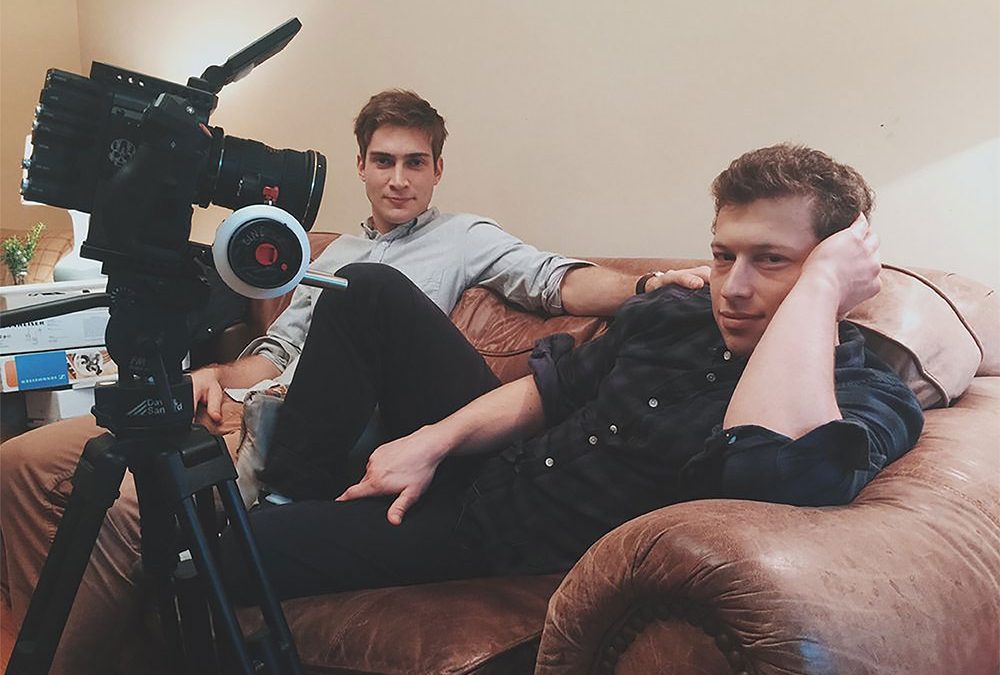 The School of Dramatic Arts caught up with James Morosini (BA '14) and Sam Sonenshine (BA '14) for our Q&A series highlighting the accomplishments of the alumni of the USC School of Dramatic Arts.
About the alums
James Morosini is a director, actor and writer. His works include writing, producing and directing the short films Blush, More and Roxxy. On screen, he has had recurring roles on Foursome, Loosely Exactly Nicole and American Horror Story; and was seen on Crazy Ex-Girlfriend, Criminal Minds, Lethal Weapon, among others. Currently, he is working on his second feature, Acne.
Sam Sonenshine is an actor, writer, producer and director. He recently assistant produced Fiddler on the Roof off-Broadway, as well as assistant directed The Revisionist by Jesse Eisenberg and Circle X's ICU. On screen, he was the lead in the SXSW official selection short film Wonder Buffalo, was seen in a recurring role on Class, among others. He was also the producer and writer for the short films More, Snowflakes and Game Night.
This year, their feature film Threesomething — executive produced, written and starring the duo, as well as directed by Morosini — premiered at Cinequest Film Festival to a sold out audience and was picked up by Gravitas Ventures.
Q&A with Morosini and Sonenshine
What was your best USC experience?
Morosini: Acting in BNT (student written, directed, one acts).
Sonenshine: Directing an ISP. The Glory of Living by Rebecca Gilman at the Massman.
Was there a class or professor that was particularly meaningful or influential during your time at the School?
Sonenshine: Steph Shroyer taught me to see the subtle, unspoken communication going on between people all the time in everyday life.
Morosini: Lora Zane changed my life. She taught me what it means to be honest in storytelling, that people generally try to hide how they feel as opposed to showcasing it.
What (if any) productions did you work on?
Sonenshine: What We're Up Against, Moonchildren, American Zion, Lady Windermere's Fan, Wind River and The Glory of Living.
Morosini: What We're Up Against, Treehouses, Dog Sees God, 3 seasons of BNT, Vinegar Tom… I was really hoping to have a longer list than Sam.
What do you miss about college, SDA specifically?
Sonenshine: This sounds so obvious, but being able to take classes. I didn't realize until after school how rare and thrilling it can be to learn new things — in school, I took it for granted because you're learning new things all the time. Outside of school, you have to create those opportunities for yourself — you have to actively seek out work that challenges you to really use all of your brain.
Morosini: I miss the feeling of a bunch of people you hang out with on the weekends all getting ready to go out on stage the first night of a show. Mid-October, when its kind of chilly, leaves on the ground and everyone is rooting for one another. I feel nostalgic about the feeling of sheer playfulness and steady community.
Did you begin collaborating while at USC?
Sonenshine + Morosini: We both started in the BFA program together so we definitely hung out a good deal, but it wasn't until a year after graduation that we actually collaborated on something (James wrote and directed a short film called Sleep Hygiene that Sam acted in). Since then, we've worked together on features, TV pilots and even a play.
Tell us about your most recent collaboration, Threesomething.
Morosini + Sonenshine: After making a few shorts together, James started obsessing about the idea of making a feature-length film. We got together and figured out the thing we felt we both had something to say about… We've each had a hard time navigating friendship in an honest way. A pressure as guys to uphold a certain image of masculinity which often gets in the way of honest communication, and how this can mess up relationships. So, the movie is about three friends who try to have a threesome. The fantasy falls incredibly short of the reality. It's funny and sweet and weird and please watch it. We premiered at Cinequest Film Festival and sold it to Gravitas Ventures.
What other projects are you currently working on professionally?
Sonenshine: I'm assistant producing a yiddish-language Fiddler on the Roof in New York. Joel Grey directed, and we're a New York Times Critics' Pick.
Morosini: I'm putting together my next feature: Acne. It's about a socially awkward high school kid obsessed with mafia movies who sells drugs to make friends, gets caught and needs his mom's help to get out of trouble. (Semi-auto-biographical.) Imagine the hyper-sensitivity of eighth grade with the structure and aspirational feel of Goodfellas. Bret Easton Ellis is executive producing.
What is your advice for current SDA students?
Sonenshine: I think the big advantages of going to USC are 1. you're in L.A. and 2. you're surrounded by people that are going to dominate your field. So, 1. get to know L.A. and 2. get involved in tons of projects and meet tons of people.
Morosini: If I were to go back and talk to my 2014 SDA self, I would say: 'Dude. It's me. It's you. From the future. I know, it's weird. Listen, man, being an actor is really, really difficult and you're going to need to do other stuff to fill your time because acting is great when it's happening and can be pretty depressing when it's not. Also, whether you work or not has nothing to do with how much you matter as a person, it's kind of random. So, do stuff you like and try to get really good at it. If your goal is to act: write, produce, and direct stuff that made you want to act in the first place. It's probably going to be bad at first, but you'll feel good doing — the 10th thing you make will be better, and you'll be glad you made nine other things with friends to get there.'