When the USC School of Dramatic Arts (SDA) receives the keys to its new home on West 34th Street, at the Hoover Street campus entrance in early February 2024, the extensively remodeled red brick building will be filled with names acknowledging the history of the School and determined to inspire the next generation of multihyphenate artists.
Support from alumni across USC has been critical to the Drama Center project. Several have stepped up to make significant donations to name the performance stages, rehearsal spaces and locations within the building that allow SDA students to adapt their talents to any medium in the entertainment industry. One gift, from Rod and Elsie Nakamoto, will name the School's Center for Diversity, Equity & Inclusion (DEI), a light-filled area on the building's second floor.
But in a truly selfless, inclusive gesture, the Nakamotos are not putting their own names on the center. They are naming it for Anita Dashiell-Sparks, the SDA professor who is the School's Associate Dean of Equity, Diversity & Inclusion, and her husband, SDA Board of Councilors member Anthony Sparks, Theatre BFA '94, MA and PhD in American Studies & Ethnicity, a showrunner, executive producer and writer for television who also has had a notable theatre acting career.
The Sparks Center for Diversity, Equity & Inclusion will offer programming for SDA students and students across the university. Its 620-square-foot space will be a central hub for USC's diverse artistic community members to connect, collaborate and support one another.
Rod Nakamoto '83, MBA '94, a USC Trustee and past president of the USC Alumni Association Board of Governors and USC Asian Pacific Alumni Association, and Elsie '82, thought it would be an honor to have their names on the center, says Rod. But they asked SDA Dean Emily Roxworthy if there was another name that would resonate with the artistic community and recognize the hard work that has been done on DEI.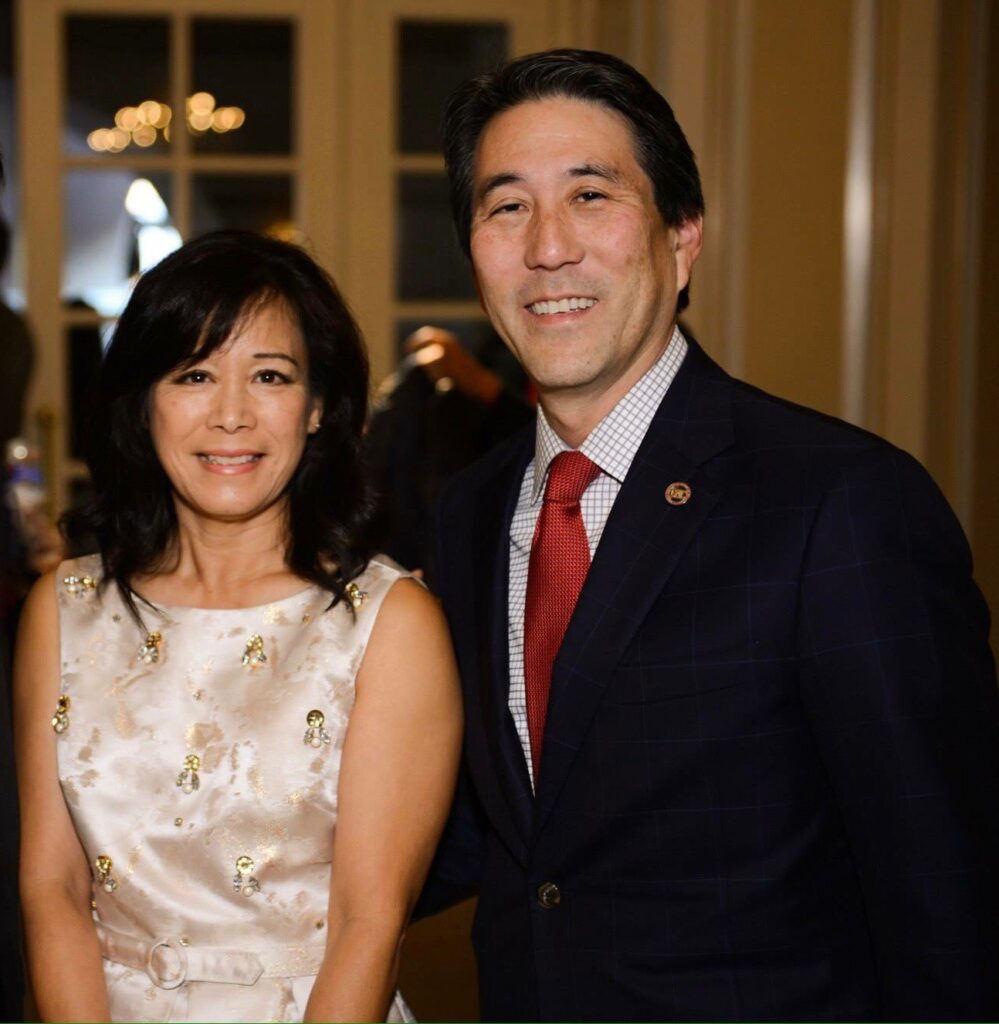 After giving it some thought, Dean Roxworthy suggested the Sparks' names, recognizing the work Anita and Anthony do to promote DEI initiatives throughout USC and beyond.
"The name 'Sparks' is beautiful and fitting," says Rod. "It's one of those things where everything kind of fits together. As a trustee, a big part of the last couple of years is the university's commitment to the culture journey. I fully support that, and it comes from the top, from President Folt. As we continue to go through the culture journey and as we established USC's unifying values, one of the key unifying values is diversity, equity and inclusion."
He says the Nakamoto name will be represented in the center, on a plaque with the names of his mother, Virginia, and brother Brian, who died in 2021. "My mom was the one who, on a really tight budget, created the opportunities for us to visit museums, visit the aquarium, go to performances when we could, giving us a lifelong love of the arts," says Rod. "Brian enjoyed the arts and also was a pretty big proponent of DEI at Eli Lilly, where he worked. It will be nice to honor them in that space."
As for the Sparks, the news that donors wanted to put their family's name on the center was a complete surprise.
When Anita, who also serves as the School's vice chair of performance, was told by Dean Roxworthy and Sara Fousekis, the School's associate dean of advancement, "I was completely speechless," she said. "And I immediately started crying. I was so deeply honored by that gesture, and humbled by it."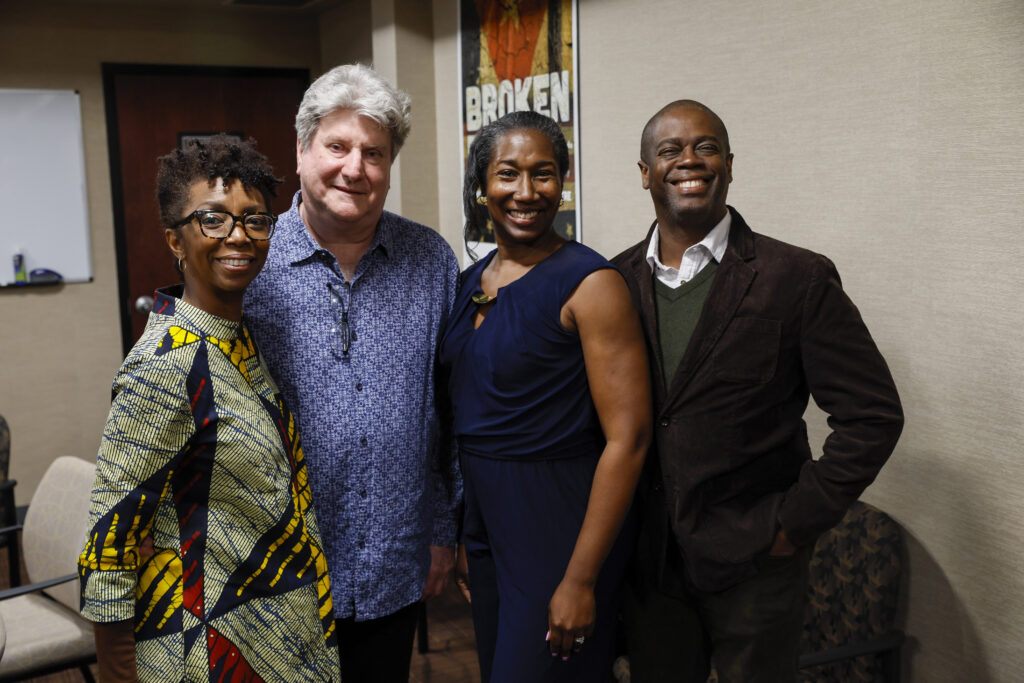 Said Anthony: "Simply put, we are elated, overjoyed, and full of gratitude." He said SDA played "a huge, transformational role in helping me realize my dreams" when he was a student. "To my surprise, USC continues to be a powerful, lifechanging force" in his life and his family's life.
"This most unexpected and generous honor from trustee Rod Nakamoto and the Rod and Elsie Nakamoto DEI Endowment Fund is something that touches Anita and me in a profound way," he continued. "As Black artists long committed to incorporating a sense of community and justice in our theatre, television and film work, we generally expect the reward to be the work itself. And indeed it is. So to have our commitment to diversity, equity and inclusion acknowledged in a dedicated space to those values within the new USC Drama Center is literally a dream that I didn't know I could dream."
"I believe my mother – a Black woman sharecropper from Mississippi, a woman whose name I carry – is smiling from heaven at this most extraordinary honor."
Anita, in addition to her teaching responsibilities, oversees DEI training to SDA faculty and staff, and gives DEI workshops to incoming and existing students. She has joined counterparts in USC's other arts schools to promote equity in curriculum and representation in projects. She has been a leader in DEI work for over two decades and is a fierce advocate for artists of color and for the development of DEI programming within and across institutions.
She sees the center as a community gathering space and a hub for sharing resources to aid community engagement initiatives, such as the LA vs. Hate project starting this fall in collaboration with the Los Angeles County Human Relations Commission and the Los Angeles County Office of Education. For that project, SDA students and others will mentor youth at five area high schools using theatre and other arts for anti-hate, anti-bias efforts.
USC was the first major drama school to dedicate space to a DEI center for students. It was in 2021, and the room is located near the east entrance of the McClintock Building. It was envisioned as a creative hub and grounding space for students to collaborate and gather.
At the time that center was opened, Dean Roxworthy explained its importance this way: "This is a testament to our long-term commitment to ensuring that the dramatic arts are equitable, inclusive and as diverse as the world we seek to represent through our art form."
She pledged to have a DEI center in the School's renovated building, and this new, larger center is the result. It will have computer workstations, a small stage and large windows overlooking campus.
Rod Nakamoto praises Dean Roxworthy's support for DEI efforts, and the openness to including the entire artistic community at USC in this vision. "It's that inclusiveness that makes it important," he says. He notes that with the divisive events going on across the country, "we have to stand for the values that are important in our community." Having space to promote those values is critical, he notes.
SDA's soon-to-be new home, a handsome Romanesque Revival building, is on the National Register of Historic Places as part of the USC Historic District. For years, it served as the United University Church, whose congregation now is located nearby off campus.
The renovation retained many of the building's unique features, such as its rose and stained-glass windows and the ceiling and trusses in the former sanctuary, which will become a 110-seat flexible performance space. A smaller cabaret theatre for student-initiated productions will be located in the building's lower level. The new SDA home also will have a digital media suite, audio design lab, vocal practice rooms, rehearsal spaces, classrooms and offices.