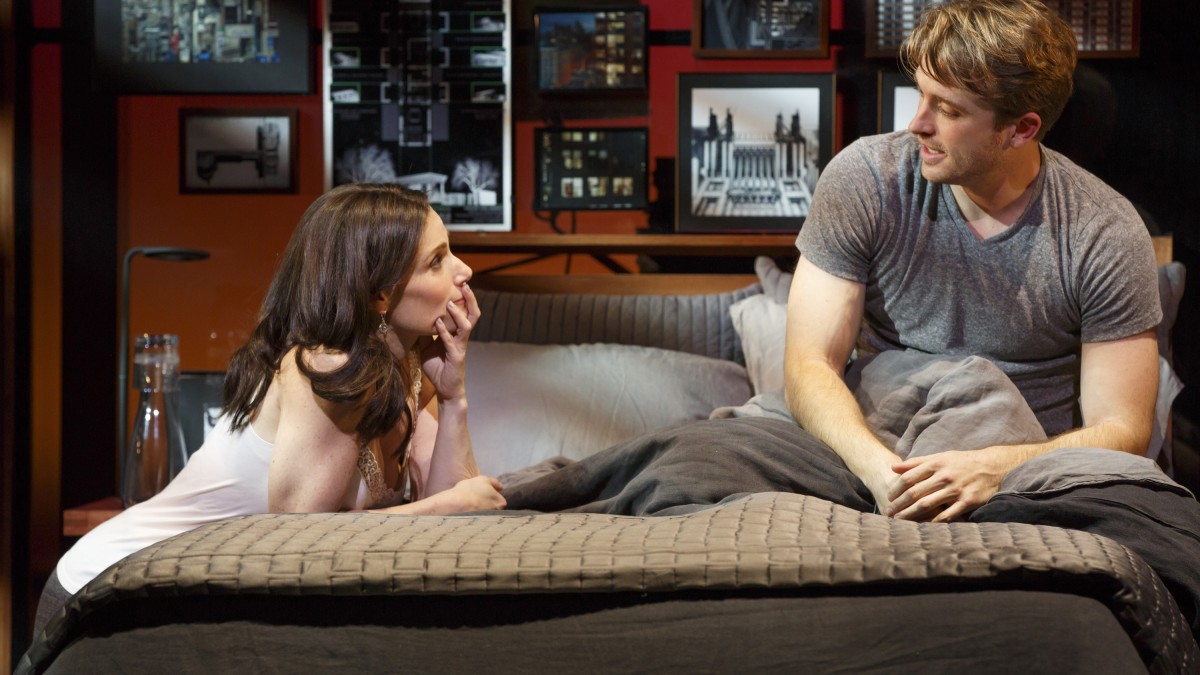 James Snyder is a firm believer in the power of chance, those "only just suppose…" decisions that can take you to New York for an audition, to the party attended by your future wife, to a regional theater in Connecticut or even, ultimately, to the Richard Rodgers Theatre where the School of Dramatic Arts graduate (BFA '03) is wooing Tony winner Idina Menzel on a nightly basis in the new musical If/Then.
The divergent paths scenario plays out nightly for Menzel, whose character Elizabeth chooses between love and career as the heroine of If/Then. Snyder can relate, since he has a few key if/then moments of his own.
If the fiancée of producer David Stone had not cajoled Stone into seeing a production of Rodgers and Hammerstein's Carousel at the Goodspeed Opera House one night during the summer of 2012, Stone might never have seen Snyder in the role of Billy Bigelow, and might never have thought to put Snyder forward for the role of If/Then's nice guy army doctor, Josh. Then again, Snyder might not have been at Goodspeed to be seen had he not been advised by his agents to take the regional gig in Connecticut.
"I can go back all the way to college, to every little funny thing that happened that led me from one job to the next job," said Snyder. "If I had not flown to New York to audition for The Book of Mormon, I would not have done Carousel. If David Stone had fought a little harder not to see Carousel, then I would not be doing If/Then."
The path leading Snyder from the halls of Troy to Broadway is by no means a direct one, and certainly a compelling case could be made that Snyder has played a major part in creating his own good fortune. The foundation was laid at the School of Dramatic Arts where the Sacramento-raised Snyder earned his BFA. He started his career early, going to the Edinburgh Fringe Festival the summer of his freshman year with John Blankenchip's Experimentals project, to spend a month with his classmates mounting 13 short plays in repertory.
One of those plays was the hugely zany The Star Wars Trilogy in 30 Minutes, written and directed by fellow USC alum Patrick T. Gorman. Snyder became the production's Luke Skywalker both at the Fringe and for the next 10 years when the play was re-mounted, including an extended run at the Coronet Theatre.
Gorman recalls Snyder as young and quite gung ho, a living embodiment of Luke Skywalker.
"He was almost like a puppy that is very eager to please," said Gorman, "but a puppy with a lot of talent. Being that young and having that sort of talent, you can turn into a really unpleasant jerk. James was always a really good guy who was about working hard, and that sort of thing is infectious."
Star Wars in 30 Minutes led to an L.A. production of Sneaux, directed by Andy Fickman, who would go on to cast Snyder again opposite Amanda Bynes in the Twelfth Night-inspired film She's The Man, where Snyder mooned after a pet tarantula and firmly embraced his inner goofball.
But while the character work is well and good, Snyder has been landing leading man duties since college. During his senior year, while taking on Curley in Oklahoma!, the actor learned that with great roles come great responsibility. That particular lesson came from former SDA Professor Kelly Ward, who Snyder characterizes as a mentor.
"Kelly really pushed me to be a leading man," Snyder said. "He said, 'This is what a leading man does. This is how you lead a company, and I will fire you if you do not stack up. You have to come in and know your stuff better than anyone else and work harder.'"
"When I went on to do my first Broadway show, Cry-Baby, Kelly's voice was in the back of my head pushing me to lead and to work my hardest," he continued. "I don't think I would have been the actor or the leading man that I am now if he hadn't really pushed me."
Snyder recognizes those same company leader attributes in Menzel around whom If/Then has been constructed. "There is no pretense to her," he said. "She is honest, she is open, she is committed and she carries the show."
With multiple gigs taking him back east, Snyder and his wife Jacqueline (a fashion designer whom he met at an USC alumni event) have relocated to New York, although they maintain a residence in L.A. for Jacqueline's business purposes. Sharing the coast-hopping adventure is the couple's son who turned 1 in February.
"His name is Oliver, like the musical," said a besotted James Snyder. "Mostly because when he turns 2 and asks for seconds, we can sing him a song."