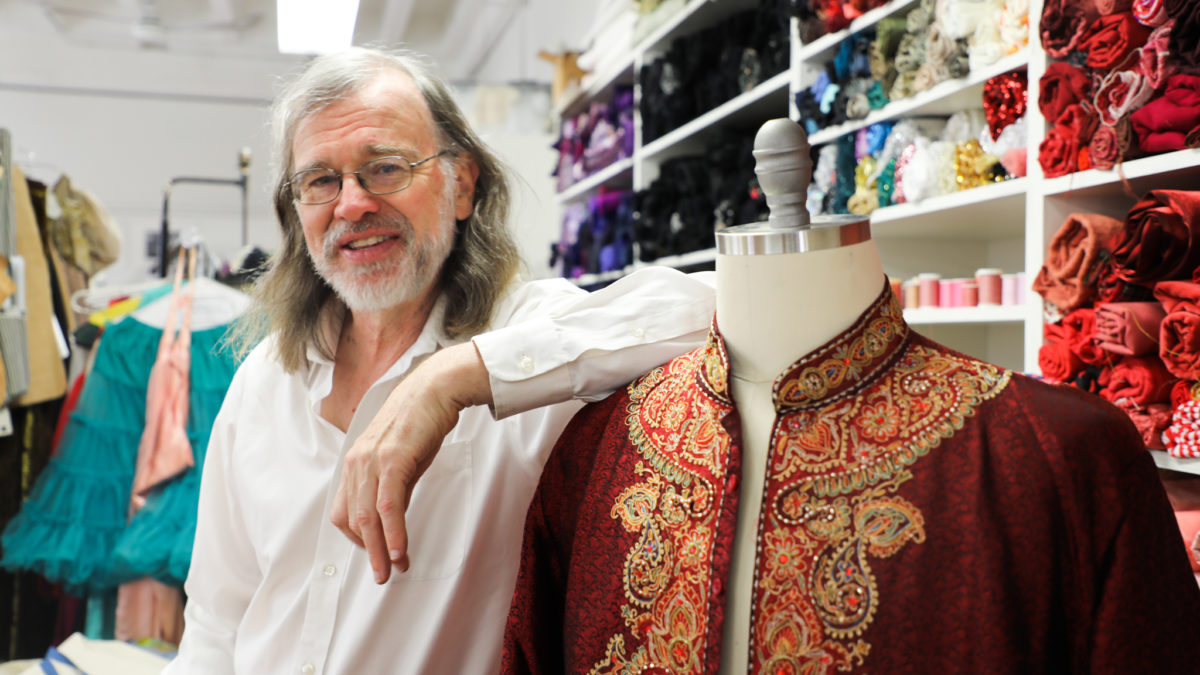 Shakespeare's Othello traditionally has 25 to 30 cast members, so the School's current production with nine students means the actors are getting an enviable opportunity to play multiple roles. One student has five roles. Three students play four characters each. As in Shakespeare's time, some men play women's roles. As in our time, women also play men's roles.
The second-year MFA class, directed by Professor of Theatre Practice and three-time Tony and Emmy nominee Kate Burton, is getting an acting workout in the four-act tragic masterpiece. But for the play's costume designer Howard Schmitt, the artistic – and logistical – challenges were equally daunting.
"There are partial changes rather than full changes," Schmitt said as he inventoried the rack of costumes he had carefully designed, purchased or pulled from storage. "We put fewer people in the group scenes."
He stopped in front of a mannequin wearing a flowing-sleeved paisley chiffon dress with intricate maroon piping and banding. It is for the character of Emilia, played in this production by a male student. "It's based on a Palestinian folk dress that was reinterpreted in the 1970s," Schmitt said. "But we made changes and went with a plunging neck and fullness in front."
Was there a pattern for that? "Oh, no," he answered. "We tend to make our own patterns here."
Each garment tells its own story
The amount of serious historic research, fabric knowledge, understanding of body movement, drafting and sewing skills, and sheer creative ingenuity that goes into costume design is one of the hidden secrets of the theatre profession.
The layman might guess that the job is largely a matter of pulling old costumes from stock. The layman would be wrong.
Schmitt, who teaches costume design and history as well as managing the costume shop, has been at USC for 40 years, arriving as a graduate student. He has costumed hundreds of productions, including several of Othello, but said he never gets tired of repeating a play. "You always have a new set of actors who bring something new," he said. "It's more about the group of people you are working with and what's current in the collective consciousness at the time you are doing the production, based on what's happening in the world."
For this production, director Burton and Schmitt decided that the artistic choices would be more geographic than century oriented. The play is set in Venice and Cyprus, but the time period is left deliberately vague. The program states simply: "A long time ago."
That, said Schmitt, allowed him to think in terms of diachronic design: having different time periods present at the same moment. He thought about commerce in antiquity in those two cities.
"International cultures were merging. There was an African presence, a Middle Eastern presence. The biblical Canaanites were traders, and they traded fabrics. Alexander the Great's soldiers brought fabric from Persia and India, the paisleys and gauzes, back to Greece. Venice was a major trading city, the richest city in the world at one time."
So, he spent weekends scouring the Indian clothing shops on Hollywood Boulevard and Little India and the African fabric shops downtown, coming back with richly embroidered caftans and deeply colored shirts. He deliberated over fabrics that would work best for Othello's coat, finally choosing two – a gauze layered over a very heavy linen.
"I'm hoping it will look right under the lights," he said, smoothing his hand over its surface. "I needed the substance of a heavy linen. Cottons and softer linens drape too much. This has the right amount of body and an elegant fall."
Close collaboration in the shop
In addition to Othello's coat and the flowing paisley dress, a leather vest, a halter top, caps and accessories also were built in the costume shop by the skilled technicians Charlotte Stratton and Carissa Dickerson, and Sophia Grose, a freshman in costume design.
Schmitt worked closely with Burton, who regularly visited the costume shop after the first readthrough of the play in early January. The two would finger through the costumes on the rack and talk.
"Kate is really one of the best at language," Schmitt said. "The way she articulates the word 'blouse,' for example, she creates a mental image. I find it very inspirational."
Burton called working with Schmitt "a dream. His encyclopedic knowledge of theatre and fashion and the costumes of every show he has ever seen is breathtaking," she said. "It is an utter joy to work with him and I learn so much every time."
Othello is an excellent play for universities to produce, Schmitt said.
"As a story, it's accessible to many students, as it deals with jealousy, racial issues, defying dad, asserting independence, looming military conflicts across the water. It's very relatable."
In his teaching, Schmitt makes sure that students relate to costumes in a personal, physical way. In his costume history classes, the first two-thirds of the semester involves looking at images of costumes. During the last third, students try on costumes associated with the pictures so they can see how wearing the clothing affects posture and movement. For a similar purpose, he takes period costumes to the students in the Restoration Acting classes for them to try on. And, every semester, he is a guest lecturer at the USC Kaufman School of Dance, where he talks about costumes specifically for dance.
Schmitt can cite a favorite costume designer – the late Maria Björnson, who designed the original production of The Phantom of the Opera – but could not name a favorite production for himself to design.
"My favorite show is always the one I'm focused on," he said. "Each show is the new favorite."