Jay Duplass, known for writing, directing and producing films and television, as well as enjoying a late, unexpected turn as an actor, held nothing back when talking to USC students who hoped to follow in his many footsteps.
At the second School of Dramatic Arts – Cinematic Arts mixer at the Bing Theatre on Jan. 9, Duplass was honest, profane, funny, opinionated and full of advice. He spoke and answered questions for an hour and a half as part of the School of Dramatic Arts Spotlight@SDA series, and then students from both schools had the opportunity to network.
Professor Barnet Kellman, co-director of USC Comedy at Cinematic Arts, began the evening, telling the students that the event was their time to build relationships, talk about their projects and envision future collaborations. Kellman introduced David Warshofsky, director of the MFA in acting at Dramatic Arts, who interviewed Duplass, who is known most recently for playing Josh Pfefferman in the groundbreaking television series, Transparent. Warshofsky, as it happens, knows Duplass personally, having recently acted with him in a feature film, Beatriz at Dinner, which just premiered at Sundance.
Warshofsky noted that the Bing Theatre audience included actors, producers, directors, writers and technicians, and asked Duplass how it was possible that he has participated in all those aspects of entertainment.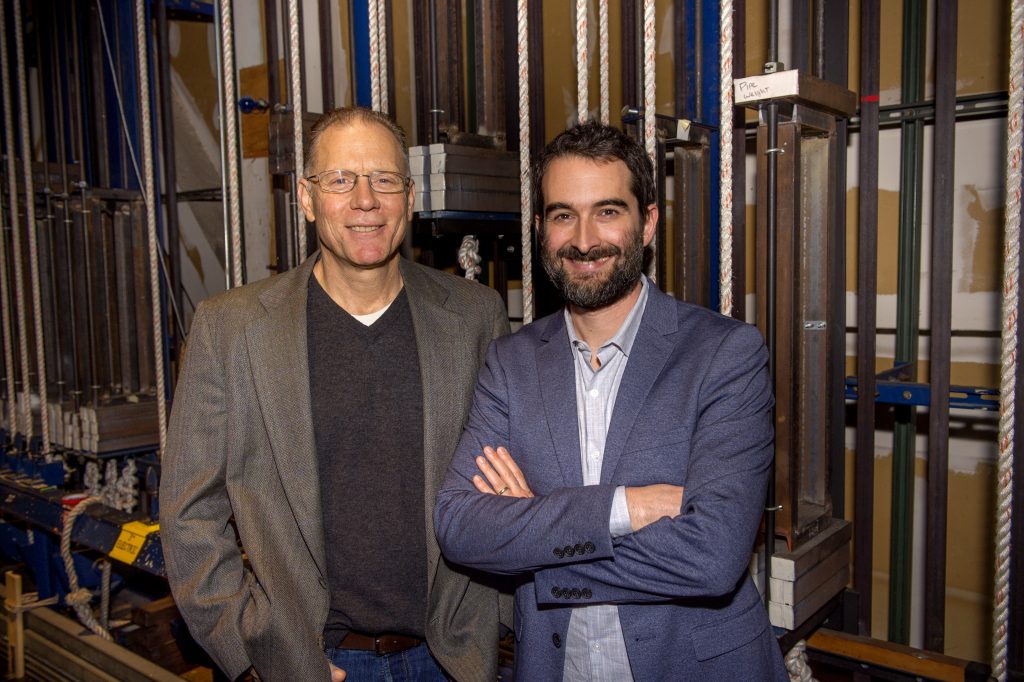 "When you don't have any money and no one believes in you, and you have nothing, you just do it all," said Duplass. "When we made our first $3 short film that went to Sundance, it was shot on my parent's home video camera and my brother (Mark Duplass) was acting and no one else was around. I was the director, the writer, the cinematographer, the gaffer, the grip and the sound mixer."
Duplass said that after film school, he made more than 27 bad short films and a few features, and found himself at 30 years old subsisting on peanut butter and jelly sandwiches and considering himself a failure. The turning point came with that $3 short film – the first film the brothers made that was not trying to copy successful filmmakers Joel and Ethan Coen.
"Our early movies were not prophetic of cinematic greatness whatever," Duplass observed. "The movie plots were horrible. It was like: A six-year-old owns a house. And he's in a karate gi all day and he smokes cigarettes and just lifts weights. And then our next door neighbor would come in and try and rob him and he would get kicked in the nuts. And … scene!"
Duplass said he was trying to make movies to please his teachers, and trying to copy other filmmakers, particularly the Coen brothers. "And it was kinda hard to beat them at being the Coen brothers."
To make matters worse (from his perspective), director Wes Anderson and Luke and Owen Wilson brothers were getting a lot of attention in Austin, where the Duplass brothers were then living.
Duplass said the word on the street was: "'Look at those brothers, just tearing it up.' And we were just tearing up those peanut butter and jelly sandwiches. Our big break came when I was getting to the point where I was 'I can't do this to myself anymore. I can't put myself through this.'"
It was at this moment that Mark Duplass said he was going to 7-11 to buy a $3 digital tape and told his brother to have an idea ready when he returned.
"And I had my first non-Coen brothers-y idea," recounted Duplass. "I told him a very personal, sad story that two days earlier, I had tried to re-record the outgoing message on my answering machine. And I failed to do so. And I was such a mess that I couldn't get it right. … And then I had basically had a nervous breakdown and ended up crying on my kitchen floor. And my brother said, 'That's great.'"
Duplass shot one 20-minute take of his brother wearing Jay's temp uniform of a button down shirt and khaki pants, then had their friend Dave Zellner spend an hour or so editing the result down to seven minutes. On a lark, they submitted it to Sundance.
It got in and became a festival darling, getting a better reception than another short costing $750,000.
The woman who bought our film said there are only about 50 great short films made a year, Duplass told the students. These aren't necessarily life changing films, he said, but are something unique that has not been done before and are done really well. "And if you do that, you will reach people and they will want more," he said. "Because people are desperate for good content, my least favorite word in the world."
That experience led to more opportunities and larger films (or, as Warshovsky put it, "the Duplass mogul-dom that's now in full rage"), but the brothers have continued to make small, inexpensive projects where they have greater control. For example, when they couldn't get traction with studios for features that would cost a few million dollars, they wrote and directed The Puffy Chair, a road trip feature they financed with $15,000 of their own money.
"That's the biggest problem I see most people trying to do," said Duplass. "They're trying to make these giant leaps from you made a good short film and now you're trying to make a $12 million movie. That's never gonna work. It's not going to be your movie because you don't deserve 12 million dollars. So, if you get it, producers are going to control it, or an actor is going to control it, or a DP (director of photography). You don't want to get too big for your britches or then you'll get shut down."
He and his brother now make slightly larger films using what he calls "the communism model of filmmaking" with everyone on the set earning a flat $100 a day, with back end profit participation. The films are "small as they can be so we can take it to Sundance and sell it. If you make a $50,000 movie and you take it to Sundance and sell it for $150,000, you're like a mogul."
As for acting on Transparent, which came about because creator Jill Soloway asked him to play the part, it was as if some weird lightning struck, he said. He didn't set out to be an actor, and as he thought that the show would probably not get picked up, he was not nervous about performing.
Now, he realizes he is "super spoiled" to be part of the cast. "I think it's the best show on TV," he said. "I am aware of how lucky I am. I am aware of the talent that I am surrounded by, the level of actors and creators and human beings. And the fact that I am on a TV show that's this good, that's this funny, that's this irreverent, that's in my neighborhood, that's is at the forefront of a civil rights movement that needs to happen, it's a job that people could live 10 lives and never get."
In the Q and A portion of the event, a 20-year-old acting student asked him for career advice.
His reply was swift. "My best advice is you have to be a writer or a producer, or both, in addition to your acting, so your acting can live. There are very few people in this world who just get hired and get to do cool acting jobs. It's very important as early as possible that you have a piece of tape or a link that you can say this is who I am, this is what I have to offer." Duplass told her: "Even if you work a regular job and on the weekends you are making some decent art where you get to do what you have come to do, you're doing better than everybody else. You are living in a world where all you need is a 5D and a microphone to make something beautiful and good."
In response to another question, about streaming services versus films versus television, Duplass said he believes everyone is making way too much of a deal about mediums.
"I feel that everybody needs to stop worrying about the mediums and just make beautiful things that move people, and create empathy and open hearts. … If we do that, it doesn't matter if you watch it on your phone or with 1,000 other people."
Above all, he concluded, creative types need to find their unique, honest voice.
"My brother and I have now realized that what we were sharing with the world, especially those first 10 years, were our private conversations about our own desperation and fears about being not successful and untapped potential and just dying with all these good ideas inside of you," he said. "When we would tell each other stories like when I told him the story of failing to record the answering machine message correctly and having a nervous breakdown, he would cringe and then we would giggle. And that's what our movies became. People would watch our movies and say, 'Please God, don't do that. I don't even want to see that' – and then they'd giggle. And that's what our whole career is based on, these private conversations.
"What we learned later is that's what we uniquely have to offer the world. We are able to laugh at ourselves in our most desperate moments. And we weren't necessarily able to do it in public, but as it turns out we were able to do it on film, and it turned out that's what people want us to do."